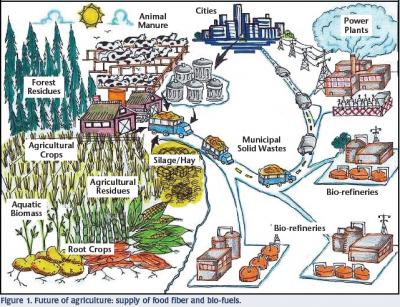 Anyone who has been on a farm, or driven past one, or hell even read about one in a book knows that, one they have lots of cute little farm animals, and two that they smell bad. Reason one being the cause of reason two. Animals (including ourselves) eat a lot and poop a lot. Poop is made up of plant matter (the fibrous stuff that cant get digested) and waste. Why, you may be asking yourself, are we talking about the contents of animal droppings? Well for the simple reason that this "brown gold" can be used to create energy. Waste not, want not.
Lucky for us the Texas Cooperative Extension (pdf) has put together a nifty little report outlining a simple and easy way to incorporate a manure to energy plan.
Energy from Feed to Manure
Manure containing undigested and partially digested dietary nutrients is a resource that benefits plant growth and adds organic matter to improve soil structure. Nutrients in animal feed that are sources of energy include carbohydrates — comprised of carbon (C), hydrogen (H) and oxygen (O) — from forage and cereal grains, for example. Other nutrients are proteins
(in the form of amino acids) and fats (or lipids), comprised primarily of C, H, O as well as phosphorus (P) and Nitrogen (N). The energy content of animal feed is expressed in calories. One calorie is the quantity of heat required to raise the temperature of one gram of water by 1 degree Celsius (°C) from a standard initial temperature and pressure at sea level. Not all of the energy in the feed is utilized by the animal. The energy in feed can be portioned into net energy and lost energy. Energy losses during the digestion process include the energy lost in manure (feces and urine), in gases produced by fermentation in the gastrointestinal (digestive) tract of animals and through heat. Several processes have the potential to transform the energy in manure to usable bio energy.
They go on to outline several ways in which this waste can be turned into sweet sweet natural gas ready to be used in our power plants.
Biological Process
Methane production is the biological process that generates energy from animal manure. The process, which is called anaerobic digestion, is the treatment of manure with naturally occurring microorganisms (bacteria) in the absence of air (especially oxygen) to produce biogas.
Biogas, which is produced from degradation of organic matter in manure by the bacteria, contains primarily methane (CH4) and carbon dioxide (CO2). Other gases, such as nitrogen (N2), hydrogen sulfide (H2S) and trace organic components are also present in relatively small quantities. Typically, 60-65 percent of the biogas is CH4. Methane and CO2 represent
more than 90 percent of the biogas. Virtually all N, phosphorus (P) and potassium (K) remain in the digested manure.

Methane produced from anaerobic digestion and utilized as a source of energy also reduces its natural emission, which has much greater global warming potential than CO2. The heating value (energy released from a given mass of a fuel of biogas containing 65 percent CH4) is approximately 600 BTU/ft3.

The British Thermal Unit (BTU) is the heat required to raise the temperature of one pound of water by one degree Fahrenheit (°F). There are 252 calories per BTU. For comparison, 1,000 ft3 of biogas with 65 percent CH4 will be an approximate equivalent of 600 ft3 of natural gas, 6.6 gal of propane and 4.7 gal of gasoline. Information on types of biogas digesters and their function is available from the USEPA website at www.epa.gov/agstar.
The most important part about that is the energy density. Manure presents a significant energy source waiting to be utilized. This stuff is literally just "lying around" waiting for us to turn into energy.
You might be wondering just how much umm, of this "resource" is available in the United States. Well I can't answer for the whole country but I was able to find some numbers for Texas. To sum it up, A Lot.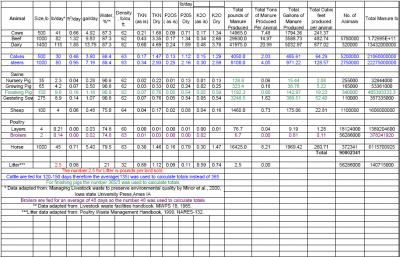 My friends and I have been saying Shit Tonne for years to indicate "a lot of something". If manure as a fuel source takes off, it could come to mean so much more.