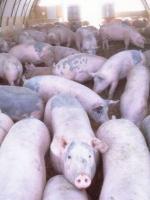 I enjoy watching things evolve, in this case business. The earliest efforts to produce things were to take the things (resources required for the product) you need, discard the rest. Competition came along and forced the producers to use the resources as efficiently as they could, then discard the rest. This evolved into try to sell the rest. Environmental issues (and increased competition from globalization) have forced the producers to discard nothing – if at all possible.
Even pig poop. Nice touch with the pipeline.
…planners and scientists from Purdue, central Indiana's Clinton County and city of Frankfort, and industries Archer Daniels Midland Company (ADM) and Indiana Clean Energy LLC (ICE) are joining forces to use waste to produce methane for conversion to electricity.
A 2.5-mile pipeline will carry waste from the swine facilities to the conversion plant. One of the hog farms has about 6,900 pigs and the other has about 14,000.
I appreciate a person who can be critical of their own effort. Makes 'em seem more honest, at a minimum more forward thinking.
Eventually it would be in the interest of agriculture and the environment for farmers to develop waste conversion facilities on their own properties, Nies said.
This guy Turco is repeating a mantra I am hearing more frequently.
"We need to change people's mindset about waste and about fuel sources," he said. "We want these waste conversion facilities to be in place, not just to provide alternative fuel, but also so we can train students in this technology and to conduct further research on using different sources for energy supplies."
I have read more than one article where hog farms have to create large holding ponds for the feces. Then the berm around it fails, the stuff will go into a stream, and all hell breaks loose. This seems like a much more elegant, eviro-friendly, and profitable solution.
From pollution source to power generator. Changing the way we do business, one farm at a time.