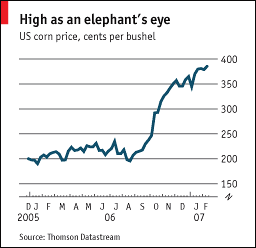 I saw this headline at TreeHugger "Economist: Climate Change=Higher food prices".  I thought this must be about climate changes and how they affect food production.  HA!  It's about the artificial stimulation of ethanol production.
I can't believe any "economist" past the age of ten doesn't understand the relationship between subsidies and crop usage.  There is no scientific support for using corn to produce ethanol.  What an inflamatory, self-serving piece.
RE needs to stand on its own merits, and I believe it can.  When we get rid of fear mongers and look for viable RE solutions we will have made significant progress.