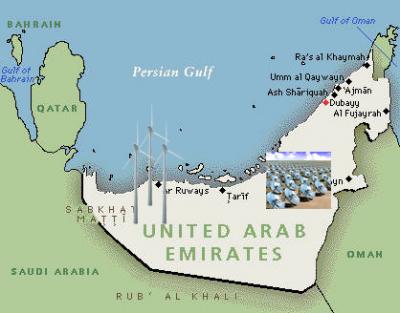 The UAE is not only installing a massive solar power plant, they plan on a future without oil. Currently the worlds largest per-capita producer of green house gas's the UAE has teamed up with MIT to create a future in with The UAE is a dominate force in renewable energy.
Leaders of this major oil-producing Gulf country said Sunday they were plunging into the field of renewable energy, announcing a joint research venture into green energy with the Massachusetts Institute of Technology.

…

The Emirates' early entry into the renewable energy arena comes amid squabbling over whether similar reforms should be embraced in the world's largest energy consumer, the United States.

The agreement signed Sunday between the Abu Dhabi Future Energy Co. and MIT created the Masdar Institute of Technology in Abu Dhabi. Masdar will pursue Abu Dhabi's plan to use its oil income to develop a more sustainable renewable energy sector and an economy based on green energy expertise.

We want "talent and innovative technologies to enhance economic development and promote new industries using renewable energy," said Sultan al-Jaber, ADFEC's chief executive.(via)
If you are the leader in energy export, and you see that your buisness model is going to fail misserably what do you do? You take your wealth and you move to the model that is going to destroy the current one. If anyone understands the oil market its UAE, they must know that the era of cheap easy to get oil is coming to an end.
They have, however, become used to a certain "life style", that is living high on the hog from energy exports. Someone must have gotten the idea that they could live the same way by building and exporting wind, solar, and other renewable technologies. With the United States and other major world powers dragging its feet on developing strong renewable energy sectors they just might do it.