RENEWABLE ENERGY EUROPE
The conference that brings renewable energy
solutions to utilities and power generators
EARLYBIRD CONFERENCE DISCOUNT
CLOSES ON 25 May 2007
There is still time to register



Renewable Energy Europe's
comprehensive

conference programme provides an opportunity for high-level
decision-makers, middle managers, and engineers to learn about strategies
and new technologies, all the while presenting additional opportunities to
network with their market influencers and share knowledge and experiences.

CLICK HERE FOR THE LATEST CONFERENCE PROGRAMME
KEYNOTE SPEAKERS AT RENEWABLE ENERGY
EUROPE
Keynote Session, Tuesday 26 June: 10.00 – 11.15
NEW KEYNOTE

SPEAKER


Rafael Miranda



CEO of Endesa, President of Eurelectric

Philippe Joubert
Executive Vice Director, Alstom President, Power
Turbo-Systems and Power Environment
Alberto Carbajo

Director-General of Operations, Red Eléctrica de España S.A.
Alfonso González-Finat
Director,Directorate General Energy and Transport-New and Renewable
Sources of Energy, Energy Efficiency & Innovation, European
Commission

CLICK HERE TO REGISTER FOR THE CONFERENCE


The early bird rate, representing a
substantial discount, closes on
25 May 2007. If
you
register before or on
25 May 2007 we will mail your personal badge to
you, giving you fast track admission to the event.



Renewable Energy Europe is
co-located with
POWER-GEN Europe
and

POWERGRID Europe.

It
provides a environment where high
level executives tasked with the
provision of long-term,
sustainable energy solutions for their utility, the customers, their
country can identify the eventual fuel-mix employed and the technologies to be
implemented.
With access to not only


Renewable Energy Europe
but also
POWER-GEN Europe
and
POWERGRID Europe
, visitors have widest possible range of
blue-chip power professionals under one roof – a chance to talk to the power
industry as a whole and take home a cohesive overview of emergent
technologies and solutions.

REGISTER FOR THE EXHIBITION FOR
FREE *

All you have to do is click


here or visit

www.renewable
energy-europe.com.
* Registration for the Renewable
Energy Europe exhibition before 15 June 2007 is free. Registration after this date is
subject to a 30 Euros entry fee

WE LOOK
FORWARD TO SEEING YOU IN MADRID
The SolWest 2007 keynote speaker will be Benjamin Gisin, publisher of Touch the Soil magazine with a foreword by Susan Gisin, associate editor. Gisin will speak on the sustainability of energy and food and how these concepts can find increased expression "inside of" and "outside of" financial capitalism. Listeners will discover how economic clout at the grass-roots level may be more a matter of human energy and creativity than it is about money. Benjamin Gisin was senior agricultural approval officer for one of the nation's top ten agricultural banks. Since 1996, Gisin has consulted farmers and ranchers in their debt and credit challenges, negotiating some of the largest debt settlements between farmers and lenders. Gisin is author of Farmer's and Rancher's Guide to Credit.
SolWest Renewable Energy Fair July 27-29, 2007 in John Day, Oregon is the most comprehensive sustainable living fair in the northwest. Experts from all over the western US offer fifty workshops for all ages and levels of expertise (free with fair admission). Workshop topics scheduled for this year include "Wind Energy Basics", "Hydropower", "Fundamentals of Photovoltaics", "Off-grid Solar", "Greywater, Rainwater & Composting Toilets", "Becoming a Solar Installer", "Biodiesel for Beginners", and "Passive Cooling Strategies."
Over two thousand people visit SolWest each year to learn about and purchase complete solar power systems and components, solar hot water systems, solar pumps and wind-driven pumps, pump controls, hydro systems suitable for the smallest springs to large streams, solar roofing and home plans, home-scale wind generators, efficient lighting and appliances, books and magazines, biodiesel processors and fuels, and much more.
A pre-fair workshop with solar architect Anthony Stoppiello will focus on the decision-making process for effective remodeling. Activities during SolWest weekend include Electrathon mini-electric car racing, and a Silent Auction of renewable energy hardware and other donated goods. Childcare and children's workshops will be offered. Anyone who brings an alternatively-fueled vehicle to display at SolWest Fair will get a weekend pass for the price of a day pass. Camping is available, and volunteers get in and camp free.
The SolWest Fair program is posted on the web at www.solwest.org, or a paper copy can be requested at: SolWest/EORenew, PO Box 485, Canyon City OR 97820. 541-575-3633 or info@solwest.org.
POWER-GEN Middle East 2008
4-6 February 2008, Bahrain International
Exhibition Centre, Manama

The future is about meeting the power and
water demands of the Middle East.
NEW CONFERENCE TRACK FOR 2008 – see below
for details…

Call for Papers
Abstract
submission deadline: 15th June 2007
The Advisory Committee of POWER-GEN
Middle East – the leading conference & exhibition for the
Middle East Power, T&D and Water industries – is now accepting paper abstracts for the
POWER-GEN Middle East 2008 Conference.
We invite
you to submit an abstract for POWER-GEN Middle East 2008 and share your knowledge,
experience and ideas with technical and strategic decision-makers and
strategists.
This leading conference is a
great opportunity to network with leading organisations and high level
influencers and for you to represent your company at the most prestigious event
in the power generation industry.
Abstract submission deadline: 15th June 2007
STRATEGIC POWER TRACK
- Power market structure and regulation

- Strategic planning

- Emerging market trends

- Industry investment

- Project issues

TECHNICAL POWER TRACK
- Power generation technologies
- Operation and maintenance

- Power augmentation

- Transmission and distribution
Click here for full agenda


New Conference Track for 2008!

WATER TRACK
- Water sector structure,
regulation

- Strategic planning & management

- Water
treatment

-
Wastewater treatment

- Supply
network

-
Desalination

Click here for full agenda
Further Information
For further information
about participating at the conference as a speaker or as a delegate, please
contact:
Mathilde Sueur
Conference ManagerT: +44 (0) 1992
656 634 F: +44 (0) 1992 656 735 E:
paperspgme@pennwell.com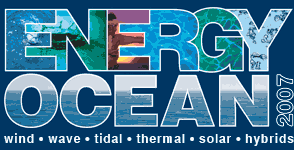 Energy Ocean 2007
August 21 – 23, 2007, Turtle Bay Resort, Oahu, Hawaii is the date and location for the 4th annual EnergyOcean Conference & Exhibition.
As the premiere International conference focusing on renewable ocean energy, EnergyOcean presents an opportunity for technologists, entrepreneurs and policymakers to discuss the hard-hitting issues surrounding this emerging market.
This year's technical program has been greatly expanded due to the increase in activity and the progress of Ocean Energy developers worldwide. The entire technical program can be found here
.
The program begins with a Pre-Conference event at 4 p.m. on Monday, August 20. Six of the leading Ocean Energy organizations will give updates on the progress and activities that have occurred since the last EnergyOcean conference. These include the OEC, OREG, OREC, EU-OEA, IEA and the NHA.
The conference begins on Tuesday, with the entire day focused on activities In the U.S. Several guest speakers and a California focus session will be presented and the day will be highlighted by a special Regulatory update by the MMS, FERC and NOAA followed by a U.S. government panel session led by Joseph O. Neuhoff III, Office of Energy and Environmental Technologies, U.S. Department of Commerce and consisting of officials from the U.S. Departments of Energy, State and Commerce.
Tuesday's luncheon will feature honored guest speaker Rep. Cynthia Thielen, Hawaii State House of Representatives.
The conference continues with two days of International presentations.
Wednesday, August 22, EnergyOcean presents two parallel tracks, one on "Technology"(OTEC, Wave, Tidal and Current) and the other on "Business and Policy" (Financing, Investing, Environmental & Permitting issues, and Legal considerations).
During Wednesday's lunch, the Ocean Energy Pioneer Awards will be presented to individuals and companies leading the way in Ocean Energy.
On Thursday, EnergyOcean presents another full day of Technology presentations (Wind, Wave Tidal & Current), surrounding the Exhibitors' Aloha Reception at noon.
Last but not least, on Friday, those attendees who have signed up for the NELHA tour will fly to the Big Island and be treated to a tour of the future site of a commercial OTEC plant and see NELHA's 55-inch cold water pipe in action, rising from a depth of 3,000 feet in the Pacific Ocean.
Supported and sponsored by U.S. Dept. of Commerce, U.S. Commercial Service; U.S. Dept. of Interior, Minerals Management Service (MMS); and the State of Hawaii, more information is available at www.energyocean.com., or contact Mj McDuffee: +1 772-221-7720; info@energyocean.com.
---
Submit an Abstract
Abstracts are still being accepted!
Inform the Ocean Renewables Market.
There are a limited number of speaking positions
available. Act now to submit your abstract for
consideration.
Click to submit
---
Become a Sponsor
Sponsorships are nearly sold out! Contact us today.
Sponsorship not only elevates your exposure in the
industry through conference promotion, it also
identifies you as a major player in the marketplace,
shows a strong commitment to the future of the
industry and supports the value of the EnergyOcean conference.
Click to register
---
Reserve Exhibit Space
Take this opportunity to distinguish yourself in the
marketplace by providing a "hands-on" experience
for qualified buyers, prospective representatives,
potential distributors, and interested financiers.
Click to register
---
Register to Attend
Hear about the most recent successes as ocean power plants begin to be installed around the world and business opportunities continue to surface. Find out why this new market is growing at an unprecedented rate and is becoming accepted as a viable source of renewable energy.
Click to register
---
---
Take the NELHA Tour
Depart 7:00 a.m. Friday, Aug. 24 from Turtle Bay Resort
Return 7:00 p.m. Friday, Aug. 24 to Turtle Bay Resort
$250.00 pp
Tour Includes:
Transportation from Resort to Honolulu Int'l Airport
Round trip airfare on Hawaiian Airlines from Honolulu to Kona airport
Transportation to NELHA
Tour of the facility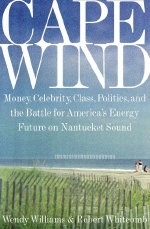 Please join Bob Whitcomb, co-author of "Cape Wind, Money, Celebrity, Class, Politics, and the Battle for Our Energy Future on Nantucket Sound" on Saturday, May 19th at 3:00pm at The Inkwell Bookstore at 199 Main Street, Falmouth, MA.
Cape Wind – The Book
Money, Celebrity, Class, Politics, and the Battle for Our Energy Future on Nantucket Sound
http://www.capewindbook.typepad.com/
Accolades
"How rare for Sun Myung Moon's scribblers, to say nothing of Rupert Murdoch's salarymen at Fox News, to find themselves allied with the merry pranksters from Greenpeace, who have injected some badly needed humor into the Cape Wind imbroglio….Cape Wind is breezy and informative fun."
– The Weekly Standard
"…colorful storytelling about the tribulations of siting a renewable energy project off of Martha's Vineyard, Nantucket, and the Cape, a 'devil's triangle of entrenched, often inherited, wealth"…"
– Alex Beam, The Boston Globe
"Cape Wind is a fun read, and a fun way to learn about renewable energy. If all the stories on this usually dry topic featured tales of meat hook accidents and characters with comic names, more Americans might pay attention. Cape Wind's opening scene, of author David McCullough screaming at a Martha's Vineyard town meeting that Nantucket Sound is hallowed ground, is worth the price of admission."
– Laura Vanderkam, The American
"…a page-turner…"
– Boston Magazine
"An epic battle that pits privilege against the common good in a stunning exposure of NIMBY (not in my backyard) hypocrisy…This true-life tale of a blinding love of place, outrageously irresponsible propaganda, shameful congressional maneuvering, and egregious social injustice is half farce, half political thriller, and altogether compelling."
– Booklist (starred review)
"With solid research, years of reporting and a number of colorful anecdotes, the authors present a convincing argument that wealthy property owners, politicians and some members of the local press have done a disservice to their country…entertaining and reads at times like a novel, with suspense built in between the chapters."
– Martha's Vineyard Gazette
",,,a book that will give some indigestion and others lipsmacking delight…"
– Barnstable Patriot
"For citizens wondering what has become of America's once-upon-a-time democratic republic, I know of no better place to begin the search than with a close reading of Cape Wind by Wendy Williams and Robert Whitcomb. The book joins first-rate investigative reporting with trenchant social commentary; the result is as entertaining as it is instructive. Voters intending to take part in next year's election shouldn't leave home without it."
–Lewis Lapham
"…a great new book…"
– Sean Hannity
"[A] well-reported assessment of democracy manipulated by powerful federal, state and local insiders, and other not-in-my-backyard shenanigans surrounding plans for a wind farm five miles off Cape Cod… [A] rambunctious, unsparing dissection of ruling-class abuse."
– Publisher's Weekly
" "Cape Wind,' a five-and-a-half-year tale of power and money run amok amid a cast of characters worthy of a soap opera, is a page-turner…."
– Cape Cod Chronicle