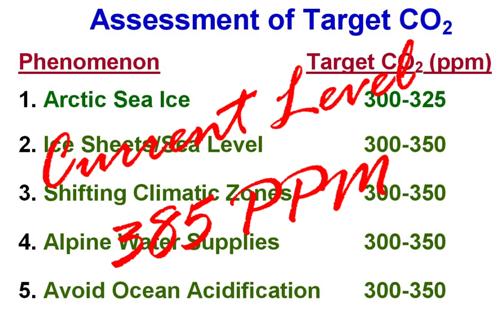 Do you have any idea how much carbon dioxide it is safe to have in the atmosphere? Some people reckon we should aim for 450ppm (parts per million volume) — that's what the IPCC have been saying — whilst others with a more business-orientated motivation are talking about 550ppm, or even more. One wag (in the coal industry, I think) reckoned we should aim for 1050ppm!
Now here is probably the most devastating, stomach-churning thing you have heard in a decade:
Unless we reduce the amount of carbon dioxide in the atmosphere to 350 parts per million, at most, then the climate and the Earth's ecosystems will change dramatically and irreversibly.
James Hansen, chief climatologist at NASA's Goddard Institute for Space Studies, and probably the single most important scientist living today, makes this stark pronouncement in a paper entitled "Target Atmospheric CO2: Where Should Humanity Aim?" which is currently being prepared for publication. Initially outlined in December to a select audience in San Francisco, his latest collaborative work using historical climate data and cutting-edge systems feedback analysis is unequivocal:
Paleoclimate evidence and ongoing global changes imply that today's CO2, about 385 ppm, is already too high to maintain the climate to which humanity, wildlife, and the rest of the biosphere are adapted. Realization that we must reduce the current CO2 amount has a bright side: effects that had begun to seem inevitable, including impacts of ocean acidification, loss of fresh water supplies, and shifting of climatic zones, may be averted by the necessity of finding an energy course beyond fossil fuels sooner than would otherwise have occurred.

We suggest an initial objective of reducing atmospheric CO2 to 350 ppm, with the target to be adjusted as scientific understanding and empirical evidence of climate effects accumulate. Limited opportunities for reduction of non-CO2 human-caused forcings are important to pursue but do not alter the initial 350 ppm CO2 target. This target must be pursued on a timescale of decades, as paleoclimate and ongoing changes, and the ocean response time, suggest that it would be foolhardy to allow CO2 to stay in the dangerous zone for centuries.
A more user-friendly PowerPoint presentation is available at http://www.columbia.edu/~jeh1/2008/illwesleyan_20080219.pdf (5.6MB file). I strongly recommend you send this around to others.
There is little more to say, except that dramatic action has to be taken immediately, far beyond existing technology-based, conservative policies. The world economy has to contract. The consumer culture has to die. We have to reconnect with the planet and make our priorities clear: enough is enough!