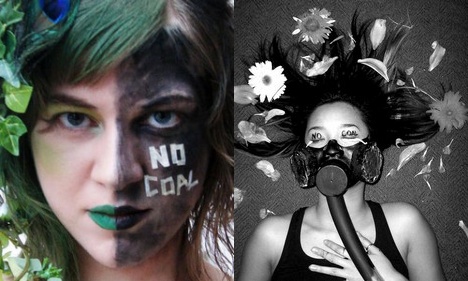 WHAT: Zombie March on Coal's Top Investors
WHEN: Friday, October 31st, 4:00 PM
WHERE: Copley Square, Boston, MA
WHY: Bank of America and Citibank are top investors in coal. Ravenous coal companies, funded billions of dollars by these banks, are literally blowing the tops off of mountains throughout Appalachia to extract seams of coal. Nearly 500 mountains have been decapitated, and over 1200 miles of rivers and steams have been buried with debris and toxic waste. Associated floods, landslides, and explosions have driven communities from their homes while destroying surrounding ecosystems. Burning coal is the nation's top source of air pollution and toxic mercury, and is responsible for one-third of the country's greenhouse gas emissions. Despite all of this, more than 150 new coal-fired power plants are in various stages of development around the country. If completed, these plants would have a total effect equivalent to doubling the number of cars on our roads. Meanwhile, our government is relaxing laws in order to allow for even more coal mining.
Now's the time. Dress in your finest gore and living dead attire, and descend on the banks, and if you're not dead yet, take the future into your own hands and join us at 4PM on October 31st in telling Bank of America and Citibank to…
STOP MAKING A KILLING ON COAL!
COAL IS OVER! FUND THE FUTURE!
http://www.risingtideboston.org
The Tufts Energy and Climate Forum Presents:
Community-Based Sustainable Development in Africa: How to Practically Promote Synergies in Climate Mitigation, Poverty Reduction, Health Improvement and Resilience
Dr. Robert Van Buskirk
Physicist, Energy Efficiency Standards, Lawrence Berkeley National Laboratory
5:30pm, Thursday, October 23rd
Mugar 200, Fletcher School
Sponsored by the International Resilience Program (IRP) at the Institute for Global Leadership, the Department of Economics, the Tufts Institute of the Environment (TIE), and the Fletcher School's Center for International Environment and Resource Policy (CIERP).
Energy and Climate Forum Website: http://environment.tufts.edu/?pid=16
___________________________________
Professor Gilbert Metcalf in the Tufts Economics Department and co-sponsor of the Tufts Energy and Climate Forum is looking for an intern:
Research Assistant wanted for help with research on energy tax and climate change issues. Strong writing and quantitative skills required. Knowledge of MS Excel, Word, and STATA important as is internet search experience and facility. Approximately 10 hours per week. More hours may be possible depending on competencies of student. Suitable for a graduate or an advanced undergraduate student. Please send resume and transcript as an attachment with an email to gilbert.metcalf@tufts.edu. Review of application begins immediately.