Freescale Semiconductor is demonstrating a breakthrough in power conversion technology for photovoltaic (PV) applications this week at the Applied Power Electronics Conference and Exposition (APEC).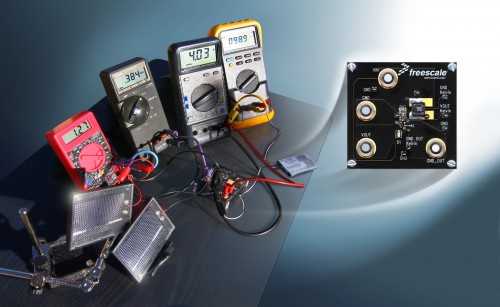 Freescale has developed advanced, ultra-low-voltage DC-to-DC converter technology that enables operating performance and efficiency at levels as low as 0.32 volts, as well as operation down to 0.25 V. Most IC (integrated circuits the things in your cell phones and car and whatnot that run the electronics) cannot start up at voltages less than the typical turn-on voltage of a transistor (approximately 0.7 V) without external assistance. This limitation reduces system design options and increases the complexity of power conversion (more complexity means more parts which means more carbon footprint) and energy recovery applications involving ultra-low voltages.
Freescale's power conversion technology enables IC startup thresholds to be reduced to 0.32 V and efficiencies of nearly 90 percent. This technology breakthrough can enable practical and cost-effective ways to develop a wide range of single-cell solar power systems and other energy-harvesting applications, such as thermoelectric and mechanical scavenging systems. Potential applications include solar-powered battery chargers, trickle chargers for automotive systems, chargers for cell phones and laptops, remote data acquisition and industrial HVAC systems, PV-based traffic signals, solar-powered home and commercial lighting products, and self-powered wireless transponders.
Using a low-cost single solar cell, Freescale's power conversion technology is engineered to charge a Li-Ion battery cell at 100mA. Present charging systems require multiple solar cells in series, which drives up cost, reduces efficiency, and increases sensitivity to shading and cell mismatches.
"We see no IC solutions currently available approaching the ultra-low-voltage capability and power conversion efficiency of our analog technology demonstrated at APEC," said Arman Naghavi, vice president and general manager of Freescale's Analog, Mixed-Signal and Power Division. "Freescale has demonstrated a single-chip solution that addresses one of the most difficult technological and practical challenges of extracting power from a single solar cell. This breakthrough can be used to help reduce the cost and streamline the development of innovative solar chargers, energy-harvesting systems and other low-voltage energy sources."
Overall this is just a small advancement in the overall efficiency of solar power. With a continued stream of advancements like this we could be seeing solar cells basically integrated into everything in years to come.