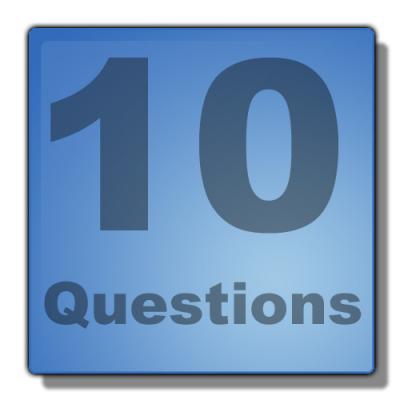 A week ago I posted a book review of Cape Wind: Money, Celebrity, Class, Politics and the Battle for Our Energy Future on Nantucket Sound. After a couple of emails I was lucky enough to get some time to discuss the book with its co-author Wendy Williams. Written with co-author Robert Whitcomb of the Providence Journal and published in May 2007, by Public Affairs Books Cape Wind lays out the machinations involved in trying to get the countries first offshore wind farm built.
Williams has been an investigative journalist and science writer for nearly 30 years. Her work has been published on the front pages of the Boston Globe, the Baltimore Sun and the Christian Science Monitor. She has written for a number of well-known magazines, including Scientific American, Science, National Audubon, National Wildlife, Africa Magazine, and many others. Her opinion columns have been published in at least 50 newspapers. She has also been a journalist-in-residence at Duke University, a fellow at the Hastings Center for Medical Ethics, at the Marine Biological Institute in Woods Hole, Massachusetts and at the Center for Environmental Journalism at the University of Colorado. "Long ago, I was a reporter for a small community daily newspaper, the Cape Cod Times, where I won awards for my investigative journalism, including a series on child abuse in Massachusetts, which was much-acclaimed. I have authored several other books." Said Williams.
Read the rest of 10 Questions – Wendy Williams Author Of Cape Wind The Book
When I stumbled upon Appropriate Infrastructure Development Group, I knew right away that they were doing something special. There unique approach to creating positive change involves long term commitments to the community; I was especially impressed with their commitment to green technology. I was lucky enough to be able to get Peter Haas, the founder and Executive Director of the AIDG, to take some time out of his very busy schedule to answer ten questions for The Sietch.
1. The Naib: Could you tell Sietch readers about AIDG? Specifically how did it start, who is involved and what role do you play in the organization.
Peter Haas AIDG is a new international development charity that starts small businesses in developing countries to produce, install and repair clean and green technologies for the rural poor. We started a little over two years ago. Our first business, XelaTeco, located in the 2nd largest city in Guatemala, Quetzaltenango (aka Xela), was founded in August 2005.
The need for an organization like AIDG crystallized for me during a trip to Cuba (legal, of course) with Global Exchange. We were studying urban agriculture at the time and visited many farms. Two farms struck me the most; both were pig farms outside of Havana. One had a biodigester that had been installed by a family member in technical school. A biodigester is a system that turns animal waste and kitchen scraps into biogas and fertilizer. This place was clean, free of the normal pig-farm smell, and tree-covered. Their kitchen lacked the black soot normally associated with open wood-burning stoves.
Read the rest of 10 Questions – Peter Haas Executive Director Appropriate Infrastructure Development Group
I have talked a lot about Cape Wind here at The Sietch. The offshore wind project that is trying to become the nations first. I recently got the good fortune to have an email chat with Mark Rodgers the Communications Director for Cape Wind. He was gracious enough to answer 10 questions for me, about Cape Wind, its past present and future.
1. The Naib: Could you describe Cape Wind the company? (how it started, who is involved, your position in the company etc)
Mark Rodgers: Cape Wind is being developed by Energy Management Inc (EMI) a Massachusetts-based energy company with a 30 year history of delivering environmental, energy, and economic benefits to New England. When the company was founded in the 1970s EMI provided energy efficiency and energy conservation solutions to large electricity users in New England. EMI's focus transitioned in the 1980′s and 1990′s into electric power generation, EMI was involved in developing and operating seven electric generation facilities during that time, six natural gas and one biomass. When EMI began these power generation projects New England's electric portfolio was dependent almost exclusively on coal, oil, and nuclear power. EMI sold its facilities in 1999-2000 and in November, 2001 began the permitting process for Cape Wind.
Read the rest of 10 Questions – Mark Rodgers Communications Director Of Cape Wind
Bigelow Tea recently got a sweet solar power system I had the good luck to get Dean Hearst to answer 10 questions about the system, the company and the future of Bigelow Tea.
The Naib: Could you introduce yourself to the readers?
Dean Hearst: My name is Dean Hearst. I grew up in Montana, and received my first exposure to "green" living when my parents built a passive solar house in 1980. In 1991 my wife and I spent two years living on our sailboat, which did have a small diesel engine, but 95% of our power came from the wind, and our two solar panels. It opened my eyes to how you can really live quite comfortably with use of "alternative energy". I am currently the Vice President of Manufacturing for Bigelow Teas.
1. The Naib: Could you tell me about your company?
Dean Hearst: Bigelow Tea was founded by Ruth Campbell Bigelow over 60 years ago in 1945. The company continues to be 100% family owned and managed by the Bigelow family with a special blend of pride and enthusiasm. Today the company is one of the nation's leading producers of specialty teas, which includes more than 80 varieties of flavored, traditional, green, organic green, herbal, decaffeinated, and iced teas. One of Bigelow Tea's most well-known products is America's number one specialty tea flavor "Constant Comment®" which is flavored with a delicious blend of oranges and spice. It is available in both black and green tea versions.
In 2003, Bigelow Tea purchased and restored the beautiful Charleston Tea Plantation – the only tea plantation in America. Here Bigelow Tea cultivates several hundred thousand tea bushes that are descendants of bushes brought from China and India during the 1800's. Visitors are welcome to tour the facility and observe the tea manufacturing process.
And don't forget about our high profile advocates of Bigelow Green Tea which include sports figures Yankees manager Joe Torre and the father-son football duo Phil and Chris Simms.
2. TN: What made Bigelow decide to go solar was it requested by your customers?
DH: Solar power was looked at as a means to reduce the increase in power rates by United Illuminating. Bigelow formed a team to look at alternate methods of generating power and possible reductions to our current power consumption. With the help from CCEF "Connecticut Clean Energy Fund" and United Illuminating the process has been very painless and educational along the way.
Read the rest of 10 Questions – Dean Hearst Vice President Of Manufacturing For Bigelow Tea
Over the weekend I had the good fortune to "sit down" over email with Vinay Gupta, the creator of the amazing Hexayurt project that we highlighted last week.
The Naib: Before we get started could you tell us a little about yourself.
Vinay Gupta: My name is Vinay Gupta, and I invented the Hexayurt. I run what is essentially an open source design project around solving the problems of the word's poor by bringing the cost of essential services down to a level they can comfortably afford.
I took a roundabout path to get here: I started out doing 3D graphics. In college, I helped start a company called Voxar that did medical imaging software. I had the critical insight that the entire enterprise was based on – that some throw away demo software Andrew Bissell (the founder) had written was actually the key to a whole new way of rendering. I spend about the next six years doing 3D graphics off and on, as well as a stint trying to start a Geodesic Dome company called WorldView LivingSpace with David Kinne, an incredibly talented Quality guru who taught me about Permaculture , Deming and the whole culture of quality. That left a deep imprint. WorldView had licensed a really superior dome technology from
Wil Fidroeff and I'm still surprised that Wil's dome tech hasn't taken over the world!
Most 3D graphics is all about triangle meshes and that's the tie in to buildings – geodesics are very strong because of the way triangles hold forces, and fitting triangles correctly to a sphere is the core of Buckminster Fuller's dome geometry.
1. The Naib: How did the hexayurt project get started and who else is involved in the project?
Vinay Gupta: The hexayurt had two genesis points. The first was my curiosity about how to overcome the bane of geodesic domes – not that they leak, but that the weird angles and unusual component sizes fit so poorly to standard building materials, often creating up to 40% waste. So I was playing around with 4′ x 8′ sheets in my head, trying to find a way to build domes with them, and I stumbled on the hexayurt's basic shape: six isosceles triangles with the same base and height form a cone suitable for a roof. It's "geodesic-like" – no longer do all the points fit on the surface of a sphere, but on the other hand, you can cut it by eye in the field with a stick and still get a building.
So that was Genesis 1. Genesis 2 was the Sustainable Settlements CharretteThis was one of those epochal meetings that RMI throws every so often where they rewrite reality by figuring out better ways of doing things. I was not at the Charrette but I was working at RMI off and on as a volunteer at the time and got a good dose of the ideas and insights, including the key insight that there needed to be a building that could be moved with the population when they were sent home, rather than being tied to the refugee camp. It all came together from there, really. Amory Lovins notions about autonomous building provided the last leg of the triangle. Over the next few years I began to assemble the system.
There are also three groups involved: the first is me and my immediate collaborators – Lindsey Darby, Woody Evans and a few other folks.
The second is the vendors: the Hexacomb cardboard manufacturers, the wood gasification stove engineers and so on.
The third group is the aid agencies and especially the US Department of Defense. I attended Strong Angel and since then the building and concepts associated have come into contact with a lot of people, particularly since a rather senior fellow by the name of Dr. Linton Wells rather likes the design (he's a big fan of Amory Lovins work and the design is a direct extension of Amory's thinking to a very large degree.) It was a bit surprising at first to be in such tight collaboration with those guys but they are the final resort – they're the people the world turns to when things go really, really wrong like they did in the tsunami or the Pakistan earthquake, so they're very much on the look out for better answers to "how do we keep these folks alive?"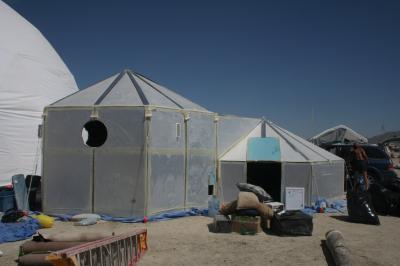 Read the rest of 10 Questions – Vinay Gupta Creator Of The Hexayurt
« newer posts
|
older posts »