You may have read about the new Adventure Club I am trying to start, the basic premise is that through public art, fun social experiments, and general good times we are trying to make the world a better place.
The first experiment was pictures of strangers, this time I wanted to try and do something a little more personal. Where I live in New England people have a reputation for being a bit reserved, a bit inward. So I thought it would be a good idea to just go talk to some strangers and see how they were doing.
Project: Talking to strangers
Goal: Get strangers to talk to each other and me
Materials: Piece of cardboard from a dumpster, and a marker.
Success: YES!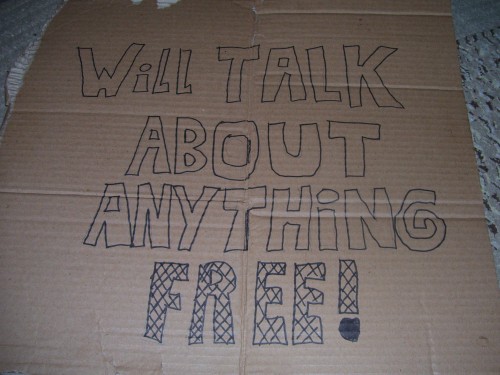 The basic setup goes something like this. You get a piece of cardboard out of a dumpster, write "will talk about anything, FREE!" on it. Pick a popular spot, sit down, and act friendly.
When people would approach I would say "hello!" in a nice friendly way, they would then look at the sign, if they smiled I would say "got anything you want to talk about?" more often than not they would smile, say "not right now" or "no thanks" and keep walking I would then say "have a nice day!"
When people did want to talk I would ask them how the day was going, if they had any good news they wanted to share, how they were enjoying the city. Whatever came to mind. They would fill in the rest. Asking me questions, some quizzed me, asked me about the city, or just told me of their adventures.
The trick is to be friendly, and not look like a creeper. A LOT of people did take my offer and talked to me. I spend 6 hours talking to total strangers…it was amazing. So many good stories. A recap of some of the better ones are below.
I spent almost an hour talking to a woman from Spain. She was in America studing international tax law. We talked about Spanish politics, language's, American food vs Spanish food. She told me that she was so happy that I was doing this because she loved to talk to people but couldn't find anyone to practice her English with. She invited me to a coffee.
I talked with three guys from Turkey, who were visiting from Ohio, where they were studying English and computer science. Turns out they were going to school right near where I grew up. We talked about corn, Ohio, places in Boston that had good night life, and a host of other things.
I talked with a group of high school kids. They were interested in colleges in Boston, and wanted to ask me about how old I was, and what I was doing talking to strangers. I told them not to do drugs, and for sure to go to college as it was a super fun time.
I talked with two women and one of their parents. We discussed tattoo's women in science fiction, being geeky, and comic books. I talked with the parents about being Jewish, and what happens when you die. Also about how you can be both an atheist and a Jew at the same time.
I talked with a group of high school boys who wanted to know if I had genital herpes (I shit you not that is the very first thing they wanted to know). We then talked about where they could get some good food in the area. They later drove by in a convertible and shouted "IT WAS DELICIOUS!!!"
I talked with a woman from New York City who was in town to try out for a ballet. She saw that I had very flexible legs and gave me a quick ballet lesson. I did horrible but she was cool. We talked about her future, and how she wanted to get a job with a dance company so that she could have a steady income and stop having to take so many different dance jobs.
I talked with another woman who was from Portland, and was visiting her sister. She told me about how she loved her sister but couldn't stand that her sister was so religious and how because she was a lesbian that was causing problems.
I talked with two Mormon missionaries who surprisingly didn't give me a big talk about religion. We talked "shop" instead, one public talker to another. We talked about how you get people to talk to you, they said they might try and copy my technique. I told them I wasn't very religious, and we talked about why that was. They asked if I had a moral code, and I explained where I gather my morals from. We wished each other luck and they wandered off.
I got my picture taken, I got funny looks, I got interviewed by some kids who had a microphone and a camera (like a point and shoot digital that did video) they asked me about swine flu. It was a glorious day out, and the people were friendly.
I am going to do this again, maybe bring some friends with me see if we can get a big conversation going with lots of people all at once. It was nice to get the New Englander's out of their shells.
So I decided to start a public adventure club…so far I am the only member, but we had our first project this weekend. The goal of the Adventure Club is to get people to interact with the world in a more interesting way. I am a firm believer in the power of art, and science, and culture to shape the world we live in. Hopefully for the better.
Project: Public Photos
Goal: Get people to leave pictures of themselves to a stranger
Materials: Two reusable cameras, some string, a marker and two 3X5 cards
Success: You betcha!
Scenario:
I left two reusable cameras tied with string to two benches in Boston. One in Quincy market (a popular tourist trap), and Harvard Square (Technically in Cambridge). I placed them there with little signed that read "Good day! This camera has been left here for you to have fun with, Seriously! So take some pictures. I will be back later this afternoon to pick it up. <3 SJ"
I dropped them off around 1pm, and then went and rode my bike around town for 5 or 6 hours (it was soooooooo nice out). As I returned I was just in time to see a security guard snatch the camera I had left in Quincy Market (apparently her boss had told her to take it…why I can't understand) but I got it back with a minimum of hassle, good timing on my part. The camera in Harvard square was in use when I got there, so I had to hide for a bit then pick it up once they were done. The people in Harvard Square actually left me a little message with emails saying they wanted to see these pictures (Hi people from Harvard Square hope you like them!).
The pictures are really nice, and this turned out really well. I am certainly going to do this again. If you live in Boston and want to be part of the Adventure Club let me know I have a lot of ideas and need help! We will be doing all sorts of fun, lighthearted things to get people to play and have fun more. The goal is to get them to smile, enjoy life, maybe think a bit. If you want to join drop a comment in the form below and make sure you fill in a valid email into the email form.
So without further adieu here are the pictures.
Read the rest of Adventure Club Project 1: Public Photo Project