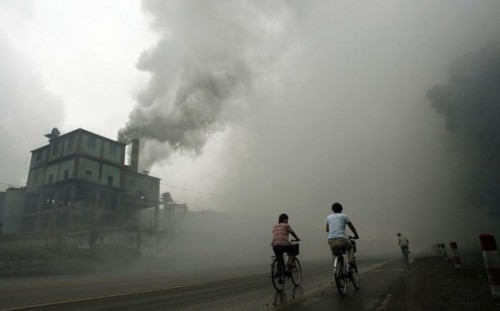 Judging by the numbers, the scope of China's environmental degradation is beyond shocking.  Consider:

The World Bank estimated, in a 2007 report, that pollution caused 5.8% of China's GDP in premature deaths, healthcare costs, and material damages. Air pollution alone is estimated to kill 700,000 people a year.
A 2012 MIT study estimated that air pollution in 2005 cost the Chinese economy $112 billion in lost labor and healthcare costs, roughly five times higher than it was in 1975.
In 2010, airborne microscopic pollutants caused an estimated 8,600 premature deaths in four major Chinese cities: Beijing, Shanghai, Guangzhou, and Xian.
According to a Chinese vice minister of environmental protection, the water quality in five of the nine bays along China's coast was "extremely poor." Results from monitoring stations along 10 major river basins show that 40% of the water is polluted. And 55% of the underground water in 200 cities is polluted. On top of that, about 300 million rural residents do not have access to safe drinking water.
Soil pollution is endangering China's food chain. Roughly 10% of the country's arable land has been contaminated by heavy metal, based on scientific studies conducted in the late 1990s. In 2006, the Chinese government began a nationwide survey of soil pollution. However, it has not released the results, most probably because the findings are too alarming for the government to release.

Given decades of environmental neglect and China's heavy reliance on coal — which produces 70% of the country's energy — it would be difficult to produce a dramatic improvement quickly. Nevertheless, the Chinese government can take a comprehensive approach to environmental protection by adopting tougher environmental standards, changing their economic policy, increasing investment in the environment, and mobilizing the press and civil society to take part in these efforts.Via
A couple things immediately stand out.
This pollution is caused because they are making the worlds cheap crap. This is as much our pollution problem as theirs.
They are burning coal, one of the filthiest, mercury filled fuels around. They are literally killing themselves with their energy source choices.
They are creating enough green house gasses to alter the planet in such a way that billions more lives are in danger.
This thirst for coal, and other natural resources is bound to cause political instability in places like Africa and other regions where China is pushing its weight around (for an example look what happened when America put its fingers into middle east politics for oil over the last 50 years).
This pollution doesn't stay in China, elevated mercury levels, and other toxins have been detected in California, putting human lives, and farm/fishing industry in danger.
Unless we stop ordering cheap crap from china, and help China build a sustainable energy system, billions of human lives including our own could be at risk.
We must ask ourselves, why is the stuff we buy from China so cheap? Is it because the people and environment of China is absorbing extra costs? The cost of the products from China doesn't include things like "pollution controls" or "clean waste disposal" or "air quality controls" instead those costs are passed on to the people of china, the environment of china, and ultimately to all of us.
So sure, we might pay less for our cheap plastic crap from china, but that doesn't mean those items are actually cheaper, it just means someone else is picking up part of the tab for us. Increasingly it looks like they are paying that bill with their lives.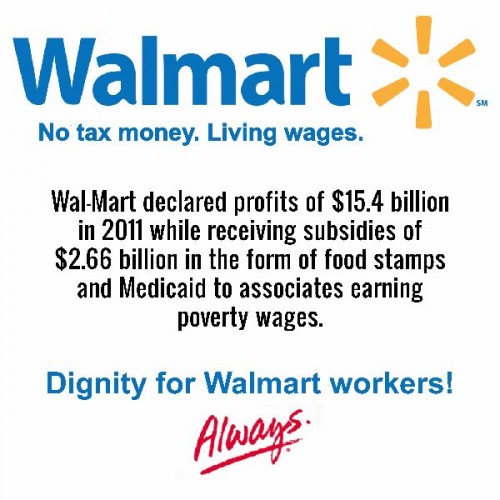 Ever wonder how Walmart makes so much money? They pay their workers so little that they are forced to get on food stamps (which your tax dollars pay for), so next time you think you are getting a deal by shopping at Walmart remember that what you are really doing is paying for those savings in some other way.
The combined worth of the 6 Walmart heirs and heiresses is greater than that of the bottom 41% of American families (48.8 million households). How do the grinning kids of Sam Walton stay so rich? By paying their employees slave wages and not providing benefits, forcing them to use food stamps and medicaid. Above, a poster by Miel Macassey that shows how Walmart siphons money from taxpayers so it can pay its workers (which represent 1% of the American workforce) an average of $8.81 an hour without having them and their kids drop dead of starvation.(via)
I attended the Do The Math tour last night put on by Bill McKibben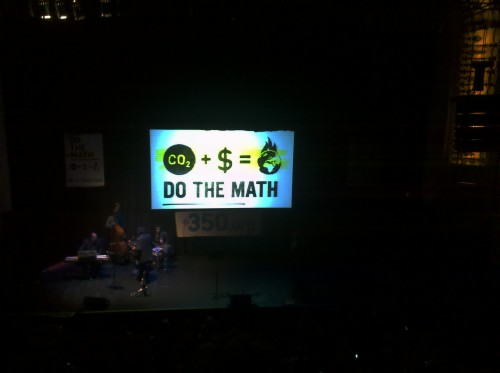 Bill McKibben describes the simple math of global warming: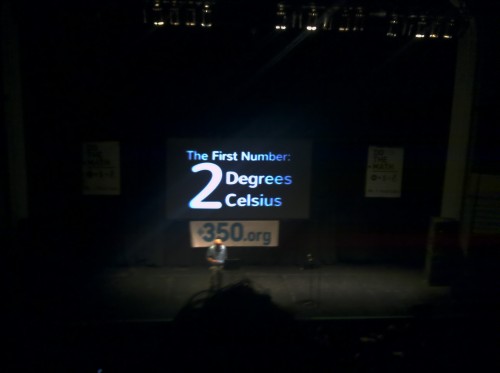 If we want to avoid a climate catastrophe we need to keep our warming below a 2 degree Celsius rise.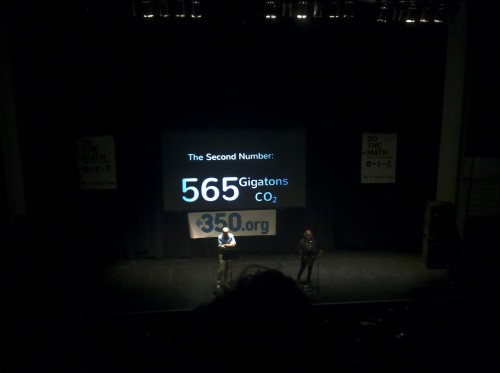 To avoid that we will need to keep the amount of carbon below 565 gigatons of CO2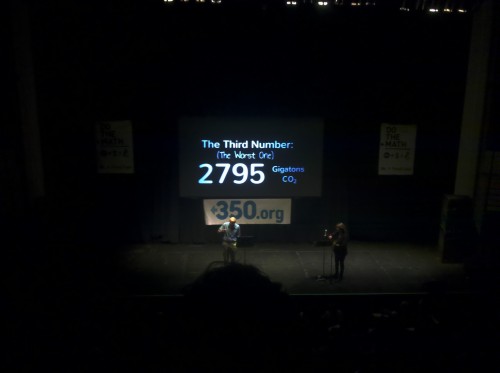 Current proven reserves of oil/gas/coal are 2795 gigatons of CO2. Five times more than we will need to doom us to runaway global warming.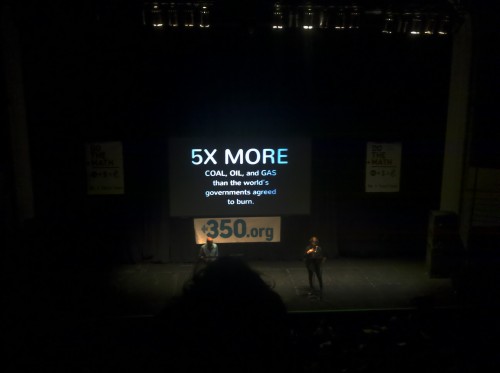 These companies will dig up and burn that carbon, its how they make money. They should no longer be considered companies, and be reclassified as radical enemies of humanity.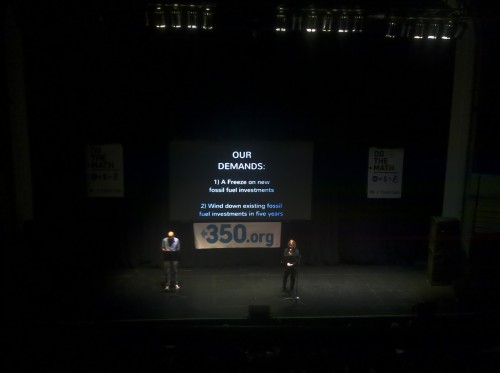 So what do we do with these companies? We go after the only thing they care about.
We need to make schools, colleges, pensions, unions, etc to divest from these companies. We can no longer offer these companies a profit for destroying our earth.
If you are a college who invests in Exxon, what is the point of educating your students if there will not be a viable climate for them to use that education in. If you are a pension fund manager what is the point of investing in Shell if there is no future for your pensioners to use their retirement in.
And if all that wasn't enough Bill explained it all in a metaphor we can all understand Beer.
Learn how you can get your institutions to divest from these big carbon companies at GoFossilFree.org
Via HuffPo
A vast expanse of ocean south of Martha's Vineyard and Nantucket could be leased for offshore wind energy by the end of 2013, according to a timeline laid out by federal officials Tuesday.

"We're going to shoot to have that lease sale in that fall time period," Maureen Bornholdt, renewable energy program manager for the U.S. Interior Department's Bureau of Ocean Energy Management, said during a public meeting in Boston.

The estimated time frame for leasing means that selected wind energy developers would have until about the end of 2018 to submit construction and operations plans and potentially an additional 20 years to produce wind energy from the leased areas, Bornholdt said. The leasing plan does not affect Cape Wind, the proposed Nantucket Sound wind farm, which has already been awarded a lease by the federal government.

For Massachusetts, which under Gov. Deval Patrick set an aggressive goal of having 2,000 megawatts of wind energy — most coming from offshore — by 2020, the timing of the leasing process is a potential, if necessary, setback.

"It's hard to speculate whether this will impact our goals," Massachusetts Executive Office of Energy and Environmental Affairs spokeswoman Krista Selmi said after Tuesday's meeting.
Good to see that modern wind turbines can survive even very violent storms. We will need designs like this as extreme weather becomes a more common event.
The clean-up is in full swing on the east coast as a result of hurricane Sandy. The majority of people who lost power during the storm have had their electricity restored. Yet is there a better way to keep the lights on during a major weather event? Wind power might just be the answer. Several wind energy companies have said that their turbines, directly in the path of the hurricane remained operational and undamaged.

Northern Power Systems said 74 of its wind turbines remained standing, undamaged and performed safely. The turbines were designed that when each turbine detected high force winds, it automatically entered safe mode. When conditions returned to normal, each turbine began generating electricity again.

"The losses experienced from Hurricane Sandy are a tragic reminder of how powerful nature can be," said Troy Patton, Northern Power Systems president and CEO. "Many of our turbines, from the Caribbean to the eastern seaboard of the US, were directly in the path of Hurricane Sandy, but none were damaged by the high winds. At Northern Power Systems, we have the experience and commitment to continue to make products that are safe and reliable."
older posts »