President Obama has just delivered a state of the union address speech, in which he stressed the importance of good education and research with focus on renewable energy and sustainability. The President has also stressed the importance of creating new sustainable jobs in the construction industry. Without a doubt, renewable energy systems, and sustainable building practices can offer a great promise to help rebuild America.
Commercial modular construction offers a speedy and cost effective way to build single story and multistory buildings for educational, commercial, industrial and institutional construction projects with focus on sustainability, which can be measured by the US Green Building Council LEED accreditation points system.

Think Globally, Act Locally

The President has raised some very important points concerning good education and rebuilding of America. Modular building technology offers a cost effective and time-saving way to build permanent modular classrooms, and portable school buildings for organizations that require new classroom space to meet the growing demands for increased school enrollments.
Modular Classroom Advantages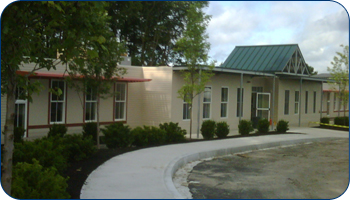 Modular school buildings are indistinguishable from other school buildings, and can have any architectural design along with client's specifications.
Portable classrooms provide an economical and sustainable way for public, private and charter schools to add new classroom space. Modular classrooms are custom-designed to meet the specific needs of the school and its students. The classrooms are fabricated at a manufacturer's facility using strict quality control measures, and lean manufacturing methods. The manufacturing process is completed in just 6 to 8 weeks, which is just a fraction of the time it would take to build comparable school buildings using conventional construction methods. The construction site prep work takes place concurrent to modular building being constructed. The whole building can be delivered in as early as 90 days.

Portable Classroom Solutions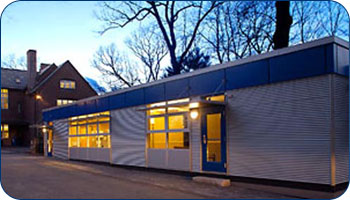 For schools that require an immediate classroom space increase, temporary classroom buildings can be delivered and deployed in just 24 hours.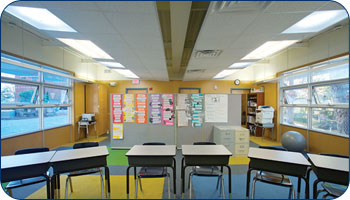 The modular school buildings above are courtesy Triumph Modular Inc. providing custom green modular building services, and portable and temporary classroom solutions in Massachusetts, New Hampshire, Rhode Island, Connecticut, New York, Maine and Vermont. The Sprout Space sustainable high-performance custom modular classroom systems designed by architects who focus on school design can be installed by Triumph Modular anywhere in the US.

References:
http://www.triumphmodular.com/green-building.php
About the Author:
Aleksandr Biyevetskiy is an avid proponent of green building technology for residential and commercial construction, and sensible sustainability for business, government, and society. Some of the topics that he passionately writes about include (among other things) green modular classrooms for schools with rising enrollment needs, and environmentally-friendly PVC roofing systems for residential and commercial flat and lower slope roofs. Alex also maintains a personal blog in which he covers a variety of concurrent/relevant topics at www.tampile.com/blog/.
Connect with Alex on Google Plus: Join and Follow my latest posts on Google+!
Last week we told you about the wind nacelle factory opening in Kansas, now Schott is opening it's new solar plant in New Mexico! Schott has been sort of a pet project around this blog, we have been covering them for a long time. I really like what they do, and it's always great to see more renewable energy related jobs coming to America. It is part of retooling the entire economy to be based on a sustainable model of energy production and use.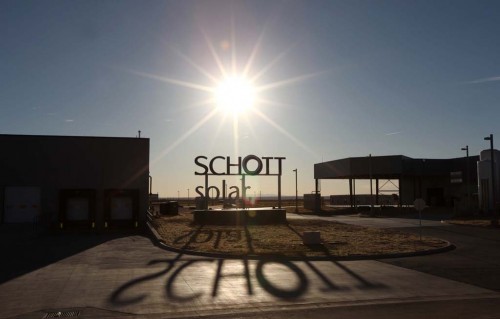 Schott Solar today ceremonially inaugurated its state-of-the-art manufacturing facility for products used to generate solar power, one year after breaking-ground on the project's first-phase. The 200,000 square-foot facility represents an initial investment of over $100 million USD in the Albuquerque region from the global Schott Solar group. Schott has created 350 jobs at the new facility, which will continue to ramp up production throughout the summer.
Federal, New Mexico, and Albuquerque dignitaries and government officials joined Schott Solar executives to dedicate the facility. Government officials praised the facility as a bright spot in the regional and national economy.
"This facility is proof that smart policy can create jobs and spur investment," said New Mexico Governor Bill Richardson. "Schott Solar has recognized the vast potential that exists for solar energy in the United States and especially New Mexico. They have taken a leadership position to manufacture technologies that can capture this limitless energy source."
Anticipating the need to increase production of its solar power technologies as the market for renewable energy in the U.S. grows, the new site is designed to support expansion of both Schott's photovoltaic module and solar thermal receiver lines. Long term plans call for the buildings to expand to 800,000 square feet with employment reaching 1,500 people, representing a total investment of approximately $500 million.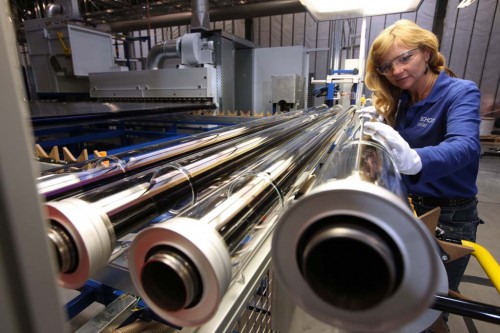 "Today is an extremely proud day for Schott," said Dr. Udo Ungeheuer, Chairman of Schott's Board of Management. "With the inauguration of this facility, Schott Solar is further demonstrating the company's position as a global player in solar technology and our ongoing commitment to developing the North American market through strategic investment."
Schott Solar's manufacturing facility in Albuquerque is the first new solar manufacturing facility to open since the Federal government signed the American Recovery and Reinvestment Act into law. This law provides numerous incentives, including incentives for solar manufacturing, to help expand the renewable energy industry. By 2016, the U.S. solar industry is expected to support more than 440,000 permanent, full-time jobs, including many in the manufacturing and construction industries, according to Navigant Consulting. The development of solar energy has widespread support from the American public. In a study commissioned in 2008, 94% of respondents indicated it was important for the United States to develop and use solar energy.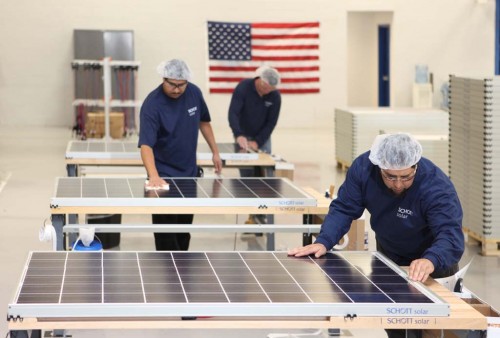 Powerful Products from a Powerful Project
For the first phase, the Albuquerque facility will have an annual capacity of up to 85 MW (A megawatt of solar capacity provides enough electricity to power between 150 and 250 homes) of photovoltaic (PV) 225 watt polycrystalline modules, sold under the name SCHOTT Solar Poly 225. The 225 watt module is well suited for a diverse range of applications and is particularly well suited for commercial buildings and schools thanks to its size and durability. The highly-automated manufacturing process used in Albuquerque combines best practices from Schott Solar's global manufacturing expertise to deliver an efficient, high-quality and reliable module.
In addition to manufacturing photovoltaics, Schott Solar's Albuquerque flagship facility is the first in the U.S. to produce receivers used in parabolic trough, utility-scale, concentrated solar power plants (CSP). Initially, the two production lines will produce enough receivers to meet the demands of up to 400 MW CSP power plants per year.
Schott Solar receivers are advanced, specially coated steel absorber tubes embedded in evacuated glass envelopes. These receivers sit at the focal point of parabolic mirrors, where the sun's thermal radiation is concentrated. A heat transfer fluid (HTF) is heated by the sun's energy inside the receiver. The fluid then flows to a heat exchanger, which creates steam. This steam spins a turbine, creating energy with no carbon emissions.
Schott Solar designed its manufacturing process in Albuquerque to accommodate future developments for CSP receivers. Prototypes of next generation receivers were unveiled by Schott Solar during the inauguration of the Albuquerque facility. The new receivers offer new dimensions and can accommodate alternative heat transfer fluids. These changes are designed to increase the overall efficiency of CSP power plants, which will help to reduce costs for utility-scale solar energy production.
Solar: A Powerful Energy Source
In just one hour's time, the amount of energy that the sun shines upon the earth's surface exceeds the energy consumption of all of mankind in an entire year. The desert southwest of the United States is particularly well-suited to harness the full potential of this inexhaustible energy source.
"Investing in solar energy is the right investment for today," said Dr. Gerald J. Fine, President and CEO of Schott North America. "We're creating stable jobs in an industry that will benefit every American and the country as a whole."
The opening of the Schott Solar facility in Albuquerque is symbolic of the nation's growing appetite for renewable energy. President Obama has committed to doubling the nation's renewable energy portfolio in three years. At the end of 2008, the United States had over 1 gigawatt of grid-tied PV and over 400 MW of CSP.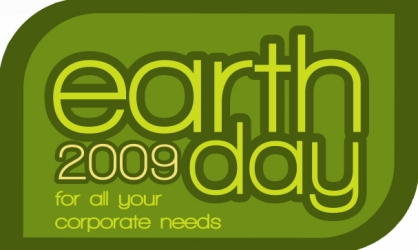 In case anyone wants to accuse me of laziness, for using the text from other peoples' emails and for banging on about Earth Day again (not for no good reason, I hasten to add), I would like to say in my defence that I have to trawl through, read and delete all this damn stuff which comes squeezing its way through my internet pipe every day like lots of little green goo-soaked monsters.
So, given this effort, and how I still don't seem to have got through to the inane fools sending me so much pseudo-green trivia and corporate PR-puff, here's my Top 3 Crap Earth Day Emails, in approximate order of hypocrisy:
3. Coupon Sherpa : for uber-trivia – as though coupons are actually a major issue, the promotion of coupons that encourage people to buy more stuff, and iPhones, which are made by a near-slave workforce with virtually no environmental regulation
As Earth Day nears, Coupon Sherpa's new iPhone application demonstrates how mobile coupons can reduce waste

[Fort Collins, CO] – Envision all the printed coupons you receive via newspapers, magazines and direct mail. Millions upon millions of Americans are bombarded by piles of paper coupons every week. Coupon Sherpa offers an alternative that is friendly to the environment, convenient for consumers and beneficial for retailers.

Introduced in early April, Coupon Sherpa is an iPhone application that allows shoppers to access in-store coupons on their iPhone or iPod Touch. Approved by Apple, Coupon Sherpa (www.couponsherpa.com) is available at the iPhone App Store. There are coupons to over 100 merchants on Coupon Sherpa including Finish Line, Zales Jewelers, Coldwater Creek and Jackson-Hewitt. The coupon categories include clothing, restaurants, pet supplies, sporting goods, home & garden and entertainment.

The debut of Coupon Sherpa is timely, especially since Earth Day will be celebrated on April 22. The waste created by paper coupons is substantial. According to a report by the nonprofit group ForestEthics, "mail advertisements create 51.5 million metric tons of greenhouse gases each year." [Ed: Mail adverts do not equate to coupons, you moron!] That number is equivalent to the emissions produced by heating about 13 million houses or mowing more than 20 billion lawns.

"We know that paper coupons will not be completely replaced, but providing consumers and retailers with an outlet for mobile coupons is a positive start towards reducing the waste created by the mountains of mail we all receive," said Luke Knowles, who created Coupon Sherpa with his brother Jesse Knowles. "In the future, an increasing amount of coupons will be presented on mobile devices, and that will be great for the environment."
2. Kelly Ripa and Electrolux : for being an incredible mix of greenwash and hypocrisy. This is like punching someone in the face and then saying "sorry" in a really sarcastic way.

Kelly Ripa Launches Virtual Campaign To Benefit Global Green

How Green Is This! Talk show host and eco-Mom [Ed: Eco what?! More like Hyper-Consuming Mom], Kelly Ripa launched Electrolux's newest eco-friendly washer & dryer in limited edition "Kelly Green" just in time for Earth Day and kicked off an online campaign to encourage people to renew their commitment to living green by planting a virtual flower for a friend. For every virtual flower planted at electroluxappliances.com , Electrolux will donate $1 to Global Green USA to support their healthy green schools initiatives across America.
Kelly Ripa is paid by Electrolux
Pass me the sick bag!
1. Lexus and Alicia Keys : for leaving me open-mouthed with astonishment at the sheer level of environmental hypocrisy, coupled with a brilliantly conceived splash of student brainwashing; all for less than the cost of a single car.
To kick off Earth Month, Lexus, the top-selling luxury automaker, and multi Grammy award-winning recording artist, Alicia Keys, will honor Los Angeles' Thomas Jefferson High School with a $10,000 Grand Prize for its environmental achievements through the "Lexus Keys to Innovation" program. The "Lexus Keys to Innovation" program is a unique way for Lexus and Alicia Keys to recognize and reward students who have successfully implemented innovative environmental programs in their schools and communities.

Through "Lexus Keys to Innovation," Lexus and Alicia Keys presented ten schools across the country with a $2,000 donation to support existing environmental programs. Thomas Jefferson High School's "action plan" proposed that the $10,000 Grand Prize be used to create a native "green" space on campus for the students and faculty to utilize as an interactive educational tool.

The mission of the program is to better this South LA high school and community by bringing a much needed green space to the area which is currently dominated by [huge amounts of greenhouse gases generated by vehicles such as those produced by Lexus,] concrete, meat packing plants and factories. Additionally, the space will help to improve the air quality around the campus, and will allow students at Thomas Jefferson High School and nearby Harmony Elementary School to use the Green Space as an outdoor science lab.

The Environmental club at Thomas Jefferson High School will make this project a community effort by partnering with the local Harmony Elementary School to teach the younger members of their community the importance of taking an active role to better the environment.

During a school-wide assembly [and marketing opportunity] on April 2nd, Lexus' vice president of marketing, Dave Nordstrom, will present the Grand Prize as well as commemorative, native Californian sapling to plant in the "green" space to Thomas Jefferson High School. As an added "thank you" to the students of Thomas Jefferson, Alicia Keys has videotaped a special message that will be played at the assembly, prior to Dave's commemorative.
Now, will you all join me in sticking two fingers up at the winners – including our special celebrities. May they all be washed away when the tide turns…
[from The Unsuitablog]
STOP PRESS! Since writing this, another email seems to have trumped the trivia of (hah!) "Coupon Sherpa". Take at look at this one about "Earth Saving" bottled water…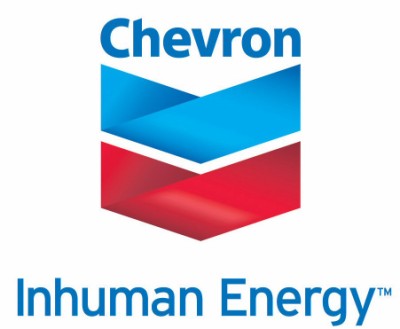 (from The Unsuitablog)
Oil companies want you to use their products, and despite what they may appear to say, they really want you to use oil. I will repeat this: oil companies want you to use oil. That seems obvious, but you would be forgiven for thinking otherwise – I really would forgive you.
In fact, it would be fair to say that, given the raison d'etre of any oil company is to make money from selling oil, they will consider anything that does not allow them to make a profit from selling oil as commercial suicide. Nevertheless – and this is why I would forgive you – they are doing an incredible job convincing us that they are actually benign, even beneficial, entities. The public at large are very much aware that oil companies trade in death; not only through their greenhouse gas emitting activities, but through their politically smokescreened desire to expand their global reach, whatever the environmental or social cost.
They are prepared to start wars to get oil.
They are prepared to destroy ecosystems to get oil.
They are prepared to displace humans to get oil.
They are prepared to do anything it takes to ensure that they profit from the business of extracting, refining, distributing and selling oil. But looking like a monster isn't a good thing in these marginally more environmentally conscious days (if only from the point of view of the public), so it is vital to look and sound like the Jolly Green Giant – and the less you look like a giant at all, the more likely you are to convince us all that oil isn't such a bad thing, and neither is economic growth, mass consumption, ceaseless driving and hyperexploitation of disappearing habitats.
We're all in this together, aren't we? Chevron want you to Join Them: "Will You Join Us" they plaintively ask, "we care too."
One of the most critical environmental challenges facing the world today is reducing long-term growth in greenhouse gas (GHG) emissions. The use of fossil fuels to meet the world's energy needs has contributed to an increase in GHGs—mainly carbon dioxide and methane—in the earth's atmosphere. Many think this increase is leading to climate change, with potentially adverse effects on people, economies, and the environment—from coastal flooding, to droughts, to changes in ecosystems and biodiversity. Many governments and businesses agree on the importance of addressing the risk of climate change. The challenge is to do so while still providing the energy required to meet the demands of growing populations and economies.
Time to deconstruct this statement, and see what they really think:
"One of the most critical" It is easily the most critical environmental "challenge", and unlike almost any other change, is irreversible in the medium term due to the presence of a host of positive feedback loops. They are purposely downplaying the climate crisis because it would not pay to scare the consuming public.

"long-term growth" What about short- and medium-term growth? This is not something Chevron would want to address, because that will mean taking immediate action – they only want to appear to want to change, which is easy to do when you have long-term targets to satisfy.

"to meet the world's energy needs" This essentially means that the need has to be met; our fundamental consumer industrial behaviour cannot change because this is commercially damaging, therefore, by inserting a baseline proposition ("the world's energy needs") we are presented with no possibility of fundamental change.
"Many think this increase is leading to climate change" Notice the lack of any concensus being presented: it must be made clear that there is uncertainty, rather than almost total agreement within the scientific body of evidence, for with uncertainly remains the ability to keep moving the goalposts. This is a very dangerous contention that Chevron are making; but it is no different to that of any other major corporation.

"Many governments and businesses agree" This is clever: by juxtaposing the far more sceptical governments and businesses with the scientific body of evidence, using the same phrasing, Chevron have managed to imply that governments and businesses are doing (or will do) exactly what is required to deal with climate change. The statement "Many governments and businesses agree" is actually true: it is the context that is so misleading.

"while still providing the energy required to meet the demands of growing populations and economies." This is essentially a repeat of the opener, but in more strident terms, and with a twist: by bringing population into it, you actually reveal the "inevitability" view that corporations have to maintain. The "inevitable" growth of population and the economy is what corporations need to maintain their business, and by presenting this as a fait accompli, we are led to think there is nothing we can do about them; which is a blatant lie.
I was led to this horrible, cynical campaign by an emailer, whose comments, I think sum the campaign up rather well:
In train stations, at bus stops, online, even on our coffee cups, Chevron ads are trying to convince us that the key to ending our energy crisis is individual action. Over pictures of everyday Americans, taglines from Chevron's "Will You Join Us" ad campaign read:

"I will leave the car at home more."
"I will take my golf clubs out of the trunk."
"I will replace 3 light bulbs with CFLs."
"I will finally get a programmable thermostat."
"I will consider buying a hybrid."

All good ideas, certainly, but no matter how many clubs they're carrying in their golf bags, no matter how many light bulbs they change, no matter how hard they consider that hybrid, the folks at Chevron could probably do a little more.
Like go out of business, perhaps?
A New Jersey Utility Company PSE&G has proposed a 120-Megawatt program designed to bring solar panels into every town and neighborhood in it's service territory this includes the largest pole-mounted solar project in the United States.
Public Service Electric and Gas Company (PSE&G) today asked New Jersey regulators to approve a $773-million proposal to bring the benefits of 120 megawatts of solar power directly to communities and customers throughout its service territory.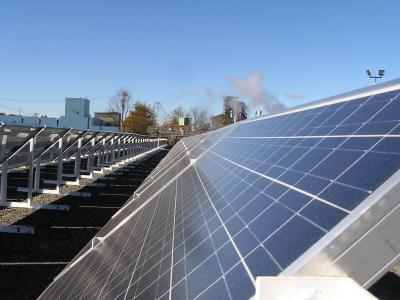 In a filing with the state's Board of Public Utilities, PSE&G proposed a unique and comprehensive Solar 4 All Program with one segment that includes the largest pole-attached solar installation in the country. The program will result in savings to municipal and county budgets and will utilize brownfields (done before in Massachusetts see here) and other underdeveloped properties for solar generation.
PSE&G will invest in, own and operate the grid-connected solar energy systems and will collaborate with experienced solar developers, installers and manufacturers to develop projects. The initiative will create environmental benefits to New Jersey by providing carbon-free solar generation to all utility customers, also a lot of installation jobs.
"We designed our program to ensure that everyone has access to the benefits of solar energy," said Ralph LaRossa, president and COO of PSE&G. "The program strongly supports New Jersey's aggressive renewable energy and environmental goals and helps to strengthen the competitive solar industry in the state. By partnering with solar developers, we will bring solar projects online more quickly and cost effectively. We will also make solar energy available to every neighborhood in our service area, ensuring universal access."
LaRossa said the program will encourage growth for the solar industry by providing financing and capital to build solar capacity in these difficult economic times. The investment will help New Jersey address an expected shortfall in its current solar energy requirements. It will also generate hundreds of green jobs to help stimulate New Jersey's economy by training a pool of skilled workers who will be available for the entire solar industry.
The initiative will expand New Jersey's solar infrastructure and will satisfy nearly 7 percent of the state's renewable portfolio standards requirements through 2020. The 120 megawatts of solar capacity will eliminate 1.7 million tons of CO2 emissions, which is the equivalent of removing nearly 310,000 cars from the road for one year.
Each utility investment will be recovered over 15 to 20 years, but the rate impact will be offset by the value of the electricity and Solar Renewable Energy Certificates (SRECs) produced by the systems as well as federal tax credits that will flow back to utility customers. PSE&G would support a mechanism that would limit the amount of SRECs it sells via auction if the state already had enough SRECs to satisfy the solar requirement for that year.
Installation costs are expected to be $6.44 per watt of installed solar capacity. The company is proposing to recover all direct program costs, including costs related to its invested capital. The impact on a typical residential customer is forecasted to be 10 cents per month in the first full year of the program and increases up to 35 cents per month in 2013.
PSE&G's Solar 4 All Program includes four segments:
Neighborhood Solar (40 megawatts) – $264 million investment
PSE&G will contract with solar developers selected from a competitive bidding process to design, manufacture and procure solar devices for nearly 200,000 utility poles and street lights in neighborhoods throughout PSE&G's service territory.
Local Government Solar (43 megawatts) – $273 million investment
Working with solar developers, PSE&G will offer every municipality and public school district in its electric service territory the opportunity to install solar systems on their property. Solar developers will install roof-mounted systems on public schools as well as on municipal and county-owned buildings. An additional incentive will be offered to municipalities in Urban Enterprise Zones by providing more installed capacity. PSE&G will own and operate the systems. Local governments will receive a credit on their utility bill equal to the amount of energy generated by the system, thereby reducing costs and helping every taxpayer in towns served by PSE&G. All schools participating in the program will be provided with educational materials about solar energy.
Centralized Solar (35 megawatts) – $221 million investment
PSE&G will contract for the design and manufacture of 25 megawatts of ground- or roof-mounted solar systems on land or buildings it owns. Systems on utility-owned properties will be installed by PSE&G's skilled workforce or contractors. In addition, the company will work with developers to install 10 megawatts of larger solar energy farms on brownfields, non-profit-owned real estate, and underdeveloped real estate to convert them to productive sites for renewable generation. These sites will use contractors for the installations.
HMFA/Affordable Housing Solar (2 megawatts) – $15 million investment
PSE&G will invest up to $15 million in roof-mounted solar systems to provide electricity at New Jersey Housing and Mortgage Finance Agency (HMFA)-financed or other affordable housing communities, resulting in savings for residents. This is the one that sounds the coolest to me, poor people need lower energy bills the most. I would love to see utilities do this all over America.
older posts »