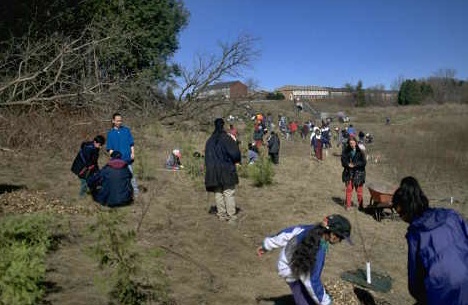 U.S. National Forests damaged by wildfires, insects and disease will be getting some much needed help thanks to Progressive car insurance customers who have chosen to receive their policy documents electronically. Not only are those customers saving trees by saving paper, they're also getting trees planted in their honor. Progressive began offering to plant trees in 2007 to help raise awareness of its paperless program. Since then, more than 1 million customers have signed up.
"Our customers rose to the challenge and now we're following through on our commitment" said Christine Johnson, Progressive's customer experience general manager. "When we began the tree planting campaign we had no idea where it would end up, but we're pleased it has led to such a significant result"
Progressive will provide funding for the 1 million trees to the Arbor Day Foundation, the country's leading nonprofit, conservation and education organization dedicated to planting trees. The U.S. Forest Service has identified a backlog of more than 1 million acres that need to be replanted. Since 1990, the Arbor Day Foundation has helped to replant more than 13 million trees.
"Encouraging customers to go paperless is a great way for companies to help the environment, and we applaud Progressive for doing it. Progressive's generous donation to plant 1 million trees is truly a significant gift to the environment" said John Rosenow, chief executive of the Arbor Day Foundation. "By planting trees in our nation's forests, Progressive is making a positive impact for generations to come"
While Progressive's tree planting campaign is wrapping up, it will continue to offer discounts where available to customers who choose to go paperless. What may not be obvious here is that this is a win win for everyone. Using less paper is great, you also cut down on co2 from the trucks that have to carry the millions of envelopes around the country, and Progressive saves a crap load of money because they can now automate everything on a computer. And on top of all that they are replacing a million trees which will suck more co2 out of the air.
Progressive also sponsors the Automotive X prize, with the goal of getting a 100mpg car built. I think their next step should be offering discounts to their customers that drive less. This would lower their chances of getting in a crash, and decrease the amount of co2 produced. Drivers that drive less would also cost Progressive less because they would be crashing less. These sort of setups show that being green and making money are not incompatible.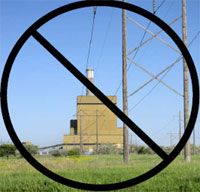 This is a great day for clean energy and people's health: Today the Environmental Protection Agency (EPA) overturned the State of South Dakota's approval of the massive Big Stone II coal-fired power plant. The EPA's decision comes after the state failed to require state-of-the-art pollution controls for the coal plant – controls that would address harmful soot, smog and global warming pollution.
Today's decision is also a victory for the rule of law – with the EPA signaling that it is back to enforcing long-standing legal requirements fairly and consistently nationwide and that they're concerned about pollution and global warming.
As the first major coal plant decision by the EPA since President Barack Obama took office, this signals that the dozens of other coal plant proposals currently in permitting processes nationwide will face a new level of federal scrutiny.
The proposed Big Stone II 500-megawatt coal plant would have emitted more than 4 million tons of global pollution annually. The Sierra Club and Clean Water Action have been working to stop the Big Stone II project and ramp up clean energy investments in for more than three years.
This decision also likely spells the end of Otter Tail Power's Big Stone II coal plant. At a minimum, Otter Tail Power will have to go back to the drawing board and redesign the project to incorporate the best and maximum available control technology for pollution like soot and smog.
Otter Tail Power will now have to be responsible for the cost of its pollution. We hope that this increasing cost of coal will encourage Otter Tail Power, along with Governors Tim Pawlenty and Mike Rounds, to harness the clean and affordable wind resources available in the region. Minnesota and South Dakota should be leaders on the path to renewable energy independence, not laggards proposing 19th century coal plants.
We will also continue pushing the EPA to set limits for carbon dioxide, the main contributor to global warming.
With coal-fired power plants accounting for almost 30% of our nation's carbon dioxide emissions, burning less coal and investing in clean energy such as wind and solar instead is a common sense approach to helping meet global warming pollution reduction goals.
Update: Minnesota Public Radio Story here.
And click here to go to our Compass blog to read the EPA documents.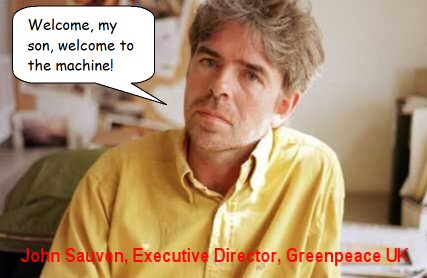 There is another crunch going on at the moment, but it feels more like a stampede: the "environmental" (I use this word with a huge amount of irony now) pressure groups of the USA and UK have hit the Panic! button and made the decision not to try and save the planet from Industrial Civilization, but to go all out in order to appeal to the masses, and bugger the consequences.
We have seen all sorts of greenwash and weasel words emerging from the likes of the Sierra Club, Friends of the Earth, and the Nature Conservancy, as well as a perfect example of ultra light-green spin from Greenpeace. The signs are that the NGOs are so desperate to justify their existence that they will do anything just to look as though they are making progress.
What they are instead doing is moving us away from anything like a solution to the environmental catastrophe that we need to be heading off now.
With Greenpeace traditionally seen as one of the more radical of the NGOs, it is especially galling to hear from the inside that they have become little more than a self-justifying anachronism, hierarchically managed (with people like John Sauven of Greenpeace UK acting like CEOs of corporations, rather than guiding lights for a community of keen individuals) and conservative in the extreme.
Here's a quote from today's Guardian which illustrates this perfectly. With reference to the right-wing, mass-market tabloid, The Daily Mail, running a campaign against compact fluorescent light bulbs:
"The Mail is reaching middle England and it's exactly middle England that you want to bring on board."
What?
Essentially, and this gels exactly with how the mainstream environmental groups are now behaving, he thinks that you have to get everyone on board in order to make things better; completely ignoring the fact that the vast majority of Westerners are not willing to make anything like the changes required to reverse environmental meltdown, and that in order to bring "Middle England" on board, you would have to dilute your position so much as to make it totally ineffectual. Which is exactly what Greenpeace UK have done.
Make no mistake, the mainstream environmental movement do not have the answers: they are simply hoping like so many other people, politicians and business people, that if we do bugger all for long enough the problem will simply go away.
It will, just not in quite the way they might imagine.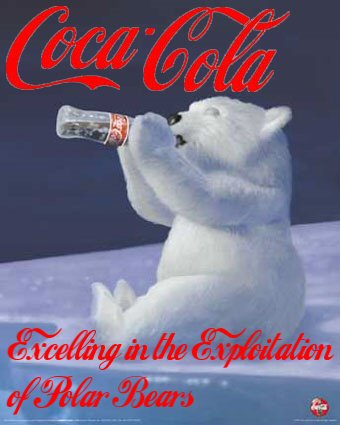 Environmentalists like polar bears, and it's not hard to appreciate why: not only are they extraordinary hunters, survivors and an integral part of the polar ecosystem, they are a vital marker to indicate the impact of global warming on this ice-dependent species, and they look pretty good on campaign posters too — if that's your kind of thing.
Coca-Coca loves polar bears, and it's not hard to appreciate why: they are a powerful symbol of survival in a isolated environment, they make great TV and they look really funny and quirky with a bottle of carbonated soft drink stuck between their paws. Since 1993, Coca Cola have made the most of the "Aah!" factor of polar bears.
It's no surprise that the Coca Cola Corporation have a big carbon footprint: 7.4 million tonnes in 2007, according to their own carbon disclosure, which is the same as the emissions for Honduras. Along with this they have a terrible history of extracting water illegally, or otherwise taking far more than is sustainable, along with all sorts of other unacceptable social and environmental behaviour (see this damning report by War On Want for more information).
So along come WWF Canada to take Coca Cola by the hand and lead them into a better place…except it's not WWF who are doing the leading, despite what they would like to think. Despite WWF's clumsy attempts to suggest that by partnering with such a nefarious corporate monster, the monster can be tamed to be a good environmental steward, and even assist with the preservation of the polar bear, Coca Cola are clearly laughing on the other side of their collective face.
Yes, what else would Coca Cola do but make some fantastic commercial capital out of this partnership — or should I say, sponsorship, because that's what it is.
Since 1993, the Coca-Cola Company has celebrated the polar bear as a symbol of holidays and togetherness. Sadly, the polar bears are now at risk from the effects of climate change. As the Arctic warms, the sea ice is melting, limiting their abilities to successfully reproduce and feed their cubs.

Deck Your Halls…

…with exclusive polar bear downloads, plush bears, holiday ornaments, and more! There's something for you, and everyone on your holiday list.

Buy Stuff.
Who needs irony when you have WWF?
[Taken from The Unsuitablog]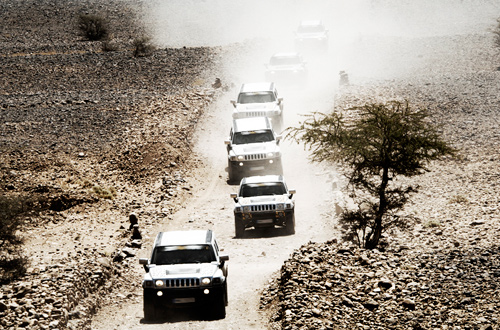 This just in from the boys at Hummer!
Did you ever drive up dunes, go over rocks and mountains, cross a river? Is your heart beating faster at the thought of driving a HUMMER, or are you already a passionate HUMMER owner?
Now you can experience 1.300 unforgettable kilometres through the fascinating countryside of Morocco and go all-terrain with a car just as many-sided as the landscape you conquer with it.
Learn how to really drive off-road – at the first training of our newly created HUMMER Driving Academy. It will take place in Morocco starting on the 7th of November 2008, and we offer it to you for a special introduction price of €3.995 for a team of two persons.
Included are: the use of a HUMMER H3 3.7 Automatic with fuel, 4 overnight stays in exclusive hotels, 1 overnight stay in a bivouac in the desert, and lunch and dinner for two persons.
Don't miss out on one of the greatest HUMMER off-road events and register now.
See you soon,
your HUMMER Driving Academy team.
And you should probably watch this…
http://www.youtube.com/watch?v=whA12At_9_c
Yeah!
---
Just thought you should know what some people are doing while the planet burns.
« newer posts
|
older posts »