Written and submitted by Cindy of My Recycled Bags.com
Everyone has an old pair of jeans, right? You know the ones, they don't fit anymore or they're so worn-out that you can't wear them out in public anymore. But you haven't the heart to just throw them away. Well, let me show you some fun and green crafting projects you can do using those old recycled jeans.
First for the crocheters out there, here is a pattern for a rag bag made using denim cut into strips to create a long strand of material which you can now crochet with.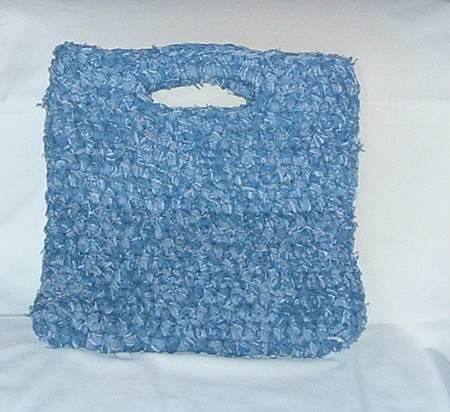 I used two old denim shirts to crochet this handbag purse. It works easier than heavy deinim from jeans and is more gentle on your hands to work with. The result is a fashionable denim handbag that will last for years.
Next for the people who enjoy sewing, here are a few project ideas for you. This denim tote bag was created using just one pant leg from an old pair of jeans.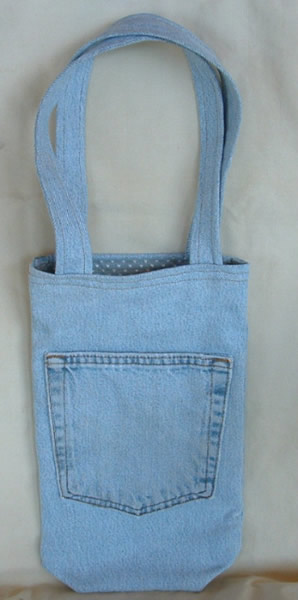 A small picture tutorial found here will show you how this simple little bag was made. I then used an old curtain panel I had to line the bag and make some inside pockets. This handy-sized tote is just right as a nice purse to carry your daily essential items.
For those desiring a bigger denim tote with a zippered lining, here is that project link. This denim tote bag was created using a full panel on a pair of jeans.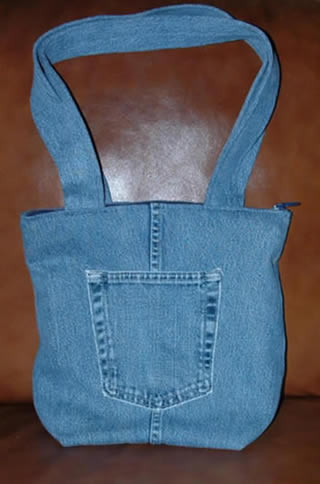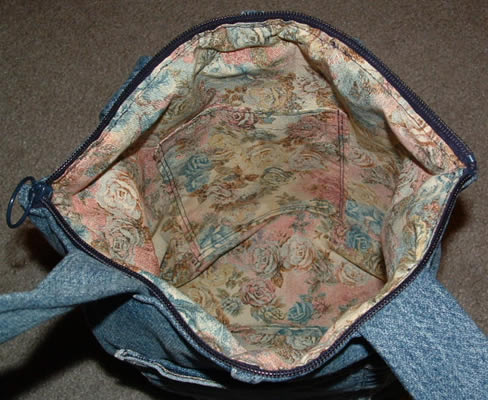 This patten has a full picture tutorial with step-by-step instructions. The roomy tote bag features a flowered lining, inside pocket, zippered-closing, outside denim pocket and comfy straps.
Next is a recycled potholder project made using a straight-leg piece of denim from a pant leg.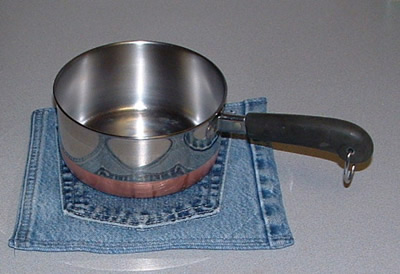 The denim shell is made and the unfinished top and bottom hems are just pressed down. I used an old cotton towel and some insulate material to insert inside my denim shell. Stitch around the entire shell to close your hems and secure your padding inside. Top off your finished potholder by adding a trimmed jeans pocket to the outside. Click here for the compete tutorial on how to make your own denim potholder.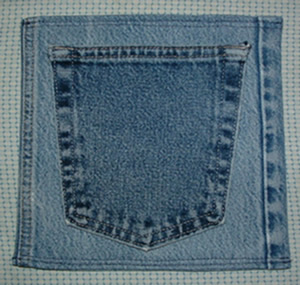 So got old denim jeans? Recycle them into something useful and fashionable. Green crafting is the lastest fashion craze so get aboard and enjoy these eco-friendly projects today!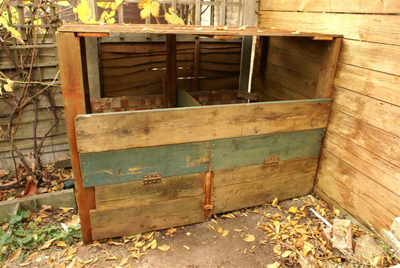 Ok, I know there are people with more than two compost heaps, and I know there are people who use special enzymes, bokashi, tiger worms, and all that great stuff that makes the compost so hot you could put it in the middle of the sitting room and switch off the heating – but for this week allow me to be the Compost King.
The thing you see at the top of this piece is the new Farnish Compost Machine. For the first ten years that we had this house the existing compost heaps were fine, until the wood started to rot, and at the beginning of this year I vowed to repair it. I bashed in a few nails and half a dozen salvaged bits of wood and it stood for a bit longer. But the rot had really set in by then.
After collecting bits of wood from various sheds, a former picket fence, by brother-in-law's skip and the driveway of a house being gutted for rebuilding, and with the enthusiastic help of two girls aged 8 and 9, we set to: destroying the old structure, with pieces of rotten timber falling apart in our hands, and the supporting wall almost collapsing. Once the collapsing wall had been shored up with some "No More Nails" I had to design something that would survive years of rain, frost (well, not so much now), worms, woodlice and children. It took two weekends of work, a lot of sawing, even more drilling, a few litres of old wood stain that I had found in an relation's garage, and only one or two mild swear words. I didn't buy a single new thing to make this.
And it even has little flaps at the front that I can lift to get to the old stuff at the bottom.
---
Keith Farnish
www.theearthblog.org
www.amatterofscale.com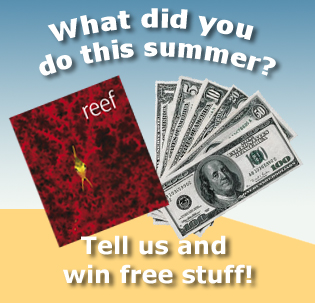 With the passing of Labor Day, the unofficial end of the summer is upon us. The summer is a great time to get out and do something good for the world, from tree planting, to trash pickups, to communal gardening, it is just easier to do great things during the summer. Wouldn't it be great if we could collect some of these stories to share with the world? With that in mind The Sietch is throwing it's first ever giveaway contest!
You are probably asking yourself, "what is he giving away?" Well, I have come into possession of not one, not two, but three copies, of the amazing full color hardback book Reef!
Now you are most likely asking yourself, "Cool! How can I get one?" Well its easier than you think. You know all the sweet things you did this summer to create positive change, well we want to hear about them. Write an essay about what you did this summer to make the world a better place. We want to hear about the time you volunteered at the assisted living center, or the time you helped clean up the beach, or the solar panels you installed. Surprise us! Feel free to include pictures, video (post videos to Youtube, or point us to a link someplace on the net we can download it), or audio. We will highlight the best stories here on the blog, and archive them in the positive stories archive on the main site.
The writers of the top three stories will each receive a copy of Reef (a very nice coffee table book). The best story author will also get 25 bucks, cold hard American cash. Who ever said that nice people finish last! We will be judging on how well you tell the story, what you did, and how well you articulate why you did it. We encourage you to be as creative as you want.
The Contest will run from today (Thursday September 6th) until Thursday September 20th. Giving you plenty of time to go out and do something amazing, if you haven't already. Submit entries to SietchContest@gmail.com by midnight eastern standard time on September 20th, we will announce the winners by Monday September 24th. If you have any questions leave them in the comments. Can't wait to hear your great stories of positive change!
Cindy has sent us another very cool article about recycling and reusing old materials to make something new and interesting. This time she tackles old VCR tapes.
I'm sure many of you still have a shelf of those old VCR tapes around the house or office. I know I do and I'm sure I'm not alone. The VCR (video cassette recording) tapes have pretty much gone by the way side just like the old 8 track tapes and where the cassette tapes are going too. So what to do with these old tapes?
Being a recycler and a crafter, I thought what can I create with these old tapes? Someone once said that a crocheter sees everything as yarn. Well, that's just want I thought of. It is just the right width to crochet with and it's all wound up on a nice reel. Of course you have to get this "yarn" ready. Here is a picture tutorial on how to use VCR tape as yarn.
Okay so now you have this wonderful recycled material ready to create something with. What can you make, you say? Well here is a pattern to crochet a unique vcr-ribbon tote bag.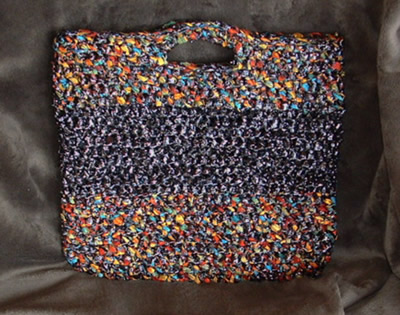 More designs below the fold.
Read the rest of Guest Author: RecycleCindy On Recycling Those Old VCR Tapes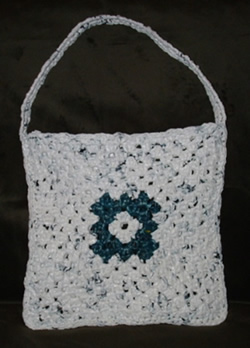 Are you into green, eco-friendly crafting? Ever heard the term plarn before? What exactly is green plarn crafting you ask? Well let me introduce you to a wonderful new term plarn. Plarn is a relatively new word that refers to the yarn that is created from recycled plastic bags.
Plarn is created by cutting plastic grocery and retail bags into strips and then interlinking them together. The method I prefer is accomplished by cutting the plastic bags into 1 inch wide strips. You then interlink two strips together and pull gently tight which creates a small knot between the strips. Continue the process by adding another strip to the last and so on until you have a long, continuous strip. Here is a link to a picture tutorial that shows the step-by-step process to create your own plarn.
You can now use your plarn as you would any yarn to crochet, knit, or weave your crafting project. Here are some valuable tips for crocheting and crafting with plastic bags.
Read the rest of Guest Author: RecycleCindy On Green Plarn Crafting