Seems our neighbors to the north are still very supportive of science and mostly reject their recent conservative government.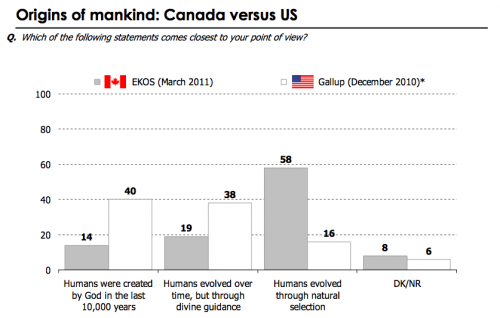 Still hope up north I guess.
Full report here. (pdf)
The cost of constructing or retrofitting coal-fired electric power plants and the rising cost of coal have made coal power an extremely risky long-term investment, according to a report released today by the Union of Concerned Scientists (UCS). The report, "A Risky Proposition: The Financial Hazards of New Investments in Coal Plants," also identified a number of other factors that make investing in coal a gamble, including its continuing threat to public health and the environment.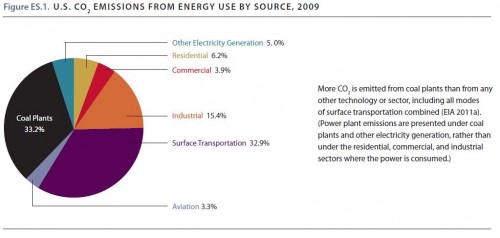 "We have a fleet of ancient, dirty coal plants in this country that are increasingly unreliable and long past due for retirement," said Barbara Freese, a co-author of the report and senior policy analyst for the UCS Climate and Energy Program. "Plant owners have to decide whether to sink more money into retrofitting those old plants or replacing them with much cleaner energy technologies. But even if they retrofit them with the pollution controls available today, the plants will still emit massive amounts of carbon pollution.
"Replacing old, dirty coal plants with cleaner, cheaper, less risky alternatives would be a much better bet," she added. "And it would save lives, protect our health and reduce the emissions that cause climate change."
More than 70 percent of U.S. coal-plant-capacity is already more than 30 years old—the operating lifetime for which coal plants were typically designed—and a third went online before 1970. Some plant operators have announced they will retire old plants. Others are planning to retrofit their plants with modern pollution control technology—which would reduce emissions of several dangerous pollutants, but not carbon.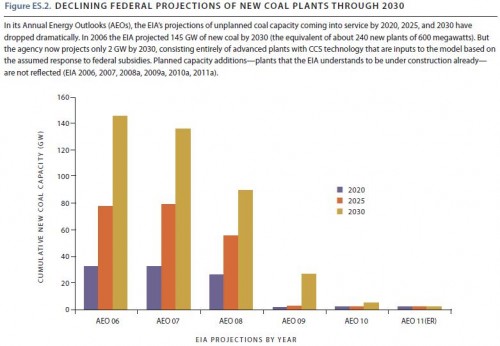 Such investments would not only make it harder to protect the climate, the report concluded, but also expose investors and ratepayers to a host of financial threats.
The factors that make coal power such a precarious investment include:
U.S. coal prices are rising and could be driven much higher by soaring global demand, especially from Asia. Spot prices for Appalachia coal spiked dramatically in 2008, largely due to international demand, and those prices are steadily rising again with the global economic recovery.  And the price for a one-month contract for coal from Wyoming's Powder River Basin rose 67 percent between October, 2009 and October, 2010.  While western coal has been less exposed to volatile global markets, that situation appears to be changing since major coal producers in the West have announced plans to increase their exports to China and other Asian markets.
Coal prices could also be driven higher by constraints on supply. The amount of economically-recoverable coal reserves may be smaller than previously thought.
Major coal projects face high, unpredictable construction costs. The cost of building a new coal plant in the United States has roughly doubled in the past five years.
The cost advantage coal power traditionally enjoyed over cleaner energy options has largely disappeared when it comes to new plants. Power from new coal plants now costs more than power from new gas plants, wind facilities and the best geothermal sites, and much more than investing in energy efficiency.
Coal power is the largest U.S. carbon pollution source—contributing about one-third of all energy-related emissions and more than the entire surface transportation sector. Coal-fired power plants inevitably will face increasing pressure to dramatically cut emissions to help curb climate change. The cost of generating electricity from new coal plants could increase 11 to 37 percent under a range of carbon prices in the future.
Carbon-capture and storage (CCS) retrofits cannot be counted on to affordably cut emissions. Federal studies show that adding CCS to a new plant could increase the cost of generating electricity 36 to 78 percent, while retrofitting an existing plant could increase its costs by 330 percent.
Federal and state governments are promoting energy efficiency and clean energy sources, which will cut demand for coal power. Twenty-seven states have energy efficiency standards or a standard pending, and several states now require annual reductions in electricity use of at least 2 percent. Twenty-nine states now have a standard requiring utilities to increase their reliance on renewable energy sources, more than doubling since 2004.
Coal plants also face new costs associated with such harmful emissions as sulfur dioxide and nitrogen oxide, which are associated with thousands of deaths annually, and mercury, which threatens the brain development of infants and children.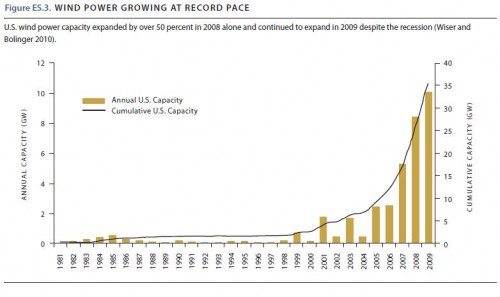 The owners of the most damaging older coal plants have been taking advantage of a legal loophole for decades, Freese pointed out. Clean air legislation and rules put in place in the 1970s did not require existing plants to install pollution control equipment until their next major modification. It was assumed that they would either modify or shut down within a few years.
"But coal operators kept these plants running well beyond their expected retirement dates and never installed the pollution controls newer plants were required to use," Freese said.
Even with this loophole, federal air regulations have gone a long way to protect the public health.
The Clean Air Act Amendments of 1990, for example, signed into law by George Herbert Walker Bush, prevented as many as 160,000 premature deaths last year alone, according to the
Environmental Protection Agency (EPA). The amendments also were cost effective. According to the EPA, they've cost $65 billion to implement, but their overall financial benefit could reach $2 trillion by 2020.
"The success of the 1990 Clean Air Act Amendments shows that requiring coal plants to cut their pollution leads to public health and economic benefits many times higher than the cost for old coal plants to comply with the law," Freese said. "The amendments have done a lot of good, but we need to do more. Coal plants are still linked to the deaths of thousands of Americans yearly and many other health threats."
Finally, according to the report, the electric power industry could retire many old coal-fired plants without causing reliability problems with the power grid, Freese said.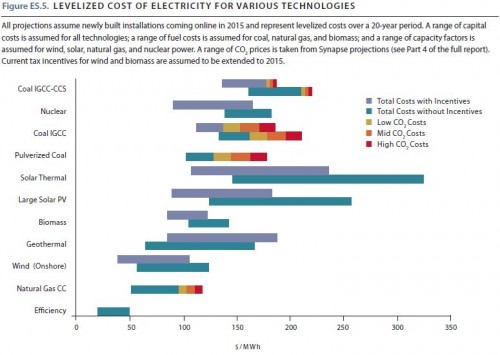 "First, there is a lot of extra generating capacity on the grid right now. And second, energy efficiency and renewable energy investments are reducing the need for coal. It's a good time to retire coal plants."
Download full study here (pdf) the summary here (pdf)
The EPA report on the economic and health benefits of the Clean Air Act provisions that reduce levels of fine particles and ozone has been released and reaches four important conclusions: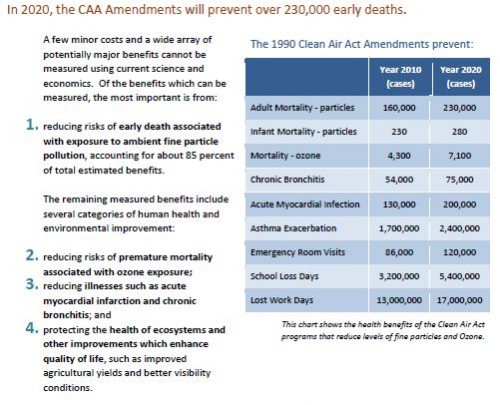 Economic benefits total more than $2 trillion dollars by 2020
CAA benefits exceed costs by a factor of 30:1 [$2 trillion in benefits to $65 billion in costs]
Cleaner air resulting from CAA programs improves the economy by reducing health costs and boosting productivity
In 2020, the CAA will prevent more than 230,000 American early deaths, including 280 infants
Key Point: This (EPA) study finds that despite the claims of the big polluters and their army of corporate lobbyists to the contrary, taking sensible steps to update clean air and water standards through the Clean Air Act does indeed foster innovation, job creation and economic growth while protecting public health and reducing early deaths in American adults and infants. Opponents of letting the EPA update clean air safeguards for smog, soot, mercury and carbon pollution say American businesses are not capable of innovating and adapting new technologies and creating new jobs; yet this report makes clear that we can protect our health and grow our economy at the same time.
Economic Benefits of the CAA
A 2011 EPA study determined that the economic benefits of the Clean Air Act updates made in 1990 will exceed $2 trillion in economic activity in the US economy by 2020. In contrast, implementation costs approximately $65 billion.
The report finds that the 1990 Clean Air Act updates of soot and smog standards provided enormous air quality and health benefits today and will grow as the programs fulfill their potential impact.
Economic data show that we can protect public health and grow our economy at the same time. Between 1970 and 2009 total emissions of the six principal air pollutants fell by 63 percent, and private sector jobs and GDP grew by 86 percent and 204 percent respectively
Clean Air: A strong return on investment
With an investment of $65 billion and a return of over $2 trillion, the Clean Air Act provides a tremendous return of more than $30 in benefits for every $1 in investment. Its hard to find a better economic return than the Clean Air Act.
By spending hundreds of millions on lobbyists to prevent EPA from updating clean air standards now, the big polluters are working to stifle innovation and economic growth and would diminish the return on investment that new updates would provide.
The special interests want you to believe that cleaner air means fewer jobs. The facts do not support them. With $2 trillion in projected economic benefits, the CAA is an effective economic growth policy with the added benefits of improving public health and protecting our air and water.
As past performance indicates, there is no sound economic argument for blocking new updates to the Clean Air Act.
Clean Air: Reducing health costs, boosting productivity
According to the 2011 EPA study, the economy is stronger with the CAA. Cleaner air leads to better health and productivity for American workers and less money spent on health care to treat air pollution-related health problems.
The EPA's research shows that long-term economic growth is greater and American household economic welfare is improved through benefits such as fewer sick days and lower medical costs. These benefits more than offset the economy-wide cost of investing in air pollution controls to reduce levels of life- and health-threatening air pollution.
By 2020, existing CAA programs will significantly reduce instances of asthma attacks, emergency room visits, sick days, and missed school days.
The EPA report shows that because of the 1990 CAA updates…
In 2010 13,000,000 lost work days were prevented, and by 2020 it will grow to 17,000,000
In 2010 3.2 million lost school days were prevented and by 2020 it will grow to 5.4 million
In 2010 86,000 emergency room visits were avoided and by 2020 it will grow to 120,000
In 2010 asthma exacerbation instances were reduced by 1.7 million, by 2020 it will be 2.4 million
Clean Air Saves Lives
The EPA study demonstrates that stronger clean air standards save lives. New proposed updates to the CAA that would limit smog, soot, mercury and carbon dioxide pollution will only enhance the life saving impact of the CAA and reduce deaths in American adults and infants related to these toxics.
The EPA report shows that because of the1990 updates to the CAA…
Adult deaths were reduced by 160,000 in 2010 and by 2020 will be reduced by 230,000
Infant deaths reduced by 230 in 2010 and by 2020 will be reduced by 280
Mortality rates due to ozone exposure were reduced by 4,300 in 2010 and will be reduced by 7,100 by 2020
Instances of chronic bronchitis were reduced by 54,000 in 2010 and will be reduced by 75,000 by 2020
Instances of Acute Myocardial Infection were reduced by 130,000 in 2010 and will be reduced by 200,000 by 2020
In 2010 asthma exacerbation instances were reduced by 1.7 million, by 2020 it will be 2.4 million
more here (pdf)
Want to know what the republicans have been up to regarding the environment…its not good.  Here is a list of every anti-environmental rider they have included in their proposed budget.
It reads like a declaration of war against science and common science.  These people clearly have no love for future generations, and must be stopped.
Read it all in pdf form here.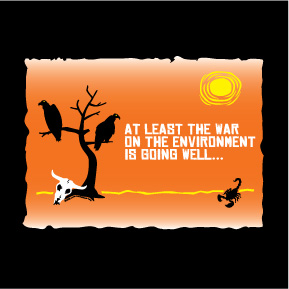 Read the full list below
Read the rest of A Report From The Front Of The War On The Environment
What do you get when you have a shift in climate that leads to higher food prices, which destabilizes already unstable political regimes, leading to higher oil prices, which in turn lead to higher food prices? You get a big problem. Most people think of rising oceans when they think of global warming, but I have long suspected that the rising oceans will be the last thing we have to worry about. Human nature is a much more immediate and dangerous consequence of global warming.
As the world's food prices hit a record high in January, driven by the price increases in wheat, corn, sugar and oil; Egypt's protesters demanded and succeeded in the resignation of Hosni Mubarak's 30-year rule.
The food inflation that exceeded the price spike of 2008, pushed millions further into poverty as Egyptians have historically spent over 40% of their income just on food. According to the UN, grain in particular, is more expensive than ever, with corn prices up 53% in 2010, wheat up 47% and rice now at its highest level in more than 2 years.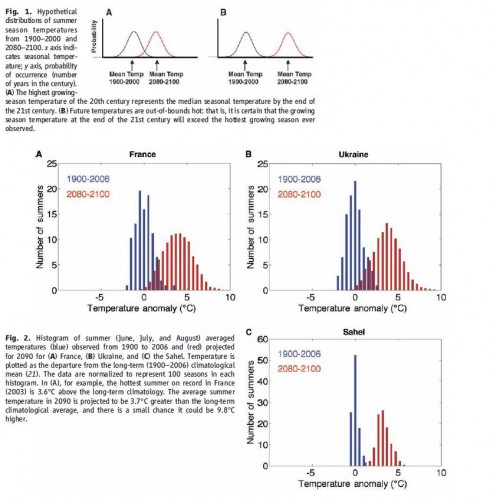 Various factors are being blamed and economists are citing a combination of influences. Unusual weather events are stated as a key contributor, namely the sweltering heat wave that struck Russia in 2010, the world's largest wheat supplier, causing the Russian government to halt grain exports for the year, shooting up the price of bread in Tunisia and Egypt.
One thing is certain, as political unrest spreads to North Africa, protesters showed the debilitating effect of high food prices on a society. The struggle for basic food however, reaches far beyond Egyptian borders, nearly 1 billion people world-wide suffer from hunger. Untamed weather in other parts of the world contributed to global food shortages, heavy rains in Australia damaged wheat crops, flooding in Pakistan damaged grain crops and drought is currently threatening wheat crop in parts of China. According to NOAA (National Oceanic and Atmospheric Administration), 2010 tied 2005 with the hottest year on record and 2010 was also the wettest year on record, undeniably contributing to world-wide food shortages.
Population growth has also contributed to the growing demand for food. According to the World of Food Science, since 2000 the population growth has grown by more than 800 million and continues to grow by more than 80 million annually.
According to USAID, "Several factors contributed to the rapid spike in global food prices, including increased consumer demand for food, oil and energy supplies among emerging markets such as China and India, leading to rising energy costs, lower crop yields resulting from adverse weather conditions, and higher corn prices stemming from increased biofuel production."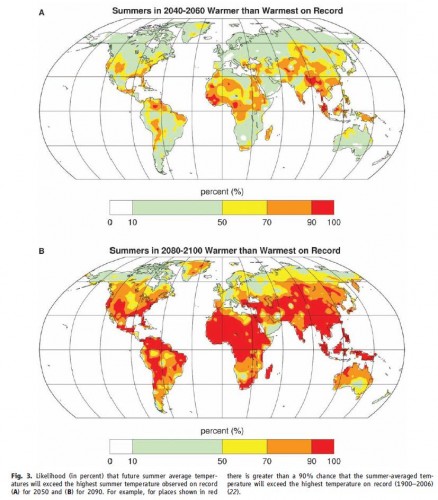 And don't think that we can just switch to bio-fuel to solve out oil problems. The global diversion of cropland to produce biofuels rather than food has been severely criticized and listed as a major factor in the price spikes. Lester Brown, President of the Earth Policy Institute recently reported, "The production of Ethanol uses 4.9 billion bushels of corn in the U.S., that's enough grain to feed 350 million people."
The only way to solve this spiral into chaos is to address the root of the problem. Global warming. The good thing is that the solution is a positive upward spiral out of trouble. Renewable energy sources of energy free up oil supplies for places that have not switched over yet, lowering oil prices, while at the same time dealing with the problems that are causing the shift in climate, while at the same time developing jobs, which creates a strong middle class which stabilizes politically vulnerable areas.
More here (pdf)
older posts »