Today Ranking Member Henry A. Waxman sent a letter to Chairman Fred Upton highlighting the views of former-EPA Administrator Stephen L. Johnson, articulated in a private letter to President Bush in 2008, that the climate change science supported the agency's positive endangerment finding on carbon emissions.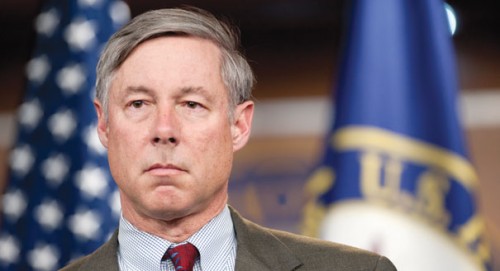 It shows that even during the Bush years the EPA knew that the science behind global warming was accurate, that they had to act, and that if they didn't negative consequences would abound.
The full text of the letter is below:
February 4, 2011

The Honorable Fred Upton
Chairman
Committee on Energy and Commerce
U.S. House of Representatives
2125 Rayburn House Office Building
Washington, D.C. 20515

Dear Chairman Upton:

I am writing you to share with you a letter that has an important bearing on tomorrow's hearing on your legislation to overturn EPA's scientific determination that carbon emissions endanger public health and welfare. The letter is a private letter that former EPA Administrator Stephen L. Johnson wrote to President Bush on January 31, 2008. It addresses the same issue as your legislation: whether carbon emissions endanger the public.

Administrator Johnson wrote: "the latest science of climate change requires the Agency to propose a positive endangerment finding, as was agreed to at the Cabinet-level meeting in November." According to Mr. Johnson, "the latest climate change science does not permit a negative finding, nor does it permit a credible finding that we need to wait for more research."

Administrator Johnson also wrote: "A robust interagency policy process involving principal meetings over the past eight months has enabled me to formulate a plan that is prudent and cautious yet forward thinking. … [I]t … creates a framework for responsible, cost-effective and practical actions." He added that actions to reduce carbon emissions "should spur both private sector investment in developing new, cost-effective technologies and private sector deployment of these technologies at a large scale."

Administrator Johnson released an advanced notice of proposed rulemaking in July 2008, which solicited public comment on an endangerment finding. The final endangerment finding was made by Administrator Lisa Jackson in December 2009

As Administrator Johnson's letter makes clear, both Republican and Democratic Administrations have had the same view of the science: carbon emissions are a serious threat to our nation's welfare. I urge you to leave the science to scientists and drop your effort to use legislation to overturn EPA's endangerment finding.

Sincerely,

Henry A. Waxman
Ranking Member
You can read the letter from Johnson To Bush here (pdf)
Below is the text of the letter, read the pdf to see the handwritten notes and other details.
The President
The White House
Washington, D.C. 20500
Dear Mr. President:
You have committed the US to pursue new, quantifiable actions to reduce carbon emissions. These new actions should spur both private sector investment in developing new, cost-effective technologies and private sector deployment of these technologies at a large scale. I believe legislation is the best approach to achieve this. However, your Administration is compelled to act on this issue under existing law given the many lawsuits and petitions before the Environmental Protection Agency (EPA). It is my intent to do so in a way that is responsible and that does not foreclose a superior legislative solution.
First, the Supreme Court's Massachusetts v EPA decision still requires a response. That case combined with the latest science of climate change requires the Agency to propose a positive endangerment finding, as was agreed to at the Cabinet-level meeting in November. Some have noted that the Energy Independence and Security Act (EISA) enables implementation of your 20-in-10 plan without an endangerment finding. Even if that is true, a finding is still required by the Supreme Court case, and the state of the latest climate change science does not permit a negative finding, nor does it permit a credible finding that we need to wait for more research. EISA also did not change EPA's obligation regarding the regulation of vehicles although it did expand the Department of Transportation's authority in a way that will facilitate a joint rule making.
A second set of actions will be required by other imminent lawsuits and petitions. For instance, EPA has pending before it petitions seeking greenhouse gas standards for aircraft, marine vessels, and off-road vehicles. Also within the next several months, EPA must face regulating greenhouse gases from power plants, some industrial sources, petroleum refineries and cement kilns.
A robust interagency policy process involving principal meetings over the past eight months has enabled me to formulate a plan that is prudent and cautious yet forward thinking. This plan will fulfill your Administration's obligations under the Supreme Court decision and also will provide a response to the multiple pending lawsuits and petitions rather than risk additional unfavorable court action. Further, it follows your May l4rh 2007 Executive Order and creates a framework for responsible, cost-effective and practical actions,
I want to thank you for talking with me about this plan when we met last month and, of course, I welcome your guidance as \rye move forward. After careful and sometime difficult deliberation, I have concluded that it is in the Administration's best interest to move forward with this plan in the next few weeks. I appreciate the senior-level discussions that have enabled me to develop this approach, and I look forward to working with other members of your team to discuss details and a rollout. Attached is my plan.
Privileged Communication to the President EPA Climate Change Plan
Phase I
In response to the Supreme Court mandate in Massachusetts v EPA, issue a proposed positive endangerment finding for public notice and comment as agreed to in the policy process.
In response to the direction in EISA, issue a proposed vehicles rule jointly with the Department of Transportation to implement the new EISA and address issues raised in the Supreme Court case.
To address requirements under the Clean Air Act, issue a proposed rule to update the New Source Review program to raise greenhouse gas thresholds to avoid covering small sources and to better define cost-effective, available technology.
Timing: Proposal in March or April. Final by the end of 2008.
Phase 2
Issue advanced notices covering remaining petitions, lawsuits and court required deadlines. This would enable EPA to frame issues for the legislative debate and to channel future rulemakings to pursue environmental protection in context of benefit-cost analysis, availability of existing technologies, energy security, and remaining useful life of affected facilities.
Timíng: Spring 2008.
Phase 3
As required by EISA, issue a proposed renewable fuels rule following new authority provided by EISA. Note that the new EISA significantly altered the regulatory approach that EPA, in coordination with Department of
Energy and the Department of Agriculture, must take.
Timing: Proposal by September 2008. initial rule in 2009. Additional administrative steps will be taken in 2008.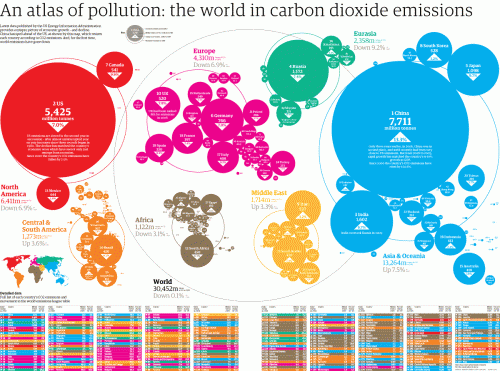 Get the full pdf of this map here.
For a tonne more great info about this image see the Guardian article here. (check out the interactive table half way down for some really good info).
Basically industrialized countries emissions are going down, as places like China's are going up. This isn't so much that the US is getting cleaner, just that it has moved its dirty business some place else. China is just the factory that takes the order, the real problem is still the massive consumption and poor planning of the bigger countries. Plus places like the US have historically emitted almost all of the carbon emissions, so the fact that we are reducing our emissions means little when taken historically.
This image is great because it shows just how complicated and interconnected these sort of problems are. There is no longer an us and them, its all "we" now.
It might be surprising to a lot of folks but global warming, and the science surrounding it, used to be a fairly non-political topic. In fact Dr. Keeling, the scientist who did the pioneering work to measure the amount of CO2 in the atmosphere was a registered republican.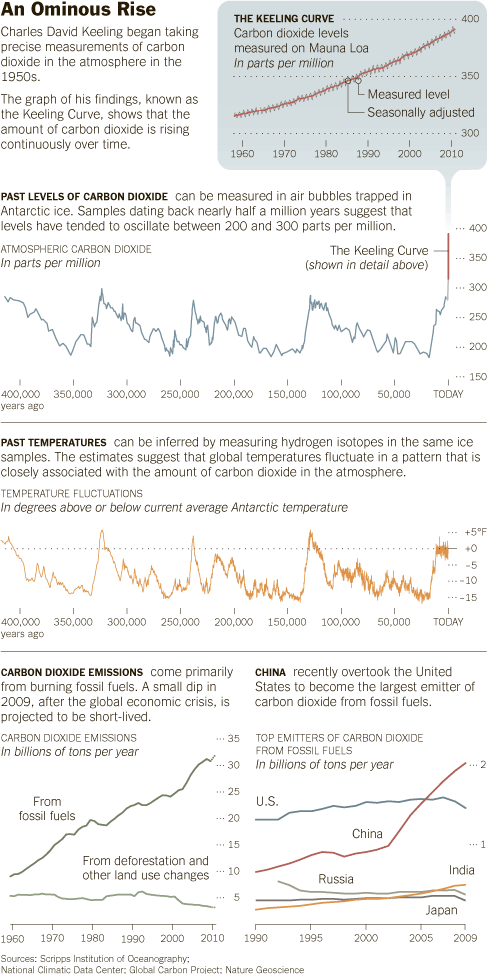 The science behind global warming, and in fact all science, doesn't care what political party you are from. If you measure the atomic weight of carbon, you wont get a different answer if you are a Whig or a Federalist. So why is it almost universally one political party (the Republicans) who seem to be alone in challenging the science behind global warming?
This is not as simple as you might think. If you are a liberal you might be tempted to say "its because big oil has purchased the republicans" and to a very large extent you would be right. Big carbon have disproportionately contributed large sums of money to the Republican party.
There are two things wrong with this reasoning however. One, big carbon gives large sums of money to the Democrats as well. And two, the Republican party is not just the people in Washington. Why is it that you can go to anyplace America and find a republican who vehemently denies the science behind global warming, even though there is no good reason to do so? Surly Exxon hasn't been handing check out to every registered republican.
Some think that these views come from the top. The chief decides how the tribe thinks and the tribal members all get in line. Abortion, global warming, taxes, gay rights, foreign policy, separation of church and state, and many more issues divide and define the political tribes of our time. We get behind things because our leaders tell us to, we have to defend our tribes views from the other tribes views! Or do we?
I am starting to come around to a different point of view. I think we decide who we want to be, and then present to the world, that "ideal self". Then we find facts and join tribes that reinforce that ideal self image. We are not rational operators who carefully consider all available data and then make a choice.
If "republican" is our ideal self, we act like republicans, and adopt ideas that "republicans" would adopt, and surround ourselves with "republican" friendly people. Basically we crowd our lives with things that reinforce and strengthen this imaginary ideal republican in our heads.
The same is true for other political ideologies. Tax cuts, or not, gay rights or not, public health care, or not. All of these have been co-opted into the "ideal" of one or the other major political "ideal". People who think of themselves as liberal would project different things than people who think of themselves as conservative. The problem is that the "ideal" republican, doesn't accept the science of global warming. A very dangerous thing to do. You might think gay people should be allowed to marry each other, but if you are wrong the earth doesn't become uninhabitable for humanity.
Because people value these ideal selves so much, any threat to them causes a rush of cognitive dissonance. Cognitive Dissonance is the bad feeling you get when you try to hold two opposing ideas at the same time.
For instance imagine if we had a right wing, Fox watching, Rush listening, green liberal bullshit hating, republican. (and yes I know that's a caricature, and you could do the same thing for liberals, just play along) He drives his pickup truck, thinks regulations on pollution are killing jobs, thinks global warming gas reduction is taking away our freedom, etc etc.
I think he holds these views, not because Rush told him it was true, or because he carefully researched all the data, but because he thinks of himself as that kind of person(pdf). If he were to accept global warming it would create cognitive dissonance. The kind of person he wants to present to the world doesn't believe in global warming. The ideal "republican" doesn't accept global warming, so neither does he.
So how do we get a guy like that to accept global warming? People used to think it was as simple as presenting the data. They assumed that the overwhelming flood of information would eventually get this person to change his mind. That hasn't worked. The evidence for global warming is astronomically one sided, its real, its our fault, its going to be bad if we don't do something about it. Yet conservatives continue to deny the science of global warming.
I think we have to change the way they act and this will change how they think, exactly opposite to the way we have been going about the problem.
We need them to do science on their own, we could even tell them its their chance to disprove the liberals. They will see what CO2 does to sea water (it makes it more acidic), they will see how it affects the air (it traps heat), and they will see what is produced from burning fossil fuels (co2 etc). Perhaps they could join studies already in progress about the timing of the first birds arriving back from winter, or the first blooming of certain plants. I think only be making scientists of all of them, are we ever going ton convince them the science is valid.
A recent study shows that people might deny the existence of human caused global warming, not because they are not convinced by the science, but because the idea of global warming "threatens deeply held beliefs that the world is just, orderly, and stable." Furthermore the study finds that telling people dire facts about global warming only makes them deny it more.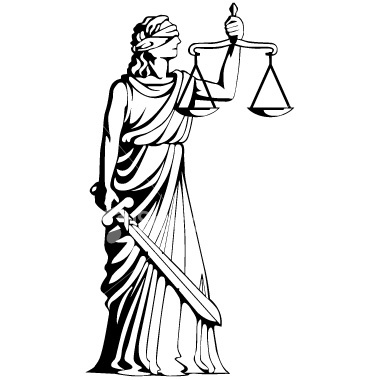 In essence they feel so strongly that the world should be just that the idea that we could be causing so many bad things to happen is just too "unfair."
The Abstract of the study
Though scientific evidence for the existence of global warming continues to mount, in the U.S. and other countries belief in global warming has stagnated or even decreased in recent years. One possible explanation for this pattern is that information about the potentially dire consequences of global warming threatens deeply held beliefs that the world is just, orderly, and stable. Individuals overcome this threat by denying or discounting the existence of global warming, ultimately resulting in decreased willingness to counteract climate change. Two experiments provide support for this explanation of the dynamics of belief in global warming, suggesting that less dire messaging could be more effective for promoting public understanding of climate change research.
Read the entire results here.
The results are pretty interesting, basically people who have a strong view that the world is just get MORE skeptical the more negative a picture you paint of the consequences of global warming. In essence they stick their head in the sand deeper the worse you tell them it will be if they don't pull their head out.
Our results imply that because dire messaging regarding global warming is at odds with the strongly established cognition that the world is fair and stable, people may dismiss the factual content of messages that emphasize global warming's dire consequences. But if the same messages are delivered coupled with a potential solution, it allows the information to be communicated without creating substantial threat to these individuals' deeply held beliefs.
This is pretty interesting when you consider how the republicans (including Tea Baggers) are reacting to global warming science. These people have a very strong sense that the world should be just, and that hard work should lead to success, and that bad people should be punished. If we want to reach these people we might have to start switching the way we describe global warming challenges to them.
The science on these topics is overwhelming, but the messaging might still need a bit of work. If we want to reach the conservative side of American politics, we are going to have to start talking solutions, not just dire consequences.
Not really surprising at all but it seems big polluting industries have funded reports that show that the EPA regulations would destroy them. Aside from the fact that polluters shouldn't be allowed to have an industry that harms the environment or the people that rely upon it for food and shelter, these reports have been lambasted as being horribly inaccurate.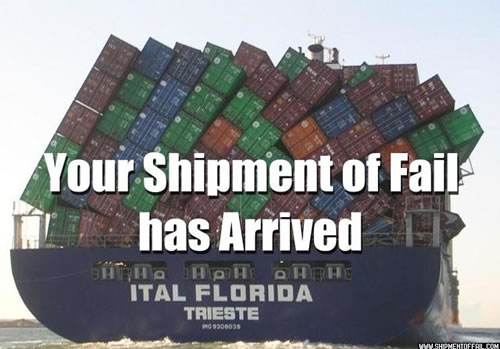 Economists from Dartmouth, the University of Wyoming and the University of California at Santa Barbara gave reports from the Manufacturers' Alliance, IHS Global Insight and Fisher International an Incomplete, D and F respectively.
"These industry groups are attempting to shape vital public health policies with work that wouldn't pass muster in a college economics class," said John Walke, senior attorney and director of NRDC's Clean Air Program. "Industry lobbyists are resorting to shoddy economics and outright deception to block EPA rules that could reduce toxic air pollution from industrial plants and save nearly 5,000 lives a year and prevent thousands of cases of respiratory and heart disease. These lobbyists are going further and opposing more protective national smog standards that could save up to 12,000 lives each year."
For the full reviews click here (pdf)
Here are excerpts of the reviews from the economists grading these reports:
"Economic Implications of EPA's Proposed Ozone Standard" – by Manufacturers' Alliance (MAPI)
Evaluator: Richard B. Howarth, the Pat and John Rosenwald Professor in the Environmental Studies Program at Dartmouth College
Letter Grade — Incomplete
"The MAPI report is fundamentally flawed, resting on an analytical framework that is scientifically unsound and inappropriate for use in policy evaluation."
"The report fails to apply standard statistical techniques that are taught to students specializing in the fields of statistics and econometrics."
"The report would warrant a grade of 'incomplete' if it were submitted as an undergraduate honors thesis or master's thesis in an academic program focusing on environmental policy analysis."
Evaluation of the Economic Impact of Proposed EPA Air Toxics Rule on Industrial, Commercial, and Institutional Boilers and Process Heaters – by IHS Global Insight
Evaluator: Jason F. Shogren, Professor, Department of Economics and Finance, University of Wyoming
Letter Grades — D & F
Application — D
"Lack of a serious accounting of economic behavior — no attempt to account for the behavioral elasticities of demand, a high end cost estimation, one-to-one mapping of upgrade costs to demand reduction, not addressing impacts in non-sector gainers within the economy, no accounting for R&D and new technology innovations and entrepreneurship."
Transparency — F
"Weak discussion on the basic economic role of responsiveness and substitution possibilities, multiplier justification is unclear, abatement cost assumptions incomplete, unclear, and inadequately justified."
"Economic Impact of Pending Air Regulations on the US Pulp and Paper Industry," addressing EPA's air toxics standards for industrial boilers, by Fisher International
Evaluator -Charles D. Kolstad, PhD, Professor and Chair, Department of Economics,
University of California at Santa Barbara
Letter Grade — F
"If I were grading this, I would give it an F. The economics is all wrong (lack of an incidence analysis or acknowledgement of its importance; failure to draw on the relevant literature), which of course would be my main concern."
"But the paper has some redeeming features — the English grammar is decent and typically better than I see on a poor paper. Furthermore, I would want to encourage the student to work harder on the next assignment."
I guess I am not surprised that big polluting industries would come out with reports that show that the EPA regulations are going to "destroy everything!!!! AHHH!!!" but I would have thought they would have at least tried a little harder. I guess there is no good way to show that 1 + 1 = 3.
« newer posts
|
older posts »