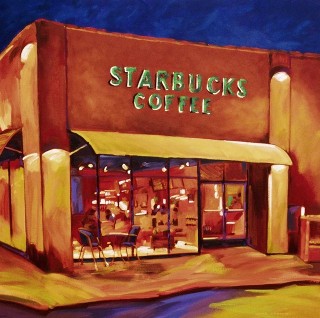 I have coffee most mornings at the local Starbucks.
What the folks that I sit with have in common, mostly, is motorcycles. But there's a lot of political discussion goes on as well.
Most of these guys are a good deal more conservative than I am (I'm a liberal, if you didn't know). Many of them are, in fact, distressed that Obama is about to assume the presidency of the U.S.
Sometimes, our conversations can get pretty heavy and heated. But, for the most part, people are respectful and receptive of each other's points of view. The operative principle seems to be, "If you give me a good listen, then I'll listen to your lame theory too."
One of the things I most like about such free-ranging discussions is that they can often cut to the heart of the matter rather than getting deeply tangled up in peripheral intellectual issues.
For instance, the other day, I got a long E-mail from a fellow who was attempting to dissect what had happened with the current economic melt-down and the banks and who fault it was. It went on at great length but then there was one sentence that cut through all the rest like a laser and, for me, it was the only thing of real value in the entire analysis. He said, "But ultimately, the villain is whoever was responsible for regulating the industry."
We got to this point over coffee today. We're not brain surgeons and rocket scientists. We're a nurseryman, a retired executive, an electric meter man, a real estate agent, a policeman and who ever else happens to drift by and decides to sit in.
The fear was expressed that with an Obama administration, we'd soon find ourselves with too much regulation and control in our lives.
On the other hand, I pointed out, it was the lack of regulation that been growing since the Reagan / Thatcher years that finally got us into this mess we're in now where greed ran away with common sense (and our money).
One of my conservative friends replied, "Yes, but as soon as you have regulation, it begins to grow likes weeds and soon everything is overrun and stifled."
I agreed – that did always seem to happen. But, the problem, thus far in history has been, that when it comes to regulation, we've always been in feast or famine mode; Either far too little or far too much. "How about some moderation?", I suggested.
We know that wealth, new products, creativity and innovation spring from the promise of making profits. This is what drives corporations, businesses and all forms of private enterprise. It is, indeed, the goose that lays the Golden Eggs – so it is not in our best interest to regulate it into submission and tax it to death.
But, it does need some level of regulation. Without regulation, the urge to seek profit will eventually always run us into difficulties just like it is now. The trick is to apply just the minimum of regulation to prevent businesses from taking actions that are not in the long-term public good. But, beyond that, stay the hell out of their way. "Yes, for example, we need wood products", I said, "but woods products from renewable resources is one thing – cutting down our last forests is quite another." Without regulation, the profit seekers cannot make these discriminations.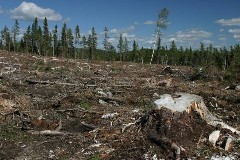 A look around the table showed that this seemed like a reasonable idea. "If it could be done.", one said, "If you could keep those that like to add 'just one more rule or regulation' at bay and if you could work out how to deflect every large multinational corporation who would love to 'fiddle' the rules and infiltrate the process for their own advantage. Because the truth would be that even if you could get such a thing setup and running well, over time there would be endless forces around that would try to subvert it to their own aims; be they power or profit."
The conversation turned then to what Obama might do once he's in office. Even the most conservative of my coffee buddies now basically concedes that, with out some major October Surprise, Obama's going to be our next president.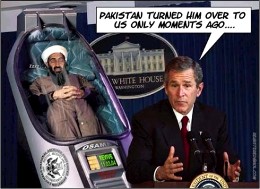 Someone said, "He'll have a lot of power if the House and Senate also return Democratic majorities." Someone else said, "No, he won't. There are a lot of constraints on a president's power that even the president himself doesn't learn about until he gets into office and all the 'secrets' are revealed to him and he finds out how things really work inside."
This led to discussions of 'Shadow Governments' and J. Edgar Hoover's vast powers over four or five presidencies and to why the Kennedys were assassinated. They were, perhaps, assassinated because they were too independent, had too much money and had snagged the highest offices in the land without being beholden to the real powers behind the throne in this country? The Kennedys had tried to do an end-around on the real power brokers and were shown the door to eternity for their efforts.
The conversation continued to wander. It was suggested that both candidates are saying they will work to "Rebuild America".
I scoffed. "It's too late. Someone (with regulation) should have protected our manufacturing base and our hi-tech industries from the multinational corporations and the Globalization folks a long time ago. They've already had their way with us. In the search for bigger profits, they've shipped our manufacturing and hi-tech jobs overseas. All of that was good for them and their shareholders and a lot of folks in the orient have also gotten wealthier as our American wealth has gushed over to them – but it hasn't left us better off as a nation, an economy or as a people."
I continued on the attack, "Everyone is worried that Obama is going to 'distribute the wealth'. Get a grip folks – it's already been distributed and it wasn't by the socialistic programs of the Democrats. It was distributed by Globalization and multinationals drinking from the rivers of money flowing from the U.S. to the new hi-tech centers in India and the new manufacturing plants in China. The very rivers they helped setup for their own profits. So, when folks talk, on either side, about rebuilding America, just what do they imagine they will rebuild it from? Out manufacturing's gone overseas, our hi-tech has gone overseas. We're just a cardboard store-front nation kiting checks that we call our National Debt and drowning here in cheap Wal-Mart plastic goods from China and hoping that they won't send us any food with melamine in it."
Well, comes the rejoinder, "It'll only be worse under an Obama administration. They'll tax whatever incomes we still have and give it to the poor folks who didn't have enough grit to get off their asses and go to work. I still say there will be too much regulation under Obama. I drove my Suburban in for Coffee today – too much rain for the motorcycle. Soon I won't be able to drive it without the police will stop me and say I'm illegal because I don't have six people in it and I'm wasting precious gasoline."
It was time to go to work, so we all got up to go off to our various destinations agreeing that it is all a major mess and that the politicians on all sides are lying about themselves and each other and they they aren't going to be able to do even a tenth of all the stuff they are claiming they can do to fix it all.
And that's today's report from Starbucks – where the coffee is NOT Fair Trade Coffee – but, we won't go there, eh?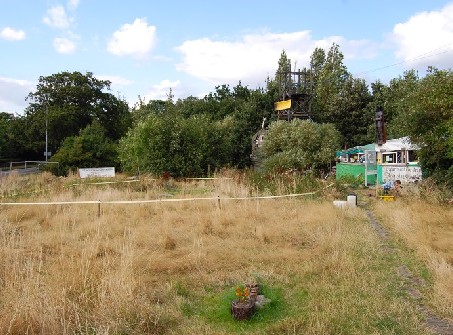 About once a week, sometimes more often, sometimes less, I take the number 20 bus from the top of my road to the corner of a place special to thousands of people in the Essex town of Southend-On-Sea. After crossing the busy dual-carriageway, I pass through the gate to Priory Park and am immediately enveloped by a veil of quietness, as though someone detuned the traffic station on the radio and found a frequency that only contains people, birds, small mammals and the rustling of leaves. It takes about 5 minutes to walk from corner to corner, after which I exit the main park and negotiate another busy road. There are two gates in front of me: a larger one with a ramp behind it, and a smaller one over which I reach and unhook the bungee cord which is attached to one of dozens of steel security fences lining a long triangle of greenery.
I open the small gate, besides which is a sign that reads "Welcome to Camp Bling". It's like coming home — it feels like that every time I step through the gate and make my way towards the collection of rustic structures that make up the communal living areas of this road protest camp that has just celebrated its third year. Camp Bling has never actually been my home, but in the three years it has existed — effectively preventing the concreting over of a naturally diverse and historically unique piece of land affectionately known as "The Shrubbery" for the purposes of shaving a few seconds off a car journey — I have spent many happy hours talking to the various friends I have made on site, helping with the many tasks attached to maintaining a sustainable living space, and also just chilling out with a cup of tea, reading books and being somewhere other than civilization.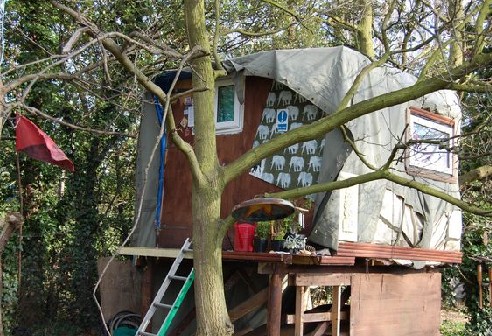 Of course life on a road protest site is no holiday: people come and go, sometimes in acrimonious circumstances having realised that communal living is not for them; bad weather damages structures that are built largely from leftover materials — packing cases, old doors, pallets, cast-off timber — and people on the other side of the council constructed fence throw abuse, rocks and Molotov cocktails, with the intention of causing injury or worse. Life on the camp is like being inside a cage of a zoo: except the captives are really the majority outside of the bars, living lives designed for them by a system that respects nothing but profit and consumption. Inside the fence exists an alternative to that life.
The road might not be built, but the threat is still there. Not only will the bulldozers destroy trees, grassland and a diverse web of life that can only be truly appreciated over time, but it will also wipe out evidence of a Saxon king (jokingly called the "King Of Bling" by an archeological television programme), a link to a past which we have all but forgotten, a past that didn't heat up the planet and made only a tiny dent in the global ecology. That link is why the site is called Camp Bling.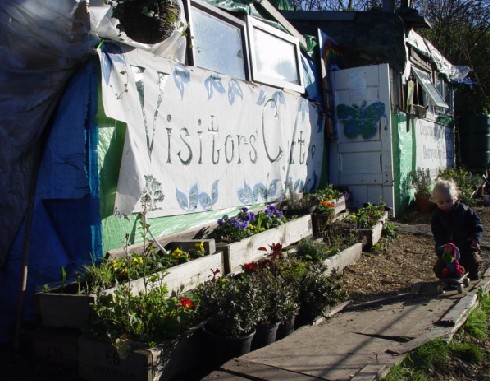 A road protest site it may be, but it is also a fully-fledged community from which ideas flourish, and within which knowledge can be found. The Camp Bling website has just been launched as a platform for much wider concerns: global ecological destruction, peak oil, cultural sterilisation…an attempt to bring a wider audience into a place that up to now has been a local issue, with local visitors. The future will have to be about community; about understanding the needs and treasures of the local environment; about creating something that doesn't respect global heirarchy nor the destructive ambitions of a brainwashing elite.
Camp Bling is a learning process, a process that can be repeated where you live, all the time taking a simple message to those who are prepared to listen: there is another way, and there is still time to take that path.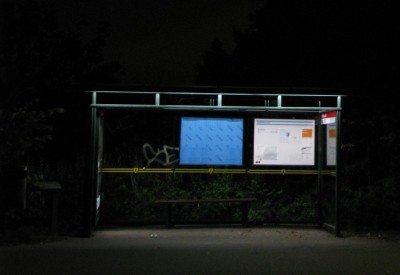 I was just about on my knees having run down Victoria Avenue to try and catch a bus that would never come – these boots were made for walking, but never for running, as I had found on the first leg of my fruitless sprint from Camp Bling where I had been joining in the 3rd anniversary celebrations of this road protest site in the middle of an Essex town. There wasn't much more I could do as I realised the last bus home had left just five minutes before; so I called up my wife to get the number of the nearest taxi firm, and then called up the taxi firm themselves so that I could get back home.
The fare came to £16, which was bad enough in itself, but for me the worst of it was that I could have got the bus had I left the camp ten minutes earlier. No matter that the driver of the bus on the way there had told me the wrong return time; no matter that our car is collecting more spider webs than grit in its tyres – well, that's the matter, really: I have made such a personal crusade of the way I live that any diversion from the rightous path is a failure. So I feel guilty, when perhaps I shouldn't.
It was reported in the news this week that the worst polluters in Britain are, not surprisingly in my eyes, those who carry out the highest level of superficial environmental acts – recycling, changing light bulbs, that sort of thing. Their guilt is safely put out with the recycling, whereas if you really believe in what you do then guilt is something you carry around with you, and let out of the bag each time you treat yourself to a takeaway pizza or, in my case, buy a loaf of bread rather than bake one myself.
That feeling is what keeps me going on a day to day basis; it's very low level and, because I really do try and walk the talk, doesn't come out very often. It's all relative, though, and overall I feel pretty good about my life – as you should too, if you have really made some serious changes in the last year or two. After all, I don't wake up in the morning, safe in the knowledge that what I do will cause the deaths of thousands of people; or the destruction of a tract of rainforest; or the edging up of the global temperature – I leave that real guilt to the politicians and CEO's who, if life was at all fair, would feel that guilt bludgeon them round the head every time they opened their mouths or signed their next contract with death.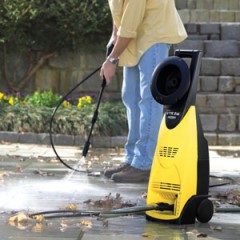 I try to not let it get to me – that swishing, rumbling noise outside, with it's undertone of a small motor humming relentlessly to itself – but I can't help it. It's been going on for the last two hours, maybe more, and the guy next door still hasn't finished washing down his wooden decking. Gallons upon gallons of fresh drinking water, running in streams across the timber; kilowatts of electricity being sucked up by the pressure washer, causing the needless release of greenhouse gases into the atmosphere.
It does get to me, it really does. Just like the people over the road who have just returned from their journey in their newly acquired luxury SUV, bought to augment the existing Lexus saloon they had because it just wasn't big enough for two adults and two children with their acres of detritus; or maybe they just wanted to feel even more cosseted in their metal cocoon.
And it gets to me when I walk the children the three-quarters of a mile to school, being passed by the lady three doors down in her new Mini Cooper, driving to the exact same school, only to return to the same spot again 10 minutes later, having completed her arduous round trip amongst all the other school mums whose children have atrophied legs and minds – having no idea what lies in the outside world.
And it gets to me when I see another neighbour concrete over their front garden, having previously expressed a desire to do more gardening, yet being "forced" to create a hardtop haven for the two cars that this childless couple feel obliged to drive everywhere; the same couple that took 12 of their relatives to the Maldives for their tropical wedding experience.
But what gets to me most of all is that there is nothing I can do to change this – that these people will carry on doing the same things until they have realised that their mechanised, sanitised, synthesised lifestyles will not help them one bit after civilization crumbles away. They will be helpless – but I won't be laughing because I will be gone by then, well away from the chaos of millions of people still depending on the system that they hope will save them from oblivion. They are beyond saving, in so many ways.
The guy next door is still at it – maybe he has to, because if he stops he might have to find some meaning in his life. If he got a stiff broom and a bucket there might still be a chance for him…but somehow I don't think that will ever happen.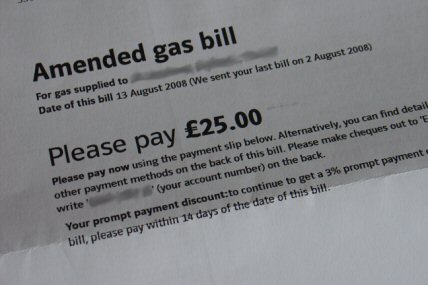 When my knee is feeling better (still sore after falling down a mantrap near to home, installed by that lovely company BAE Systems on a public footpath) I'm going to be installing some more loft insulation, just to make sure the house stays really warm this winter. Because we've now got a wood burner, we're going to try not to use central heating at all – tough on a really cold day but we do have the wind at our backs, demonstrated by the shocking gas bill we got through the post last week.
In the UK, the main source of houshold space and water heating is North Sea (and increasingly Russian and Norwegian) natural gas: it's far cleaner than burning coal and, on average, a much more efficient way of heating than using electricity. This graph shows the equivalent carbon dioxide emissions for each main, non-renewable fuel type: natural gas comes in at 0.206 kg CO2/kWh. But space and water take a lot of energy to heat…usually.
Our £25 gas bill (actually £24.55 from my own reading, but they rounded it up) is the result of using 564kWh of energy between 28 April and 13 August, which is about 116kg of carbon dioxide for our entire house. Bearing in mind there are four of us, that the average UK emissions are just under 10 tonnes of carbon dioxide per person (the USA is about 20 tonnes!), that 27% of UK emissions are domestic and that about 80% of all domestic emissions are from water and space heating (you'll have to trust me on these figures, I don't want to go reference crazy), we should be producing just over 8 tonnes of carbon dioxide from our gas burning.
Looking at my old gas bills, the summer one accounts for about a tenth of the total annual gas bill, which would mean my annual charge will be about £250 or, in carbon terms, about 1.1 tonnes of carbon dioxide for the four of us!
Surely this is some kind of weird magic spell we are weaving. Not at all, we just use a mixture of planning and modest home improvements:
1) MOST IMPORTANTLY we only heat what we have to. I have worked out exactly how much hot water we need for showers each day, which are never particularly hot, and more significantly, the heating doesn't go on until the temperature drops below 16C (60F). We wear clothes according to the temperature.
2) We have installed the aforementioned wood burner, which will mean in the evenings most of our heating will come from renewable, essentially carbon neutral, wood.
3) We have a pretty efficient boiler, which is regularly serviced. All exposed pipes are lagged, as is the water tank.
4) The roof spaces are very well lagged, as are the cavity walls, and I'm planning to do more soon.
See, no magic at all, but still we manage to use only 14% of the natural gas of an average UK household. If everyone did the same, the climate crisis would be far less of a crisis. But, of course, we won't because we aren't taught to think – only slavishly follow what everyone else does, regardless of the (terrible) consequences.
If you do want to be different though, then go ahead and save loads of energy. Seriously, it's really easy!
« newer posts
|
older posts »