Black Friday is an event of pure commercialism that occurs in the USA once a year. Although not originally named for this reason, it now signifies the time of year when retailers typically move from being "in the red" to being "in the black" due to the increase in material consumption. In practical terms it is the start of the pre-Christmas shopping season and used as a trigger to get shoppers buying goods they would not otherwise consider buying, ringing up huge debts on their credit cards and adopting a pattern of frenzied consumer activity that sometimes culminates in violence in order to obtain those precious Black Friday Bargains. The extent to which this normalises otherwise absurd behaviour – making the purchase of superfluous things appear routine – is quite extraordinary. If we consider civilized humans in the USA as de facto Consumers, then Black Friday takes this up another level, to the point at which "normal" consumer behaviour appears conservative.
Undermining Black Friday can seem in one sense to be a point solution, attacking something that is exceptional rather than a normal facet of civilized society, but if it is possible to deal with something so discrete then it may provide some very useful ammunition for dealing with the general problem of the Human as Consumer.
Black Friday is predicated on good communications. The "bargains" offered are generally not particularly good, and are always limited in number – partly to maintain the sense of urgency, but also because retailers are not stupid and have no intention of making a loss on any day of the year. Here's a partial run down from a NYDailyNews article:
MACY'S
Deals from 4 a.m., with closing times varying by store.
Doorbuster deals for the earliest customers and free shipping at Macys.com for or-ders of at least $99. Men's Timberland puffer jacket, $34.99; women's puffer jacket from Style & Co., $24.99. Girls' boots from Steve Madden and Madden Girl, $39.99.

FOREVER 21
Deals from 8 a.m. to 2 a.m. (Times Square location).
Customers who spend $40 and over will receive a special gift with purchase — a locket with lip gloss inside (limited quantities, while supplies last.) Select items $3-$12. Buy one get one free all apparel markdowns.

KMART
Deals from 6 a.m. to 9 p.m. Thanksgiving Day; 5 a.m. to 11 p.m. Friday.
Doorbusters (like a woman's peacoat, $19.99), last for only six hours. Select board games will go for $5. A Craftsman C3 drill/drive is $49.99 and a 42-inch Zenith flat-screen is $399.99.
See? It's crap. Which is why the communication of Black Friday as something that is appar-ently exceptional is so important; and it has really worked such that retailers no longer have to advertise their deals – they just wait for the queues to appear at the allotted time and hand out flyers as people rush the store doors to get whatever might be reduced. This is indeed a masterful piece of cultural manipulation.
Dealing with this can take many forms, and such is the importance of undermining communications that I've provided a list of the different approaches that you might want to consider as an Underminer, and briefly how this might be applied to Black Friday:
1. Stopping the message: Making sure it isn't originated at all, or at least stopped at source before it can be propagated in any way, e.g. jamming the printing presses that produce the flyers; socially engineering employees to prevent a retailer's Black Friday strategy from being written.
2. Blocking the message: Preventing communications from being completed in some way, e.g. intercepting the delivery of flyers to stores; taking down hoardings near to stores.
3. Reversing the message: Communicating something that is the reverse of what the originator intended, e.g. a fake Black Friday Facebook page that suddenly cancels the event; press releases to radio stations from retailers saying how damaging Black Friday is to the planet.
4. Subverting or parodying the message: Communicating something that alters the sense of the message, often in a humourous way, e.g. creating a "Black Friday" event for the Amazon Rainforest where all trees are free to the first 1000 loggers; "subvertising" hoardings to show the true impact of consumption on child workers.
5. Amplifying the message: Changing the message to such an extent that it becomes unbelievable (a form of subversion) or, at best, causes problems for the retailer, e.g. creating a Black Friday website that advertises items as free; acting as a company spokesperson saying on radio that Black Friday deals are to be extended indefinitely.
Notice that none of these actually prevent the target of the message from getting to the stores. The idea here is to undermine the means by which human behaviour is altered to fit the industrial model. By impeding access to the stores you are doing something quite different which will be described later on in the book.
None of these ideas on their own is going to be singularly effective, for instance only stopping one batch of flyers amongst a blizzard of paper, but this is a team effort even if in isolation. That sounds strange, but remember the feedback loop: if only a few people start undermining in a methodological and effective manner then it clears the way for more undermining to take place via the people who have been reconnected through the efforts of you and the loose band of individuals who happen to be doing similar things at the same time. So it's worth doing, providing it is the right thing.
This is an, as yet, unpublished extract from the book "Underminers: A Practical Guide for Radical Change" by Keith Farnish, available to read for free at www.underminers.org.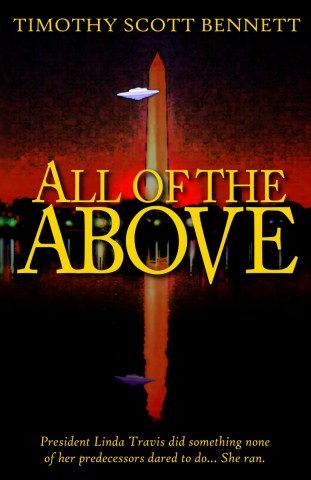 A review by Keith Farnish
Among the sorrow and the wonder, there is a moment in All of The Above that takes a bewildering concept and clarifies it to the level of absurd simplicity. "Our efforts to keep things going as they are just keep in place the very things that are killing us." Did you know that? The culture of Industrial Civilization is a culture of denial. Good writing transcends any amount of cultural bullshit we are fed. The best writers of science fiction, for that is what All of The Above clearly is, simultaneously tell stories about the imagination and about the cold, hard reality we find ourselves in but rarely acknowledge. Kurt Vonnegut knew this; Douglas Adams knew this; Isaac Asimov knew this.
Timothy Scott Bennett knows this. Two things are evident from Bennett's first attempt at creating a published work of fiction beyond the cracking yarn he weaves, one that I clung to, despite the obvious slowing down of everything else I had to be getting on with. First, we have to start somewhere: the writing is not without its flaws and the author takes a couple of chapters to really find his stride. The effort is ultimately rewarded with a galloping narrative and moments of unquestionable beauty, love even. But that initial learning process is most definitely present – maybe that was intentional; maybe we are all learning with the author. Second, Timothy Scott Bennett is TS Bennett, writer and director of the film documentary What A Way To Go: Life at the End of Empire. There are things he wants to say and say them he is going to do, whatever it takes. As fellow travellers we start to empathise with the book's main protagonists, and not surprisingly may struggle to absorb the lessons given on parts of the journey, just as President Linda Travis struggles to take on board the reality she and the rest of the civilized world have become disconnected from.
So it is clear All of The Above is by no means a comfortable ride; but it is a thrilling and a moving one. The book contains more than a few glimpses of a very fine writing talent which no doubt will truly flourish in subsequent volumes. Taken as a single work, though, All of The Above is an important piece of a larger and vital body being assembled by some of the most perceptive minds of the modern world. And what's not to like about an alien contemplating a French Fry?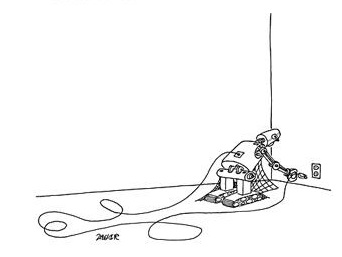 This post comes courtesy of Dave Pollard at the "how to save the world" blog, and is particularly relevant to readers of The Sietch…
What are you going to do when the Internet's gone? That is the question that no one dares ask. I'm not talking about Net Neutrality and the takeover of the web by corporate interests. I'm talking about its simple disappearance, as infrastructure that's simply unaffordable and unsustainable in a world of economic, energy and ecological collapse, stops working and falls apart.
The technophiles, the "bright greens" will tolerate no such talk, of course. They believe with a religious passion that technology will solve all the world's problems (and let us live forever to enjoy the resultant eternal bliss of allknowingness). But the "dark greens" — the post-civs who see our society collapsing ("all civilizations do") probably in this century — want to believe too. They want the Internet to help them organize resistance to the corporatists and globalists who are exacerbating the crises driving us off the edge of the cliff, if not in time to stop it, at least enough to be able to piece together some alternative models of how to live sustainably that the survivors (our grandchildren) will be able to use.
So asking this question generally raises a lot of scowls from all sides. Even the corporatists have become utterly dependent on it for the information and communication systems of their dysfunctional and plundering empires. A world without the Internet is simply…unthinkable.
Until you think about it. Consider that:
* The Internet is a huge user of electricity and related electrical and telecommunication infrastructure. That infrastructure, as invisible as it is, requires massive amounts of continuous maintenance.
* During the Great Depression of the 1930s, one of the first things to go was reliable phone and electrical service. The utilities went bankrupt like everyone else, because their customers couldn't afford to pay the bills, so the utilities as a result couldn't afford to pay repair, maintenance and service people to keep these services operating. (When farmers abandoned their unsustainable, monoculture farms, they left notes on their doors inviting other migrants to stay and take care of their homes to ward off poachers, and left the doors unlocked. No power, no phones.)
* The Internet requires, for most of its value, a huge number of 'volunteers' working mostly at the 'edges' providing millions of hours of free labour to write the software to keep it running and to keep its content current. Most of these volunteers are people who have a source of income (other than the Internet) that allows them to volunteer this effort in their 'spare' time. No full-time jobs, no time for volunteer work.
* The hardware that allows us to use the Internet is utterly dependent on large-scale, inexpensive global trade in metals, minerals and materials, some of them rare and scarce. You can't build computers, servers and telecom lines from materials you can find locally. When global trade grinds to a halt, made worse by the end of cheap, affordable oil, where are we going to get these things? And what happens when supply of these materials simply runs out and there's no money to research and develop alternatives?
Just as in the last Great Depression, the collapse of essential information and communication infrastructure won't happen all it once. It will be a gradual decline. The first signs, I think, will be the loss of the generosity economy features that have made the Internet so ubiquitous — the free software and free services that advertisers and 'free-mium' service buyers and enthused volunteer labour funded. There are already some disturbing signs of this happening: Gaia.com, a large blog platform, has folded; Friendfeed has been bought out by Facebook (which, despite its immense popularity and reach, has surprisingly small revenues and must be operating on razor-thin margins); Yahoo has been closing many of its services and is rumoured to be in difficulty. And all the wonderful stuff we have from Google comes thanks to advertising revenues, even though there is almost no evidence that such advertising is effective.
So what you'll see, I think, is a lot of consolidation, disappearance of free services (Ning recently announced it is abandoning all its 'free' services, and their customers) and an annoying increase in fees (the giant global right-wing news empire News Corp is again planning to start charging for its content). "The end of free" will drive millions of Internet readers (and writers) away. Advertisers will then flee. What will be left will be tons of people using 'free' bandwidth to try to download huge amounts of 'free' music and video, and ISPs will then find relatively little resistance to them bringing in huge increases in bandwidth fees (and the end of fixed rates). If you've ever dealt with the outrage of 'roaming' charges for data, imagine such charges for all use.
The next wave of the Internet's decline will be when the next long Depression begins, probably in a decade or two. When communication and electrical service becomes intermittent as utilities cut back, Internet service, having been marginalized by the events described above, will be considered a non-essential service, and regularly shut down in favour of more critical uses of these services. And then, as PCs become less ubiquitous and people get used to finding alternative ways to get their information and entertainment, and as the availability of components and materials falls and their cost increases, computers will start to become community resources rather than personal ones, and you'll have to go to the library or the neighbourhood school to find one in working order. And eventually even these will break down, and people will, as they always do, find workarounds.
I'm sure most readers of this article are shaking their heads, saying this will never happen. And I'm sure that most readers who are also students of history are probably nodding their heads, saying they can imagine this, and perhaps it wouldn't be so terrible. True innovation blossoms when there is a real human need that is not being met, and the need for information and communication and entertainment is eternal. How to evolve and adapt to the end of the Internet? Maybe like this:
* Instead of downloading music and film, create your own music and theatre, in live performance
* Instead of taking photos, draw, paint, sculpt
* Instead of blogging, write a journal, and meet in your community and share stories and ideas, cook together, rant, organize, build something together
* Instead of playing online games, organize a real-space scavenger hunt, eco-walk, or bicycle rallye
* Instead of taking online courses, unschool yourself in your own community, and learn about your place… or show/teach others what you know (including, most importantly, teaching children how to think and learn for themselves)
* Instead of organizing online petitions and complaining online about the state of the world, go visit your local politician, get involved in community activities that make a difference (disrupt, show your outrage, satirize, or create something better)
* Instead of looking for health information online, set up a local self-help health co-op, offering preventive care, self-diagnostic and holistic self-treatment information
* Instead of porn… well, use your imagination
How well will you be prepared to adapt to the end of the Internet? Are you dependent on it, now, for critical information you need, for connection with those you love and those you seek to love, to work with, to partner with, and for what brings you joy or blessed escape? The biggest uses of the Internet today are music, porn, health information, games, and amateur photo/video sharing. To the extent you use the Internet for any of these things, do you have a way of doing them, with no or low technology, when the Internet's gone?
And in the meantime, don't take the Internet and all its 'free' offerings for granted. It's a rare window of incredible opportunity, and it won't last forever. Like everything else in our overwrought civilization, it's unsustainable.
So blog like hell while you can.
"Out-of-Home impact plus the power of television to a captive audience. Reach 5.8 million monthly Atlantans, commanding attention during the entire ride."
You don't really notice it, but it's there, filling your subconscious with a thousand different messages; broadcasting its commercial dominance to an entrapped population. Television is the primary method by which civilized humans are manipulated into carrying out the instructions of the industrial machine; this is no Orwellian fantasy, it is now and it is real, and don't you feel pissed off that you can't go anywhere without having your eyes and ears assaulted by this garbage?
The Unsuitablog's Monthly Undermining Task was instigated in order to remove greenwashing from the world, but because television propagates so much more than just the greenwashing messages of the industrial world, taking down the commercial public television network also removes all sorts of other insidious messages: promises of material fulfillment; political spin; embedded journalism; commercially sponsored "education". By switching off a television you do nothing less than give people back their ability to think for themselves.
So, are you up for it?
From today, throughout 2010, I would like you to switch off televisions and other electrical hoardings whenever you get the chance. As I explained in the opening article, the risk you take is up to you; you can do this in an almost risk-free environment, or you can take a few chances and do something more permanent. Risk is relative, of course, and the first time you do something like this it always feels a bit dangerous – as though someone is about to walk up behind you and say, "Excuse me, what do you think you are doing?" before escorting you away from the premises.
Not that it really matters if you are asked to leave; but in all my time switching sets off I have never once been escorted away or even caught. The point is: no one expects anyone to switch these damn things off!
Low Risk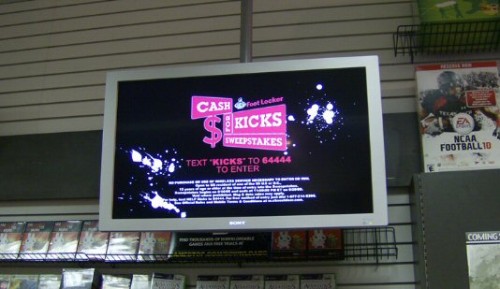 You see these everywhere now: plasma or LCD screens littering the walls and ceilings of shops, pubs, railway stations, libraries, schools. So insidious yet so fragile. With a wave of the hand you can switch these off. I'm going to recommend a product to do this; if you don't want to buy it then you will need to take a little more risk (see later).
TV-B-GONE is the product you need; it is available in kit or ready-made form. The link for the ready-made versions is below:
https://www.tvbgone.com/cfe_tvbg_buy.tvbg.php
Check it works, attach it to a keyring or just hold it in your hand, and when you see a television that is in a public or commercial place – keeping the LED pointed at the screen – just press the button. It'll take a while to get used to the order in which televisions are switched off, but in general the most popular models (like Sony, Toshiba and Samsung) go first.
I had great fun sitting on a bench outside a Sony Store, eating a sandwich, while switching off all the televisions within range; I have walked past shops with huge screens inside and knocked them out much to the incredulity of the staff; and I even walked around a music store, "shooting" the TVs off which were situated above the salepeoples' heads. Great fun and, as I say, I have never been suspected: who would dream of switching televisions off?
Medium Risk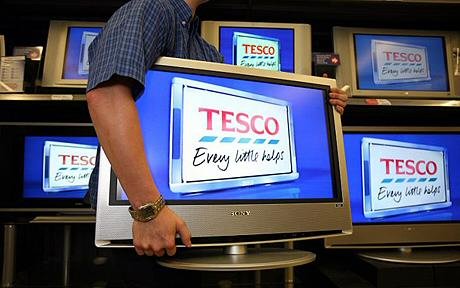 The next level of risk is essentially doing the same as for the Low Risk, but without the remote. Obviously there are fewer opportunities to do this, you being limited to what you can physically reach, but there are a few reasons why this might be a better option: first, you don't have a remote control; second, the display is a computer monitor or other custom display that doesn't respond to remote controls (these are often in small stores or office-type areas); third, you might want to just make a point of switching the screen off, as described by a correspondant:
My dentist recently instituted an *enormous* widescreen telly in their previously very lovely Georgian house conversion waiting room. It had some trashy Hollywood comedy playing on it when my partner and I were there last year. In fact, it had finished so it got stuck in the irritating sound loop that DVDs go into when they are in their menu screen.

Anyway, later on, we were both back in the waiting room while our xrays and so forth were being attended to, and there was one other middle-aged woman there too reading a magazine and sitting where she couldn't see the screen. So I switched the TV off. A while later someone who worked there stormed in and switched it back on. I explained that we'd switched it off because noone wanted to watch it and was told off.
The reason for the telling off, I suspect, was not because anything had been damaged, but because the employee of the dentist had the idea in her head that THE TV MUST STAY ON! Why? Because it must. That's it. Talk about brain death!
You might simply just say to the people in the room: "Is it ok if I turn the TV off?" Chances are no one will object, even if they were blankly staring at the screen. While we're on the subject of reaction, the thing I have noticed most is that when an "ambient" (a.k.a. subconsciously brainwashing) television goes off, people don't react at all; if anything they simply switch back into communication mode, and get on with their lives.
See, you are freeing people up. Well done!
High Risk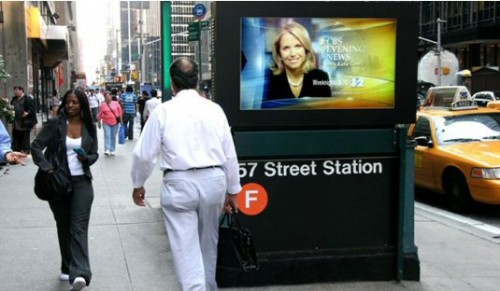 Now we're getting into voluntary territory: if you want to take the high risk options then you need to follow the basic rules of Sabotage, as explained in this article:
- Carefully weigh up all the pros and cons, and then ask yourself, "Do the benefits far outweigh the costs?" Only act if the answer is "Yes".
- Plan ahead, and plan well, accounting for every possible eventuality.
- Even if you value the worth of your actions, don't get caught.
For legal reasons, I have to write that I don't condone any breaking of the law nor anything that could potentially harm a living being.
Now, in the case of the displays that you can't switch off remotely or by pressing a button, more drastic action has to be taken. You really have two options that are practical.
In the case of units that are immobile, like in the image above, it's not generally practical to simply obscure the picture, so you will need to find the power source. I'm not going to go into any details, and it is highly inadvisable to mess around with breakers and wires if you don't know precisely what you are doing; nevertheless, if there is a plug socket or obvious rocker switch connected to the unit, then you could just disconnect it. Whether you go further is up to you; but if you can disable a very large display, such as those in major railway stations, then you are a bit of a hero in my eyes.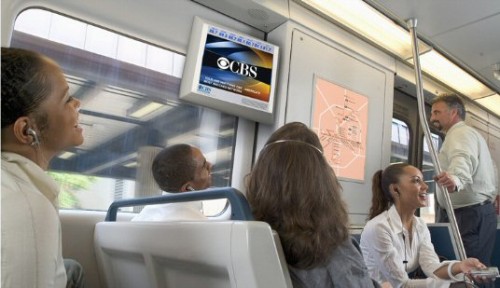 For display units on public transport, like the really creepy one in the image above, you will need to be more up-front. Don't mess around with the power unless there is a switch on the back – you won't find the source anyway because it has to be hidden well away – I would suggest covering the screen up, perhaps using a professional "Out Of Order" sign or something like this one: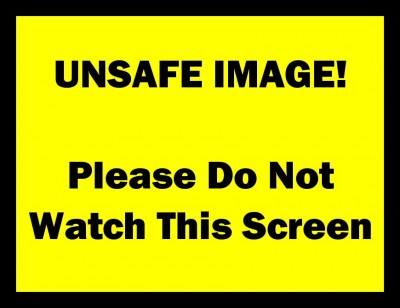 (click for large version)
If you have a high visibility jacket or smart suit then you can probably get away without anyone saying anything. You may raise a smile from some of the people who didn't even realised their eyes were glued to the set. You might even give someone the motivation to do something similar themselves.
And speaking of which; make sure you pass this article to your own networks, Facebook friends, Twitter feeds and put it on your blogs – here's the link:
http://thesietch.org/mysietch/keith/2010/01/15/monthly-undermining-task-january-2010-the-great-tv-turn-off/
I have a funny feeling we will be seeing fewer usable televisions in 2010…
[Originally published on The Unsuitablog]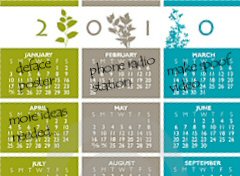 There's no time for a review of 2009, it's happened, we are in deeper shit than we have ever been in, but one of the very few points of light is that the term "Greenwashing" has become common currency. It's not so easy to greenwash now without being at least identified as a Greenwasher; but in all sectors of civilised society, Greenwashing continues to ensure we still implicitly trust the industrial machine as the litmus test for what is "right".
Across the UK, as I write, snow is beautifully enveloping the land, producing a swath of picture postcard images that will stay in the minds of so many children for years to come; not to mention the slide rides downhill,the snowball fights and the snow scuptures that feed ordinary people both young and old with excitement and imagination.
For the civilised, adult world, snow is simply a barrier to economic activity: the roads must be gritted, the airports must be kept clear, the shopping malls must remain open, we must all get to work. Our growing, pulsating economy depends upon it, so snowy weather is "bad" weather.
Nothing demonstrates the priorities of this destructive culture better than the twisting of a natural, seasonal phenomenon that can imbue such joy, into a blight upon society that must be dealt with — and now! This is a message that comes directly from the press packs, policy measures and editorial regimes of the corporations, politicians and broadcasters that run Industrial Civilization.
Angry? You bet I am!
2010 was, up to a few hours ago, going to be much of the same for The Unsuitablog, but then I started writing a message to the members of the Anti Greenwashing Action Facebook Group, and realised that there was so much we, and you, could do to undermine the system that tells you how to live your lives; often under a cloak of greenery and false hope. One action a month, by every person who reads The Unsuitablog: that's a lot of actions that could really drive some terminal nails into the Greenwashing coffin, helping to free up the minds of a mislead and brainwashed public.
Here it starts. Very soon, the first Monthly Undermining Task will be posted on The Unsuitablog. I ask, implore you, to carry out this action, and repeat it as often as you feel comfortable doing so. It will not be difficult, and I will provide different levels of risk to account for all sorts of personal situations.
In February there will be another action, and another in March, and so on. Please tell me what you have done (you can remain perfectly anonymous) and if you send me photos, recordings, links to web pages and any other evidence, then I am willing to give them pride of place on The Unsuitablog so that others will be inspired to act themselves. If you have any ideas for MUTs then let me know at news@unsuitablog.org; and also take a look at this article if you want to understand why this is so important.
In 2011 you won't need to look back and say: "Why didn't I do something?"
You will be able to say: "Look what I did!"
older posts »