For those in the North Shore area for the weekend, Salem Sound Coastwatch will be hosting a viewing of A Sea Change this weekend at CinemaSalem. Admission is free, so bring friends and family out for a midmorning film then join in the open discussion. Film starts at 10 am, doors open at 9:30 am; this Sunday (June 7). Follow the link for more info.
Home Dome Challenged to design a product using recycled/reclaimed materials, kids across the nation competed in the Trash to Treasure contest sponsored by the PBS show Design Squad and the Intel Foundation. The winning design also had a community focus for its intended use: temporary shelter for homeless residents or disaster victims. What do you think of Max's winning design, The Home Dome?
Design Squad is a PBS-Boston production that pits young engineering minds in clever challenges for the grand prize of an engineering scholarship. You can watch episode footage and find out more about the show from its website.
Hi all! It has been quite a long while since I have posted. Granted, there have been many Sietch topics on my mind that I have wanted to contribute but life is crazy sometimes and prevents one from doing all that one wants (read: adjusting to a new town, new job, new flat consumes every moment for a few months). Now that I am one of the State of Mass science geeks, receiving a steady pay check w/ benefits for the first time in my life after living like a carefree vagabond, I take a big breath and dive headfirst back into the cyberworld of green conversation.
The Sietch has become an excellent source of news and interest pieces for many as the Naib's recent post demonstrated. Good that so many have found such a reliable resource. Well, I thought that maybe there needed to be a few more reviews of literature on the site to entice some more thought-provoking bloggage. So, first off, some green rags and then a green book.
Towards the end of the summer, I started to receive GOOD, a magazine that is dedicated to all that is awesome in my opinion. Ok, well maybe I should step back and be a little more objective. I have enjoyed the variety of articles that center around some of the positive change that we can see not only in the US but globally. There have been articles on political art in Palestine/Israel, the face of volunteering in the US, worm composting, Mexican wrestlers protecting the sea, … in short a lot of variety on some topics that just don't seem to really enter the mainstream media. For comparison, I have also begun receiving E the environmental magazine, as a gift subscription. I have not completely finished the first issue I received, but in short am left feeling like it is the US and News Daily Report version of what is environmental versus the from the roots up feeling I had from reading the GOOD words of wisdom off the glossy recycled mag page. I think I will be signing up said friend for GOOD to offer her what seems to be a broader view point albeit not completely environmentally focused content wise. I guess I shouldn't be too surprised for a mag wise enough to garner readers throught the AmeriCorps alum network.
As for the green book I would like to comment on, this I feel is a must read for some Sietchers that months ago were discussing the sustainability of the food supply, backyard gardens, etc. Please read Barbara Kingsolver's book Animal, Vegetable, Miracle. It is great as a resource for getting that backyard garden started even as ambitious as her family was to sign up for supplying the bulk of their perishable food needs. First off, her writing is just wonderful with great descriptions of the adventures of turkey sex, turning 50 and hosting a garden party themed by flower gifts, and especially the wisdom to incorporate the voices of her family by adding in their own vignettes. I am very excited to embark on my own crazy foodie challenge of getting the freshest, localest, and tastiest food in my new home of Gloucester. I promise to keep all posted and encourage anyone on the North Shore with tips of where and how to shop local to post some info here.
Whew! Well, that was a fast little post for y'all. Just wanted to finally get some words up on the electric page for all to see. Please add any other thoughts you may have on green mags or books to this post. Of course, maybe I'll try and make this more of a regular addition to the Sietch scene. Word to the Naib!
For those that have been following the previous posts discussing sustainble eating practices, I recently read this Times article that may be of interest. Granted, if there is any way that you can supplement your diet with foods grown in your yard or from nearby neighbors, farms, then of course that would be the most desireable choice. However, many of us will need to depend on some larger food giants to deliver foods and other goods to us in a more sustainable manner. And why not attempt to provide Americans with the iconic farm fresh item: the egg.
I recently completed a degree at Clark University, and as a grad student depended on the dining hall for nearly all my meals during the semesters. The company managing the kitchens and dining options tried to cater to the green demands of the student body by offering many vegan options, produce from local farms, and eggs laid by cage free chickens. On one dining visit, I had my roommate that was from Jamaica joining me for breakfast. After looking over the many options, we decided upon omlets. While we were waiting, she noticed a sign by the grill sneeze guard that declared that the eggs used in the kitchen were all from cage free chickens. She asked me what this meant, and I proceeded to explain how this was a rare thing to get for most college students, possibly most Americans as well. I noted how it was part of a growing trend of making healthier eating decisions that were also linked with the environmental movement. She laughed and proclaimed that cage free eggs are the only kind to be found on Jamaican tables for the most part. She thought it was hysterical that such a thing would be treated as an expensive "treat" and not commonplace.
Indeed, many of us are now farther than we ever have been from the sources of our food. We are lucky if "local food" means that it is from an independently owned supermarket opposed to a chain store. However, the most important change that we can make is to play the role of the consumer and actually ask our grocers where the food is coming from, how is it raised/gathered/etc, and make the small choices when purchasing our groceries between traditionally farming practices (i.e. pesticides) versus organic. Here can be found another blog site that has some wonderful entries on the eating discussions we have been having here at the Sietch. Also, I would love to hear some comments, if any, about
The Omnivore's Dilemma or Barbara Kingsolver's most recent book Animal, Vegetable, Miracle: A Year of Food Life.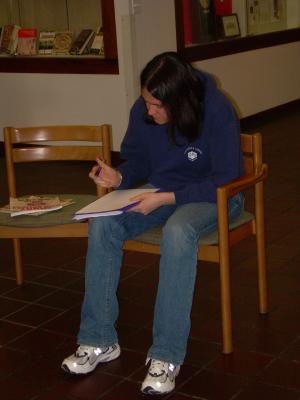 I've been wanting to participate in Locks of Love for quite some time. It was a long hard road to avoid the scissors and chair long enough until I had enough hair to donate. For a gal that has shaved it all off in the past, it can be a challenge to let the locks go wild.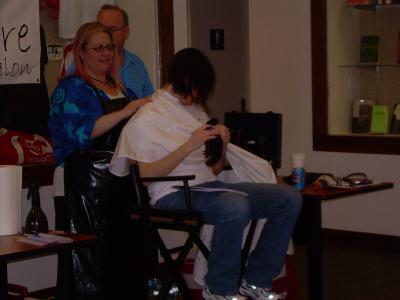 Locks of Love is a non-profit that provides hairpieces to disadvantaged kids that have long-term hair loss. If you think you have enough hair, 10″ is the minimum, then follow the instructions for shipping for a DIY hairstyle or find a salon that participates in the program. Just think, it gives you a whole new reason to be excited about getting a haircut!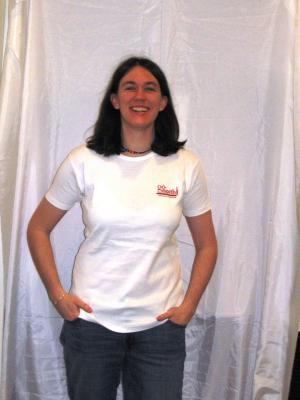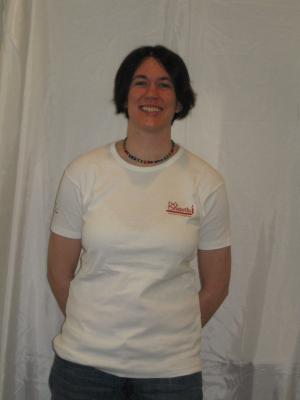 The Hillel club here at Clark organized a donation event with the help of two stylists from Connecticut. When I first walked into the foyer they were using to the host event, I was filled with anxious excitement for a new doo! I think quite possibly I was the shortest haircut of the day. While waiting for my turn to sit in the chair, I decided to write a short note about where my hair has traveled over the past few years since my last short cut (the shave..although I did get an awesome style from one of my Cape Cod AmeriCorps housemates): Spain, seaside at the Cape, and through the hills of Palestine and Israel. I hope the note reaches the lucky child to wear my locks :)
The gentleman that was cutting my hair informed me that he was combining two styles, experimenting with my hair. The long part in the front is called a "bias" and the short clipping in the back is part of a style called "urban angel". However, what excites me the most is the possibility of having it dyed in the future! The woman who was clipping ponytails from ladies that wanted shoulder length doos said that her specialty is wild colors. All I could imagine is possibly ending up like Jane with patchy tigress hair in Daria.
With spring in the air and a brand new haircut, I am happy to be venturing out in search of geocaches in such fashion!
older posts »