For environmentalists, the recent Supreme Court term was a shutout — 0 for 5. That is, all five of the "green" cases argued before the Court this term were decided against the environmentalists' positions.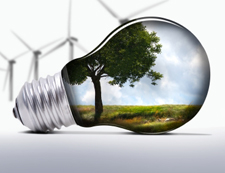 The defeats were especially painful in that all five decisions reversed lower court decisions in favor of the "greens." Writing for the National Law Journal, Marcia Coyle reported that "The justices granted review at the behest of business, even when the solicitor general of the United States recommended denying review."
One of the five cases was Entergy Corp. v. Riverkeeper, which reversed a decision of the Second Circuit Court, a panel that includes Supreme Court nominee Judge Sonia Sotomayor. In this case, the Supreme Court decided the Clean Water Act allows the Environmental Protection Agency to use cost-benefit analysis in decided what means it would use to protects rivers and lakes near power plants.
None of the five cases specifically dealt with asbestos contamination of the environment. But one decision that might be of concern to people suffering mesothelioma and other asbestos-related diseases is Burlington Northern Railway/Shell Oil Co. v. U.S.. This case concerned who would pay for an environmental cleanup of toxic substances.
In the 1970s and 1980s, a company called Brown & Bryant purchased chemicals from Shell Oil Co. and stored these chemicals on parcels of land owned by itself and also by Burlington Northern & Santa Fe Railway Company and the Union Pacific Transportation Company. The chemicals leaked onto the property, and eventually the EPA spent more than $8 million to clean it up. The EPA also ordered the two railroad companies to perform several tasks involving the properties, at a cost of $3 million to those companies.
The railroads sued the now-defunct Brown & Bryant to recover costs, and that suit was consolidated with suits brought by the state of California and the EPA against Shell and the railroads. The two issues these cases presented to the Court were, first, whether Shell bore any liability for the cleanup of the chemicals; and second, whether the courts could impose joint and several liability in this cost-recovery case. Very briefly, in tort cases, "joint and several liability" means that where there are several defendants, a claimant may recover all damages from any of the defendants regardless of their individual share of the liability.
In their interpretation of the Comprehensive Environmental Response, Compensation, and Liability Act ("CERCLA"), the Supreme Court reversed the lower courts and said Shell could not be held responsible as an "arranger" of the environmental hazard, even though Shell continued to sell chemicals to Brown & Bryant knowing the chemicals were not being properly stored. Under the language of CERCLA, the justices said, Shell would have been responsible for the cleanup only if its intention was to dispose of the hazardous chemicals by selling them to Brown & Bryant. In other words Shell did not arrange for the chemicals to be disposed, the Court said.
The Supreme Court also reversed the Ninth Circuit's decision that the railroads were jointly and severally liable for the full cost of the governments' response efforts. The issue of joint and several liability often applies to asbestos litigation cases, so the Court's thinking in this case may be a concern. Certainly the issue of who pays for environmental cleanups also sometimes applies to asbestos contamination. This was an 8-1 decision, with only Justice Ginsburg dissenting.
In the three other cases the "greens" lost, the Court ruled that environmental groups lacked standing to challenge certain U.S. Forest Service regulations; lifted an injunction limiting the Navy's use of sonar near marine mammals; and sided with a gold mine operator who argued that the Army Corps of Engineers could issue dumping and dredging permits without satisfying the EPA's more stringent pollution permit limits.
Barbara O'Brien
June 28, 2009
Our crop of MySietch Bloggers has slowly grown over the years, but a couple stand out from the rest.
This is a lady on a mission, a mission to make her garden about the coolest place on earth! Seriously if you ever wanted to know what was possible as far as growing your own food check her site out.
Or very own Keith on his mission to expose the crazy and foolish steps some companies will go to in order to pull the wool over our eyes. Check him out as he pokes fun at the many foolish greenwashers that pretend to be green, but fall far short.
Our friend up north, Greenspree has built his own straw bale home, and now works promoting green technology in Canada. Be sure to give him a read.
LTGTTC is a great view of non-profit work in New York. The tales are heartwarming, and heart breaking. It is nice to see someone taking the time to make others lives better.
Do you have something you need to tell the work about? Would you like your own fully featured website (with blog!)? Join our other MySietch users and set up your own website. Click here for more details.
The Sierra Club is launching a new video-driven online campaign called Lightbulbs to Leadership on Tuesday, which aims to remind Americans that it takes more than changing lightbulbs to fix global warming, it takes changing the will of our leaders.
This video is the first of three during the six-week campaign, all themed around lightbulb jokes ("How many lawmakers does it take…") that document the current lack of leadership on global warming, the fact that the people are ahead of the policymakers on climate change, and the opportunities that will be created by transitioning to a clean energy economy. To get a better idea of what the campaign is about, the first video features "in the dark" Senators John Sununu, George Voinovich, Mitch McConnell, and James Inhofe. These guys are pretty much "dead enders" fighting for a way of life that has come and gone. It's like they still advocate bleeding as a way to solve medical problems long after drugs and surgery have been invented.
The second video will cover the lack action from lawmakers on Global Warming, and the third one is about the potential of "Gr$$ning" America and the economic benefits of moving towards a Clean Energy Economy.
Across the U.S., more and more people are taking steps to fight global warming. Americans are changing their light bulbs – but to really solve global warming, we need to change more than light bulbs: we need to change direction. We need action that is strong, urgent and bold enough to get the job done.
We need action that cuts global warming emissions 80% by 2050, makes polluters pay for putting their carbon in our atmosphere, and invests the money raised from auctioning those permits in building a clean energy economy using efficiency and renewable energy power, and in helping people and their communities — and wildlife and their habitat — adapt to the changing climate.
Fighting global warming is a priority to Americans. We want clean energy solutions and we believe the U.S. should take the lead in combating global warming. Global warming is real and we need to demand real leadership.
The Sierra Club has never done a video-driven online campaign like this before, it should be interesting to see if they can make this effective and ensure lawmakers take Global Warming seriously in the future.
For more information click here.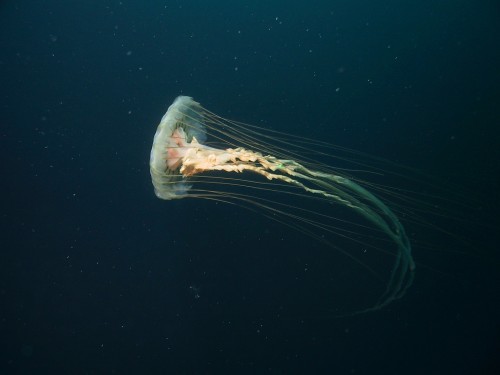 We have talked before about how global warming can change the way that jellyfish act. A new study helps explain a cyclic increase and decrease of jellyfish populations, which transformed parts of the Bering Sea–one of the U.S.'s most productive fisheries–into veritable jellytoriums during the 1990s.
The study shows that the availability of food for jellyfish may cap the potential size of the Bering Sea's jellyfish population, even while other factors, such as rising temperatures, may encourage its continued growth.
These results indicate that "anticipated temperature increases in the Bering Sea will not necessarily further increase its jellyfish populations," says Lorenzo Ciannelli of Oregon State University, a co-author of the study. By contrast, in warmer latitudes, jellyfish frequently multiply as temperatures rise.
The study provides potentially good news for the Bering Sea's fishing industry, which has been damaged by jellyfish blooms. Nicknamed "America's fish basket," the Bering Sea produces more than half of the U.S.'s entire catch of fish and shellfish.
Described in the May 29, 2008 online issue of Progress in Oceanography and summarized online in Nature, the study was partially funded by the National Science Foundation (NSF).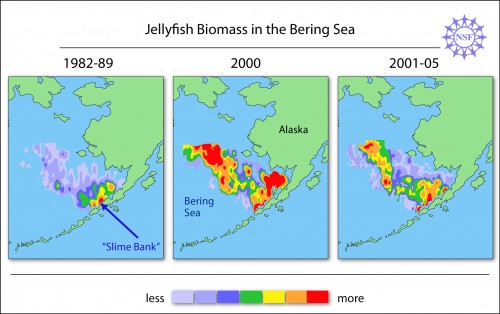 The Rise and Fall of Jellyfish
During the 1990s, the Bering Sea's jellyfish reproduced with such wild abandon that by about 2000, they were about 40 times more abundant than they had been in 1982, according to analyses of collections from fishing trawls made in the Bering Sea by the Alaska Fisheries Science Center. In addition, starting in 1991, Bering Sea jellyfish expanded their ranges by fanning out north and west of the Alaskan Peninsula.
Because of these changes, one area north of the Alaskan Peninsula–always famous for its jellyfish–became so jellified that fishermen nicknamed it "Slime Bank" and began avoiding it altogether for fear of filling their nets with jellyfish. Other fisheries were damaged as well.
The Bering Sea's jellyfish population peaked in 2000, and then eventually stabilized at moderate levels between those of the bloom years of the 1990s and the less populated years of the 1980s. The post-2000 population decreases occurred while water temperatures dramatically increased–even though increasing temperatures have been associated with increasing jellyfish numbers in lab studies and in other waters, such as Narragansett Bay.
What is causing this apparent incongruity in the Bering Sea? "We think that once the Bering Sea's jellyfish population outsized the available food supply, the jellyfish population probably shrunk," says Ciannelli.
A Squishy Scourge
The most common jellyfish in the Bering Sea is the northern sea nettle, which has tentacles up to six meters long. Sea nettles and other jellyfish damage the fishing industry by: 1) gumming up fishing nets, 2) stinging captured young fish, which spoils their commercial value, and 3) consuming young fish, which may reduce the sizes of commercial catches.
Do More Blooms Loom?
"There are still too many mysteries about Bering Sea jellyfish to predict their next moves," says Ciannelli. These mysteries include whether food for jellyfish is being increased by the fishing industry's removal of jellyfish competitors that eat the same food that jellyfish eat.
In addition, "the Bering Sea's current jellyfish population is still much bigger and ranges further than it did during the 1980s," observes Ciannelli. "This finding suggests that water temperatures influence jellyfish populations. But we don't know how and how much."
Desparately Seeking Polyps
Scientists suspect that increasing water temperatures may influence jellyfish population in various ways. For example, they may:
* Impact the food supplies of jellyfish.
* Prolong an early developmental stage for jellyfish during which they live as tiny, bottom-dwelling polyps before developing into swarming adults. If this occurs, there may be time lags between ongoing increases in water temperatures and resulting appearances of adult jellyfish swarms.
* Cause polyp habitats to move. Such movements may be reflected in the recent expansion of jellyfish habitats.
"No one has ever seen jellyfish polyps in the Bering Sea," says Ciannelli. "So we don't know how temperature changes impact them." That is why Ciannelli and colleagues are currently using new computer models to help track down probable polyp locations. "We must find those polyps," Ciannelli affirms.
The Long Tentacles of Environmental Change
Scientists generally agree that human-caused stresses, including global warming and overfishing, are encouraging jellyfish surpluses in many tourist destinations and productive fisheries. These jellyfish-rich locations include Australia, the Gulf of Mexico, Hawaii, the Black Sea, Namibia, the United Kingdom, the Mediterranean, the Sea of Japan and the Yangtze Estuary.
Study Implications
"This study–which represents a multi-disciplinary effort between experts in marine ecology, statistics and the mathematical geosciences–does more than just answer important questions about jellyfish ecology," says NSF Program Director Grace Yang. "It also provides a model for estimating populations based on incomplete data." Such models may be applied to other marine and land-based ecological studies and to studies of the spread of infectious diseases, says Yang.
Because our oceans are so vital to our food resources, and the survival of every living thing on the planet you should take some time to help Greenpeace protect them…got this in the mail today.

It's probably no surprise to you that our oceans are in trouble and desperately need our help. At Greenpeace, we've been campaigning all over the globe for increased marine conservation and it looks like the oceans may be getting a hand from a very unlikely source.

President Bush is thinking about designating sizeable portions of U.S. territorial waters as marine protected areas. In 2006, Bush brought large-scale ocean conservation to the U.S. by establishing a Marine National Monument in the Northwestern Hawaiian Islands, the world's largest fully protected marine reserve.

Maybe President Bush has a special place in his heart for the oceans? Whatever the reason, we need more marine reserves and we need to encourage President Bush to follow through and make this a reality!

Most U.S. waters remain unprotected from destructive fishing practices, so additional steps are urgently needed to help reverse the alarming decline of the health of our oceans.

We need more marine reserves because they help restore marine biodiversity and put endangered species and habitat on the road to recovery. They provide a safe haven for marine life, enabling populations to re-build and re-seed surrounding areas. Marine reserves also can help us understand the changes caused by global warming, even as the reserves help increase marine ecosystems' ability to withstand these new climate stresses.

Please take action today.
Red State Green offers these great instructions on how to create a garden plot in less than an hour.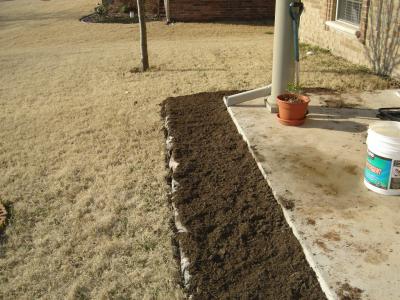 Great stuff. You should really check out her blog, it is fantastic. If you are interested in getting your own blog, go here.
older posts »