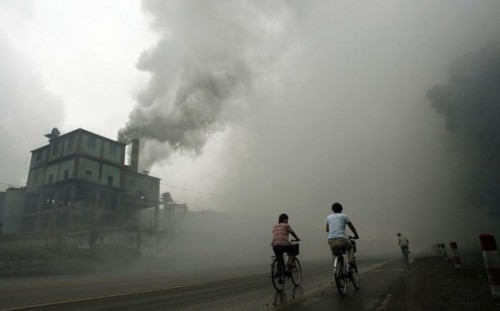 Judging by the numbers, the scope of China's environmental degradation is beyond shocking.  Consider:

The World Bank estimated, in a 2007 report, that pollution caused 5.8% of China's GDP in premature deaths, healthcare costs, and material damages. Air pollution alone is estimated to kill 700,000 people a year.
A 2012 MIT study estimated that air pollution in 2005 cost the Chinese economy $112 billion in lost labor and healthcare costs, roughly five times higher than it was in 1975.
In 2010, airborne microscopic pollutants caused an estimated 8,600 premature deaths in four major Chinese cities: Beijing, Shanghai, Guangzhou, and Xian.
According to a Chinese vice minister of environmental protection, the water quality in five of the nine bays along China's coast was "extremely poor." Results from monitoring stations along 10 major river basins show that 40% of the water is polluted. And 55% of the underground water in 200 cities is polluted. On top of that, about 300 million rural residents do not have access to safe drinking water.
Soil pollution is endangering China's food chain. Roughly 10% of the country's arable land has been contaminated by heavy metal, based on scientific studies conducted in the late 1990s. In 2006, the Chinese government began a nationwide survey of soil pollution. However, it has not released the results, most probably because the findings are too alarming for the government to release.

Given decades of environmental neglect and China's heavy reliance on coal — which produces 70% of the country's energy — it would be difficult to produce a dramatic improvement quickly. Nevertheless, the Chinese government can take a comprehensive approach to environmental protection by adopting tougher environmental standards, changing their economic policy, increasing investment in the environment, and mobilizing the press and civil society to take part in these efforts.Via
A couple things immediately stand out.
This pollution is caused because they are making the worlds cheap crap. This is as much our pollution problem as theirs.
They are burning coal, one of the filthiest, mercury filled fuels around. They are literally killing themselves with their energy source choices.
They are creating enough green house gasses to alter the planet in such a way that billions more lives are in danger.
This thirst for coal, and other natural resources is bound to cause political instability in places like Africa and other regions where China is pushing its weight around (for an example look what happened when America put its fingers into middle east politics for oil over the last 50 years).
This pollution doesn't stay in China, elevated mercury levels, and other toxins have been detected in California, putting human lives, and farm/fishing industry in danger.
Unless we stop ordering cheap crap from china, and help China build a sustainable energy system, billions of human lives including our own could be at risk.
We must ask ourselves, why is the stuff we buy from China so cheap? Is it because the people and environment of China is absorbing extra costs? The cost of the products from China doesn't include things like "pollution controls" or "clean waste disposal" or "air quality controls" instead those costs are passed on to the people of china, the environment of china, and ultimately to all of us.
So sure, we might pay less for our cheap plastic crap from china, but that doesn't mean those items are actually cheaper, it just means someone else is picking up part of the tab for us. Increasingly it looks like they are paying that bill with their lives.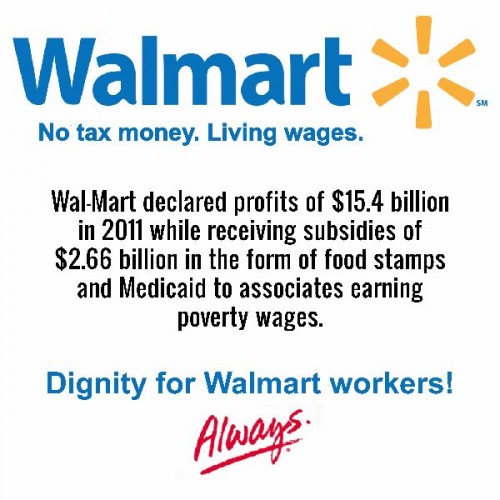 Ever wonder how Walmart makes so much money? They pay their workers so little that they are forced to get on food stamps (which your tax dollars pay for), so next time you think you are getting a deal by shopping at Walmart remember that what you are really doing is paying for those savings in some other way.
The combined worth of the 6 Walmart heirs and heiresses is greater than that of the bottom 41% of American families (48.8 million households). How do the grinning kids of Sam Walton stay so rich? By paying their employees slave wages and not providing benefits, forcing them to use food stamps and medicaid. Above, a poster by Miel Macassey that shows how Walmart siphons money from taxpayers so it can pay its workers (which represent 1% of the American workforce) an average of $8.81 an hour without having them and their kids drop dead of starvation.(via)
Scientists present recent findings on the subsurface biosphere
"Who in his wildest dreams could have imagined that, beneath the crust of our Earth, there could exist a real ocean…a sea that has given shelter to species unknown?"
So wrote Jules Verne almost 150 years ago in A Journey to the Center of the Earth. Verne probably couldn't have imagined the diversity of life that researchers observe today under the ocean floor.
Scientists affiliated with the National Science Foundation (NSF) Center for Dark Energy Biosphere Investigations (C-DEBI) will discuss recent progress in understanding life beneath the seafloor at the American Geophysical Union (AGU) fall meeting, held in San Francisco from Dec. 3-7, 2012.
Once considered a barren plain dotted with hydrothermal vents, the seafloor and the crust beneath it are humming with microbial life–with "dark energy," says Katrina Edwards of the University of Southern California, director of C-DEBI.
Seafloor and subseafloor bacteria not only exist, they're more abundant and diverse than previously thought. The bacteria "feed" on the planet's oceanic crust, posing questions about ocean chemistry and the co-evolution of Earth and life.
"We now know that this remote region is teeming with microbes, more so than anyone guessed," says David Garrison, program director in NSF's Division of Ocean Sciences, which funds C-DEBI.
While scientists have estimated that microbes living in deep ocean sediments may represent as much as one-third of Earth's total biomass, the habitable part of the ocean crust may be ten times as great.
Dark environments appeared to offer little energy for sustaining life. But the abundance of microbes in the subseafloor causes scientists to wonder how long life may have thrived there.
Researchers are working to answer such questions as:
What is the nature of subseafloor microbial communities, and what is their role in the alteration of young ocean crust?
Are these communities unique, especially in comparison with seafloor and sedimentary communities?
Where do microbes in the ocean crust come from–sediment, rock, seawater or another source?
C-DEBI-related sessions at AGU include: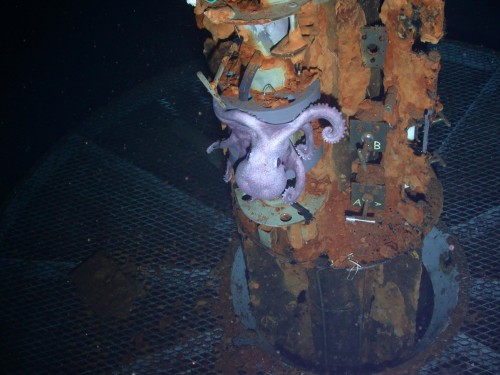 InterRidge Session: The Deep Subseafloor Biosphere
Understanding the subseafloor biosphere and its relationship to energy and material fluxes transported by fluid flow has the potential to answer questions about the evolution of life on Earth. This session provides an opportunity to hear results and ideas from various scientific disciplines.
OS13A. InterRidge Session on: Deep Subseafloor Biosphere I Posters
Monday 12/3/12 1:40 p.m. – 6:00 p.m.; Hall A-C (Moscone South)
OS22A. InterRidge Session on: Deep Subseafloor Biosphere II
Tuesday 12/4/12 10:20 a.m. – 12:20 p.m.; 3024 (Moscone West)
OS23B. InterRidge Session on: Deep Subseafloor Biosphere III
Tuesday 12/4/12 1:40 p.m. – 3:40 p.m.; 3024 (Moscone West)
OS24B. InterRidge Session on: Deep Subseafloor Biosphere IV
Tuesday 12/4/12 4:00 p.m. – 6:00 p.m.; 3024 (Moscone West)
The Deep Biosphere: Recent Progress in Understanding Life in the Deep Subsurface
This interdisciplinary session brings together researchers studying the size, distribution, activity and consequence of a microbial deep biosphere in the Earth's subsurface. Scientists involved in recent ocean drilling program expeditions and other deep biosphere programs will take part.
B42C. The Deep Biosphere: Recent Progress in Understanding Life in the Deep Subsurface I
Thursday 12/6/12 10:20 a.m. – 12:20 p.m.; 2004 (Moscone West)
B43G. The Deep Biosphere: Recent Progress in Understanding Life in the Deep Subsurface II Posters
Thursday 12/6/12 1:40 p.m. – 6:00 p.m.; Hall A-C (Moscone South)
InterRidge Session: Fast Moving Research at Slow Spreading Ridges
The range of processes that occurs at slow and ultra-slow spreading ridges has stimulated several multi-national research programs. The findings are relevant for understanding tectonic plate accretion, marine minerals, and chemosynthetic life. With an emphasis on previously overlooked ridge systems in the Northern Hemisphere (Arctic Ridges, Red Sea, Mid-Cayman Rise), and on new findings in the Southern Hemisphere, this session highlights recent results in the geophysical, geological, ocean and life sciences.
OS11E. InterRidge Session on: Fast Moving Research at Slow Spreading Ridges I
Monday 12/3/12 8:00 a.m. – 10:00 a.m; 3011 (Moscone West)
OS12A. InterRidge Session on: Fast Moving Research at Slow Spreading Ridges II
Monday 12/3/12 10:20 a.m – 12:20 p.m.; 3011 (Moscone West)
OS13B. InterRidge Session on: Fast Moving Research at Slow Spreading Ridges III Posters
Monday 12/3/12 1:40 p.m – 6:00 p.m.; Hall A-C (Moscone South)
OS22B. InterRidge Session on: Fast Moving Research at Slow Spreading Ridges IV
Tuesday 12/4/12 10:20 a.m – 12:20 p.m.; 3022 (Moscone West)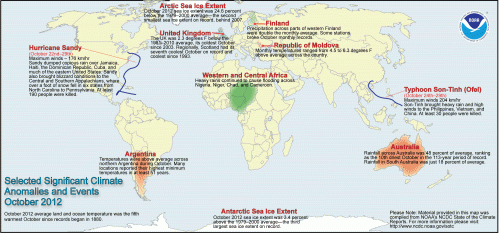 Click to enlarge
NOAA has released its State Of The Climate report for October.
Here are some highlights:
Global Highlights
The average combined global land and ocean surface temperature for October 2012 tied with 2008 as the fifth warmest October on record, at 0.63°C (1.13°F) above the 20th century average of 14.0°C (57.1°F). Records began in 1880.
The globally-averaged land surface temperature for October 2012 was the eighth warmest October on record, at 0.92°C (1.66°F) above average. The globally-averaged ocean surface temperature tied with 2004 as the fourth warmest October on record, at 0.52°C (0.94°F) above average.
The average combined global land and ocean surface temperature for January–October 2012 was the eighth warmest such period on record, at 0.58°C (1.04°F) above the 20th century average.
Growing prosperity and urbanization could double the volume of municipal solid waste annually by 2025, challenging environmental and public health management in the world's cities, according to new research conducted by the Worldwatch Institute (www.worldwatch.org) for its Vital Signs Online service. Although some of this waste is eventually recycled, the doubling of waste that current projections indicate would bring the volume of municipal solid waste—- or MSW—- from today's 1.3 billion tons per year to 2.6 billion tons, writes report author and Worldwatch Senior Fellow Gary Gardner.
As defined in the report, MSW consists of organic material, paper, plastic, glass, metals, and other refuse collected by municipal authorities, largely from homes, offices, institutions, and commercial establishments. MSW is a subset of the larger universe of waste and typically does not include waste collected outside of formal municipal programs. Nor does it include the sewage, industrial waste, or construction and demolition waste generated by cities. And of course MSW does not include rural wastes. MSW is measured before disposal, and data on it often include collected material that is later diverted for recycling.
MSW tends to be generated in much higher quantities in wealthier regions of the world. Members of the Organisation for Economic Co-operation and Development (OECD), a group of 34 industrialized nations, lead the world in MSW generation, at nearly 1.6 million tons per day. By contrast, sub-Saharan Africa produces less than one eighth as much, some 200 million tons per day.
The list of top 10 MSW-generating countries includes four developing nations (Brazil, China, India, and Mexico) in part because of the size of their urban populations and in part because their city dwellers are prospering and adopting high-consumption lifestyles. Although the United States leads the world in MSW output at some 621,000 tons per day, China is a relatively close second, at some 521,000 tons. Even among the top 10, however, there is a wide range of output: the United States generates nearly seven times more urban refuse than France, in tenth position, does.
"Urbanization and income levels also tend to determine the type of waste generated," said Gardner. "The share of inorganic materials in the waste stream, including plastics, paper, and aluminum, tends to increase as people grow wealthier and move to cities."
Waste flows in rural areas, in contrast, are characterized by a high share of organic matter, ranging from 40 to 85 percent.Similarly, organic waste accounts for more than 60 percent of MSW in low-income countries, but only a quarter of the waste stream in high-income countries.
Roughly a quarter of the world's garbage is diverted to recycling, composting, or digestion—- waste management options that are environmentally superior to landfills and incinerators. Recycling rates vary widely by country. In the United States, the recycled share of MSW grew from less than 10 percent in 1980 to 34 percent in 2010, and similar increases have been seen in other countries, especially industrial ones.
The growing interest in MSW recovery is driven by a maturation of regulations and of markets for post-consumer materials. The global market for scrap metal and paper is at least $30 billion per year, according to the World Bank. The UN Environment Programme (UNEP) estimates the market for waste management, from collection through recycling, to be some $400 billion worldwide. Yet UNEP also estimates that to "green" the waste sector would require, among other things, a 3.5-fold increase in MSW recycling at the global level, including nearly complete recovery of all organic material through composting or conversion to energy.
The gold standard for MSW will be to integrate it into a materials management approach known as a "circular economy," which involves a series of policies to reduce the use of some materials and to reclaim or recycle most of the rest. Japan has made the circular economy a national priority since the early 1990s through passage of a steady progression of waste reduction laws, and the country has achieved notable successes. Resource productivity (tons of material used per yen of gross domestic product) is on track to more than double by 2015 over 1990 levels, the recycling rate is projected to roughly double over the same period, and total material sent to landfills will likely decrease to about a fifth of the 1990 level by 2015.
Further highlights from the report:
OECD nations generate the greatest quantities of garbage, more than 2 kilograms per person per day. In South Asia, the rate is less than a quarter as much, under half a kilo per person.
The U.S. Environmental Protection Agency estimates that recycling 8 million tons of metals in the United States has eliminated more than 26 million tons of greenhouse gases—- the equivalent of removing more than 5 million cars from the road for a year.
Each ton of recycled paper saves 17 trees and the energy equivalent of 165 gallons of gasoline compared with paper made from trees, in addition to requiring only half the water.
older posts »