We will need more and better science and math studies to meet the challenge of the future, this video does a great job of explaining that.
Emissions from transportation are the fastest growing source of global greenhouse gas emissions, with emissions expected to increase 300 percent by 2050, according to research by the Worldwatch Institute. Today, emissions from transportation contribute to approximately 80 percent of the harmful air pollutants that result in 1.3 million premature deaths annually, according to Michael Replogle and Colin Hughes of the Institute for Transportation & Development Policy (ITDP). The two authored the fourth chapter, "Moving Toward Sustainable Transport, in Worldwatch's book State of the World 2012:Moving Toward Sustainable Prosperity, published in April.
The largest financial commitment made at the Rio+20 Conference on Sustainable Development in June 2012 was a pledge by the 8 largest multilateral development banks (MDBs) to commit 500 staff and to dedicate $175 billion for more sustainable transportation in the coming decade. This unprecedented agreement was facilitated by the Partnership on Sustainable Low Carbon Transport (SLoCaT), which brings together 68 MDBs, civil society organizations, UN agencies, and research and industry organizations.
"This action promises to begin countering decades of unsustainable investments in transportation systems, such as building high-capacity motorways," said Michael Renner, Worldwatch Senior Researcher and State of the World 2012 project co-director. "But it will require new resources for civil society groups to be able to ensure independent monitoring of impacts and follow-through by MDBs."
"If transportation investments and management policies foster walking, cycling, use of high quality public transportation, and smart traffic management, growing urbanization can reduce consumption of scarce resources, protect public health, and deliver happier, nicer cities," said Michael Replogle, Managing Director for Policy and Founder of ITDP and State of the World 2012 contributing author. "These unprecedented MDB financial and reporting commitments present an opportunity to leverage large shifts in domestic and private transportation investment and to build capacity for a paradigm shift."
The demands on transportation infrastructure continue to mount. Without changes in policy, 2 to 3 billion cars will be on the world's roads by 2050, in comparison to 800 million cars today, according to the International Energy Agency.
Current transportation and land development patterns disadvantage the poor, often forcing them to choose between low incomes in informal-sector employment that is close to affordable housing, or somewhat higher-paying jobs that are reachable only if they spend a large share of their income and hours each day commuting. In many cities, the urban poor cannot afford public transportation and end up walking long distances. Additionally, in many places it is unsafe to walk. In Surabaya, Indonesia, for example, 60 percent of roads have no usable sidewalks.
"All of these negative consequences are not inevitable results of urbanization and development," said Colin Hughes, Global Policy Director at ITDP and State of the World 2012 contributing author. "Experience in some cities show that in comparison to a business-as-usual rapid motorization strategy, sustainable transport strategies can address rising mobility needs that accompany increases in population, employment, and trade at a lower cost overall, with more job creation and fewer adverse impacts."
The key to this approach is a new sustainability paradigm called "Avoid, shift, and improve:"
Avoid unnecessary trips with smarter planning, pricing, and telecommunications;
Shift trips to more sustainable modes with investments in bus rapid transit (BRT), walking, cycling, and traffic management, by limiting and pricing parking, by applying polluter-pays incentives, and offering better traveler information; and
Improve vehicle efficiency with cleaner fuels, better-operated networks, and efficient vehicle technology adapted to local conditions and requirements.
In their State of the World chapter, Replogle and Hughes highlight three examples of this approach, revealing how it improves transport in urban areas:
Rapid bus transit in Bogota, Colombia: In 2000, Bogota opened TransMilenio, a BRT system with nine routes extending 54 miles (about 87 kilometers) throughout the city. By 2011, TransMilenio's ridership was up to 1.7 million passengers daily and the fare for a single trip was 1,600 Colombian pesos (about US$0.85).
Congestion and emission charging in London: Drivers who enter congested central London pay a "congestion charge." The drivers have the option to pay £10 (approximately US$15)in advance, or they must pay the charge within a certain time after driving through the congested streets, or be fined up to £120 (almost US$184). The charge generates funds for public transportation, and bus use is up 6 percent during charging hours. A similar Low Emission Zone covers heavy goods vehicles across the whole city, charging more polluting trucks and buses £100-200 per day (approximately US$150-300) to drive in the area.
Public bicycles in Hangzhou, China: With a population of 6.7 million, Hangzhou is one of China's fastest-growing cities. This growth comes with rapid motorization. In 2008, Hangzhou launched a bike-share program that currently provides 60,000 bikes. The program has alleviated pressure on roadways and is accessible to all because of its pricing scheme—-the first hour of bike use is free and the second hour is approximately US$0.15. The city reports that 90 percent of total trips are made in that first free hour, and more than 25 percent of trips are made during peak commuting times.
Innovations like these can improve travel options for the urban poor while reducing harmful emissions caused by transportation. "With additional international support and funding under the MDB commitment at Rio+20, developing countries will find it easier to shift their development of transportation from emphasizing rapid motorization and car-dependence to instead fostering public transport and lower emissions transportation options," Replogle said. "This moves us towards the kind of support we called for in our State of the World 2012chapter."
Soaring temperatures and low precipitation could not occur at a worse time for many farmers in the United States. Intensifying drought conditions are affecting corn and soybean crops throughout the Midwest, raising grain prices as well as concerns about future food prices. The U.S. Drought Monitor reports that 88 percent of this year's corn crop and 77 percent of the soybean crop are now affected by the most severe drought since 1988.The U.S. Department of Agriculture (USDA) is providing drought assistance to 1,584 counties across 32 states and warns of increased food prices in 2013 as a result of corn and soybean yield losses.
Corn is currently selling at around $9 a bushel, a 50 percent increase from June, while soybeans are selling at a record high of $17 a bushel as a result of drought-related losses in crop yields. "The increased prices may benefit farmers in the short run," said Danielle Nierenberg, director of the Worldwatch Institute's Nourishing the Planet project, "but consumers will experience the aftermath of price increases in the form of more money spent on poultry, beef, pork, and dairy products."
Nearly half of all domestic corn production is used as livestock feed, a trend that is now encouraging larger livestock producers to import corn from Brazil while smaller farmers must reduce herd sizes by sending more animals to the market. Most immediately, poultry prices are expected to rise 3.5 to 4.5 percent due to the animals' more rapid growth and therefore more sudden response to higher feed prices. The price of beef is projected to rise the highest—-4 to 5 percent by November—-but at a slower rate, reflecting the longer growth period and higher feed requirements of beef cattle.
Higher U.S. grain prices could have an even greater impact worldwide. The United States is the world's largest corn producer as well as a major exporter of crop-derived agricultural products. Declining domestic production could translate into exacerbated food security problems abroad. Countries that import corn and soybean byproducts or animal feed, such as Japan and Mexico, will be affected the most.
Climate change is making it increasingly important to protect local agriculture in the United States and address the issues underlying its vulnerability to natural disasters, such as drought. "Fixing our broken food system is about more than just food prices," said Nierenberg. "It's about better management of natural resources, equitable distribution, and the right to healthy and nutritious food."
The Nourishing the Planet (www.NourishingthePlanet.org) project highlights 12 agricultural innovations that can help make U.S. and global agriculture more drought resilient, as well as sustainable.
1. Agroforestry: Planting trees in and around farms reduces soil erosion by providing a natural barrier against strong winds and rainfall. Tree roots also stabilize and nourish soils. The 1990 Farm Bill established the USDA National Agroforestry Center with the expressed aim of encouraging farmers to grow trees as windbreaks or as part of combined forage and livestock production, among other uses.
2. Soil management: Alternating crop species allows soil periods of rest, restores nutrients, and also controls pests. Soil amendments, such as biochar, help soils retain moisture near the surface by providing a direct source of water and nutrients to plant roots, even in times of drought.
3. Increasing crop diversity: Mono-cropping often exposes crops to pests and diseases associated with overcrowding, and can increase market dependence on a few varieties: in the United States, almost 90 percent of historic fruit and vegetable varieties have vanished in favor of mono-cultured staples such as Pink Lady apples and Yukon Gold potatoes. Encouraging diversity through agricultural subsidies and informed consumption choices can help reverse this trend and the threat it poses to domestic food security.
4. Improving food production from existing livestock: Improved animal husbandry practices can increase milk and meat quantities without the need to increase herd sizes or associated environmental degradation. In India, farmers are improving the quality of their feed by using grass, sorghum, stover, and brans to produce more milk from fewer animals. This also reduces pressure on global corn supplies.
5. Diversifying livestock breeds: Most commercial farming operations rely on a narrow range of commercial breeds selected for their high productivity and low input needs. Selective breeding, however, has also made these breeds vulnerable to diseases and changing environments. Lesser-known livestock such as North American Bison are often hardier and produce richer milk.
6. "Meatless Mondays": Choosing not to eat meat at least one day a week will reduce the environmental impacts associated with livestock as well as increase food availability in domestic and global markets. Current production methods require 7 kilograms of grain and 100,000 liters of water for every 1 kilogram of meat. Livestock production accounts for an estimated 18 percent of human-caused greenhouse gas emissions and roughly 23 percent of agricultural water use worldwide.
7. Smarter irrigation systems: The Ogallala High Plains Aquifer, which supplies essential groundwater to many Midwestern states, is experiencing record rates of depletion due to extraction for irrigation purposes. Almost 50 percent of commercial and residential irrigation water, however, is wasted due to evaporation, wind, improper design, and overwatering. Installing water sensors or micro-irrigation technology and planning water-efficient gardens or farms using specific crops and locations can significantly reduce water scarcity problems.
8. Integrated farming systems: Farming systems, such as permaculture, improve soil fertility and agricultural productivity by using natural resources as sustainably and efficiently as possible. Research and implementation of permaculture techniques, such as recycling wastewater or planting groups of plants that utilize the same resources in related ways, are expanding rapidly across the United States.
9. Agroecological and organic farming: Organic and agroecological farming methods are designed to build soil quality and promote plant and animal health in harmony with local ecosystems. Research shows that they can increase sustainable yield goals by 50 percent or more with relatively few external inputs. In contrast, genetic engineering occasionally increases output by 10 percent, often with unanticipated impacts on crop physiology and resistance.
10. Supporting small-scale farmers: Existing agricultural subsidies in the United States cater disproportionately to large-scale agribusinesses, 80 percent of which produce corn for animal feed and ethanol. This means that small-scale producers are affected more acutely by natural disasters and fluctuating commodity prices, even though they are more likely to be involved in food production. Government extension and support services should be adjusted to alleviate this deficit.
11. Re-evaluating ethanol subsidies: Although ethanol's share of U.S. gasoline is still relatively small (projected at 15-17 percent by 2030), in 2009 the Congressional Budget Office reported that increased demand for corn ethanol has, at times, contributed to 10-15 percent of the rise in food prices. Encouraging clean energy alternatives to crop-based biofuels will increase the amount of food available for consumption, both at home and abroad.
12. Agricultural Research and Development (R&D): The share of agricultural R&D undertaken by the U.S. public sector fell from 54 percent in 1986 to 28 percent in 2009, and private research has filled the gap. Private companies, however, are often legally bound to maximize economic returns for investors, raising concerns over scientific independence and integrity. Increased government funding and support for agricultural research, development, and training programs can help address issues such as hunger, malnutrition, and poverty without being compromised by corporate objectives.
Although food prices will certainly continue to rise as the current drought runs its course, it is clear that the United States has the knowledge and the know-how to make its agricultural system more sustainable and food secure. It's now a question of putting these innovations to work.
Global installed wind power capacity continued to grow in 2011, albeit at a slightly lower rate than in 2009 and 2010, according to new research conducted by the Worldwatch Institute for its Vital Signs Online service. The world now has approximately four times the installed wind capacity that it did in 2005, reflecting the combined effects of falling prices, improved technology, global investment, and various incentive programs. China led the way with a 43 percent share of global capacity additions in 2011, followed by the United States at 17 percent, India with almost 7 percent, and Germany at 5 percent, writes report author and Worldwatch's Climate and Energy Program Manager Mark Konold.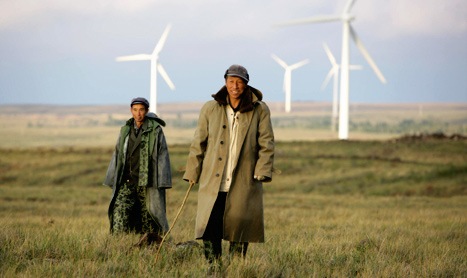 "China continues to lead the world in wind capacity additions, having increased its capacity a remarkable 40 percent since 2010," said Konold. "But a gap remains between this installed capacity and the amount of wind power that is actually available for use in the country. Because of grid connection challenges and other issues, China is struggling to use all of the electricity generated by its turbines."
Despite large increases in installed wind power capacity, several Chinese provinces, including Inner Mongolia and Gansu, have actually lost a significant portion of their generation capacity because of technical problems. Over the next five years, China plans to invest more than US$400 billion to make improvements to its electrical grid that will enable it to fully integrate its total installed wind capacity by 2015.
In 2011, the United States accounted for approximately 17 percent of global wind power capacity additions. Although the country generated 27 percent more electricity from wind in 2011 than in 2010, wind power still accounts for less than 3 percent of total U.S. power generation, according to the report. Konold credits much of the growth in U.S. wind power capacity to the federal Production Tax Credit (PTC), which helped to finance approximately 4,000 megawatts of new capacity by reducing corporate income tax by 2.2 cents for every kilowatt-hour produced. But if the PTC is not extended beyond its scheduled expiration date at the end of this year, he cautions, the industry could be negatively affected.
The report also discusses wind power developments in the European Union, where Germany regained its position as regional leader for installed capacity. Currently, wind accounts for almost 8 percent of the country's electricity consumption. Although Spain added only a third of total EU capacity since 2008, wind power accounts for almost 16 percent of the country's electricity consumption. Economic instability has had some negative impacts on European wind power, however, pushing future growth projections down and potentially hampering investment.
Worldwide, wind power prices fell to $1.2 million per megawatt in the first half of 2011, mainly because of improvements in supply chain efficiency and economies of scale. Competition from Chinese manufacturers and their excess capacity to build machines and flood the market also played a role. In addition, the capacity factor of wind turbines (the ratio of actual output to nameplate capacity) continues to rise as better technologies enter the market, further driving down turbine costs. Combined, these factors are expected to bring down the cost of wind energy 12 percent by 2016, making onshore wind cost competitive with coal, gas, and nuclear power.
"Global wind power growth looks very strong and is on a continued rise, largely because of China's incredible level of investment," said Konold. "Withhold that, and the picture looks more muddled. Developed economies are not reaching their fullest potential due to financial and policy uncertainty, and many developing economies are running into technical problems, despite slightly stronger growth in wind power capacity. Although continued growth in wind power won't be as strong as it could be, as the supply increases and prices fall, wind energy is quite likely to continue its upward trend."
Finding ways to value ecosystem health economically and to engage the world's indigenous peoples in the process is key to saving biological diversity, a Worldwatch author suggests in the Institute's most recent book. Such efforts are all the more urgent because the addition of more plant and animal species to lists of those threatened or endangered shows no signs of slowing down, despite rising public awareness of the importance of biodiversity
This World Biodiversity Day (May 22), Worldwatch Institute is raising awareness of biodiversity losses worldwide and what individuals and institutions can do to confront these trends. The current rate of species extinction is up to 1,000 times above the Earth's normal extinction rate, a level of loss that has not occurred since the extinction of the dinosaurs 65 million years ago. The Worldwatch Institute, in its recently released report State of the World 2012: Moving Toward Sustainable Prosperity, highlights the threats to biodiversity and methods for combating the exploitation and degradation of ecosystems and their services.
From 1980 to 2008, an average of 52 species per year moved one category closer to extinction on the International Union for Conservation of Nature's Red List of Endangered Species—-a rate that shows no signs of slowing. Although mass extinctions have occurred on Earth throughout geologic time, the current loss of biodiversity is the first to be caused overwhelmingly by a single species: humans. The five principal pressures causing biodiversity loss are habitat change, overexploitation, pollution, invasive alien species, and climate change, all of which are almost exclusively human driven.
"The current model of consumer societies is destroying the planet and its resources," said Bo Normander, Director of Worldwatch Institute Europe and a contributing author to State of the World 2012. "This must change in order for the planet to sustain future generations."
At the 1992 United Nations Conference on Environment and Development in Rio de Janeiro, Brazil, leaders made a commitment to preserve biological resources by signing the Convention on Biological Diversity (CBD), but there remains a fundamental lack of political will to act on biodiversity threats. In 2002, the CBD promised "a significant reduction of the current rate of biodiversity loss" by 2010, yet within those eight years, most countries failed to meet their targets.
To combat the loss of Earth's natural capital, scientists strive to assign concrete values to natural resources with the hope that an economic appreciation of ecosystem services may facilitate improved planning and management of Earth's systems. Yet progress on developing accurate, straightforward, and widely accepted measures for assessing ecosystem values remains slow.
"Accurate valuation of ecosystem services is vital to create greater accountability and awareness of the ecological impact of our actions," said Erik Assadourian, Worldwatch senior fellow and State of the World 2012 project co-director. "By understanding ecosystem services in monetary or physical terms, leaders can assess and improve the sustainability of their policies."
Current international practices discount future generations by effectively valuing ecosystem services at zero. Such undervaluing is often a result of society's ignorance of the full benefits that humans derive from an intact ecosystem. Thus, individuals make decisions based on the immediate financial gains of logging a forest, for example, instead of considering the "invisible" benefits of the forest, such as carbon sequestration, flood protection, and habitat for pollinators.
Valuing ecosystems and their services is difficult as knowledge is limited by the complexity of environmental systems. Many linkages between organisms are yet to be discovered, and slight perturbations may have dramatic, unforeseen consequences. Despite these challenges, scientists and politicians attempt to frame the benefits provided by ecosystems using relatable monetary or physical indices. The two most common methods are to create a common asset trust, which "propertizes" the public good without privatizing ecosystems; and to pay for ecosystem services, such as when farmers are paid to leave land fallow for improved soil health.
In State of the World 2012, Worldwatch provides several recommendations for enhancing ecosystem service valuation, including:
Manage ecosystem services on an appropriate scale: Ecosystem services must be evaluated on spatial and temporal scales, in order to determine which institution can effectively manage that ecosystem. Collaboration between scales of government and those managing the services is vital.
Include the global poor in valuation: The world's poor and indigenous groups rely heavily on natural resources and common goods for sustenance and livelihood. Many attempts at valuing ecosystem services, such as designating a forest as a preserved trust, have excluded indigenous groups from their traditional sources of food and fuel—-an approach that not only is unjust, but will also undermine the long-term success of these efforts.
In addition to these approaches to valuation, Worldwatch champions initiatives that protect biodiversity, such as urban gardening and beekeeping, inclusive forest protection, and the creation of Marine Protected Areas (MPAs), or zones in the world's oceans or coastal waters where activities like fishing and mining are strictly regulated. These added protections increase biodiversity within the MPA, which in turn enriches the surrounding waters and ecosystems. Despite the known advantages of MPAs, they protect only 0.8 percent of the world's oceans.
Worldwatch applauds these efforts to combat the loss of global biodiversity. But to truly protect biodiversity and value ecosystem services effectively, multinational cooperation is required. Worldwatch's State of the World 2012, released in April 2012, focuses on steps in biodiversity protection and other areas that can be taken at Rio+20, the 20-year follow-up to the historic 1992 Rio Earth Summit, to make progress toward sustainable development.
« newer posts
|
older posts »