OCCUPY SANDY from JFOX on Vimeo.
Amazing video from Jfox on how the Occupy movement is trying to rebuild and repair this hard hit area of our country.
What Action can you take RIGHT NOW?
Join the Occupy Sandy efforts by visiting the website to plug in!
OccupySandy.org or interoccupy.net/occupysandy/
Together we can recover from Hurricane Exxon Mobil
Call Cuomo and tell him to BAN Drilling and Fracking for Natural Gas in NY State! NO MORE FOSSIL FUEL DEVELOPMENT!
(518) 474-8390 or mail:
The Honorable Andrew M. Cuomo
Governor of New York State
NYS State Capitol Building
Albany, NY 12224
tweet at him here: @NYGovCuomo
Call Bloomberg and urge him to protect public health by halting construction of the Spectra Pipeline! Tell him the not to allow the Rockaway Pipeline to be built! The People want to RebuildGreen.
Call NYCHA, show up to pressure board meeting at NYCHA HQ on Dec 5th, 10am, 250 broadway (interoccupy.net/blog/november-27th-first-post-sandy-housing-action-citywide-call-from-nycha-residents/)
14-year-old New York student Deepika Kurup was named 'America's Top Young Scientist' for inventing a solar-powered water purification system that changes dirty water into safe drinking water. She is one smart and determined young scientist.
Are you looking for more innovative ways to lead a green lifestyle, and reduce your overall household's energy consumption? Here is a fresh idea to wrap your brain around: a solar powered electric car! This is an ideal scenario were you can kill two birds with one stone: if you install solar panels on your rooftop, not only can you power your home with a clean renewable energy, but you can also fuel your car for life, free of charge! Having an electric vehicle that runs exclusively on solar power will enable you to be completely free from the grid and realize tremendous savings not only on traditional fossil fuel, but on electricity as well. Your car and your home are one of the biggest contributors to green house gas emissions, so making both of them carbon neutral, brings our society one step closer to a cleaner Earth.
Solar Power for Electric Cars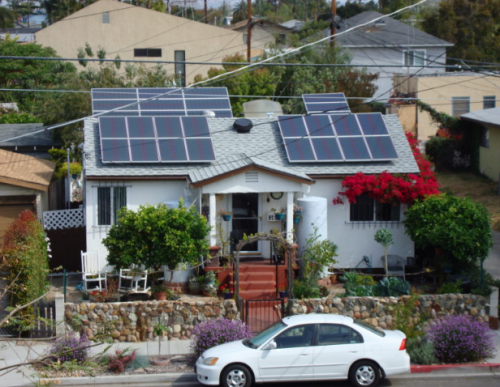 Reference: http://www.smallhousestyle.com/2010/05/02/real-life-small-house-dolphin-solar-san-diego/
One of the downsides of getting an electric car is that you still need to charge it using electricity from the grid, which essentially means that you are continuing to be dependent on polluting fossil fuel energy. Not to mention the fact that by charging the battery from your electric car, your electricity bill will be significantly higher.
Another alternative and one that is truly green is to charge your electric car with solar energy produced by the solar panels on your roof. So how much solar energy would you actually need to power an electric car? Here is a simple break down: on average, Americans drive about 12,000 miles a year. The Nissan Leaf, Chevy Volt, and Mini E use approximately 1 kWh for every 4 or 5 miles driven. Consequently, your solar panels would need to generate between 200 and 250 kWh per month to power your car. This is equal to about 2.5 kW of installed solar capacity, or 10 250-watt standard modules, or less than 8 SunPower 327-watt modules. Consult your local solar installer to get exact details on the amount of solar energy it would take to charge your electric car in your area.
Solar Carports
The idea of powering electric cars with solar energy is quickly catching on in the commercial world. Commercial spaces large and small are putting up solar carports that are able to house as many as 20 cars, charging them with solar energy generated by the solar panels on the rooftops of the carports. As there is an anticipated increase on the number of solar vehicles on the road, and the potential strain on the electric grid this will cause, solar carports are being built all over the US as alternative sources of energy for electric cars. At a solar carport, your vehicle will be able to easily pull up and get charged with energy, while excess solar energy will be utilized to charge nearby homes and business.
Is It Too Costly?
When considering this option, it seems like a very costly investment because you need to spend money both on the electric car and on the solar panels. However, if you consider the long term benefits, this investment actually will pay for itself. The solar panels will allow you to power your house independent of the grid using clean energy from sun. This will translate into immediate savings of up to 30% on your electric bill, and in the long run you will actually be able to make money by selling excess electricity to the grid. In addition, solar panels will provide you with a lifetime supply of power for your electric car, which means once you pay for the solar panels, you will essentially be charging your electric car for free.
In case you are not able to afford purchasing a solar system for your home, there are a number of financing options that you can consider. The first is a solar lease, where a solar installer company leases you the panels, and you pay for solar generated power instead of grid-generated electricity. If you want to own the panels, you should consider such financing options as the government subsidized solar FHA loan for or a home equity line of credit. Owning your solar system means has the benefit of getting special rebates to finance the system, as well as tax breaks for utilizing green energy.
From the environmental perspective though, the costs are well worth it. By having a solar powered home and a car, you are actively contributing to weakening the oil industry, saying no to the billions of dollars that our government spends on tax breaks and incentives to oil companies, and reducing our carbon footprint.
Author Bio:
This editorial was written by Leo Biyevetskiy of www.GreenSolarCafe.com in collaboration with Aleksandr Biyevetskiy – Follow Alex on Google Plus here:
Follow Aleksandr Biyevetskiy on Google Plus
I believe that most people would agree with a notion that sensibly-applied environmental responsibility, and building in a sustainable and green way, can help preserve the environment, and make it better not just for us, but also for the future generations.
In the light of this concept, I would like to present and advocate a case for residential and light commercial metal roofing, which has become one of the fastest growing roofing products in America. So what, right? Well, since green theme is one of the topics covered in this blog, let me show you how modern metal roofing is relevant and useful from the ecological, environmental, and sustainable building practices points of view.
Green Building Manifesto
Before I cover the role and significance of green metal roofing in the US, I would like to share my version of green building concept:
When you combine science and technology with environmental awareness and ecological considerations, you can start building in sustainable way that is good for the people, environment and future generations. When sustainable building ideas and concepts reach the level of commercial integration, they can become truly powerful because these ideas are no longer just on paper, but rather at work affecting, and hopefully improving the world and the environment.
In the United States, we are witnessing this positive environmental building change in the roofing industry today. In the U.S., where most roofs are covered with asphalt shingles, metal roofing has emerged as a sustainable roofing product that is gaining popularity and market share every year. According to the National Association of Home builders Research Center, 20 billion pounds of asphalt shingles are dumped into U.S. landfills every year. Metal roofing is an ecologically safe building material containing anywhere from 25 to 95% of post consumer content (depending on the product manufacturer), and it is 100% recyclable at the end of its useful life.
Worldwide Perspective
Did you know that over 50% of all rooftops in Paris are Zinc Metal Roofs?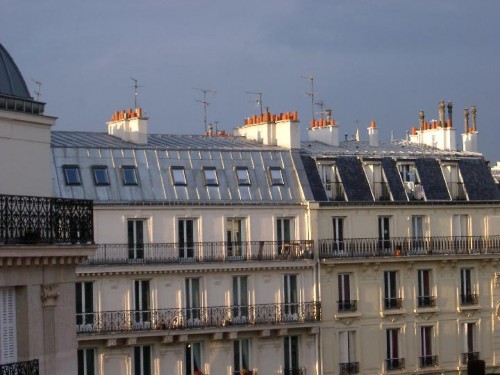 You may find this surprising, I certainly did, but over 70 percents of residential buildings in Europe are covered with metal roofing. It is also interesting to note, that in Europe, zinc is the most commonly and widely used metal roofing material. The uncoated zinc roofing performs extremely well in the harshest climates, and can last nearly 100 years. In the U.S., Zinc and aluminum coated and Kynar painted steel is the most widely used metal roofing material. Zinc and aluminum coating coupled with high quality Kynar paint finish provides excellent protection against oxidation and corrosion. Kynar paint coating gives steel roofing solar reflective properties, which qualifies it as a cool roof.

Residential Standing Seam Metal Roof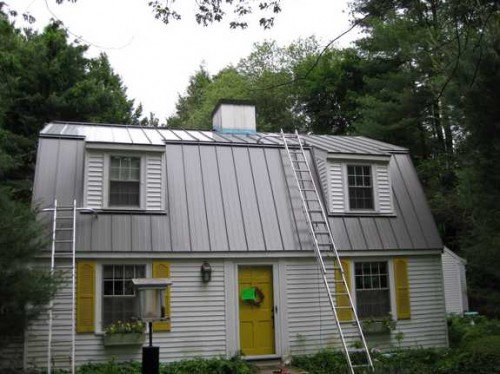 Energy star became an active participant assigning energy star ratings to cool-roof rated metal roofing products. Cool metal roofs reflect solar radiant heat, which reduces air conditioning load and can often result in energy savings of 30% and greater in warm seasons. The United States government stimulus package provides tax credits to homeowners who invest in a qualifying energy star rated metal roofing system.
Asphalt Shingle vs. Metal
Not to bash asphalt shingle roofing industry, but the quality of asphalt shingle roofs, an oil based product, has been steadily declining over the last few decades. Today, an average expected life span of the asphalt shingle roof is only 17 years. In hotter climates such as Florida and Texas the lifespan of an asphalt shingle roof may be as short as 10 years. Metal roof installed correctly can last for many decades providing energy savings and comfort for the building occupants.

Pros and cons of metal roofing
Most of today's commercially available metal roofing systems feature great warranties and provide significant energy savings to the building owner. However, the initial cost of installing a metal roof is the biggest hurdle for the building owners. Metal roofing materials represent quality and cost more than its asphalt counter-parts. The cost of installing metal roofing is also higher because metal roofing requires professional installation and it takes longer to install than asphalt shingles.
Aside from the higher cost of initial investment, metal roofing provides many benefits over asphalt shingle roofs. Most modern metal roofs can withstand hurricane winds with speeds of 110 miles per hour and higher. Metal roofing provides excellent hail damage and fire protection. Insurance companies in some 20 states reduce homeowners insurance by as much as 35% for the homes protected with metal roofing.
Metal roofing systems such as standing-seam are solar roofing ready. Easy to adhere solar PV panels can be easily integrated with standing-seam roofs, which can help take the energy efficiency of your home to yet another level. Solar installation for a metal roof may well pay for itself in seven to ten years.
Conclusion
It seems that the status of metal roofing is still not quite clear. Some entities consider it as a green building material, while others do not. Like with any new idea or concept, it takes time to break in and be accepted into the mainstream. Especially given the threats that metal roofing imposes to the manufacturers of conventional asphalt shingle roofing materials. Either way, metal roofing is here to stay, and it has a strong commercial banking and demand that will perpetuate its growth in popularity. Regardless of status, facts will remain the facts: metal roofing is a sustainable, long lasting, ecologically and environmentally safe building material that can save our landfills from asphalt shingle deposits and improve the longevity and quality of residential, commercial, industrial, and institutional roofs.

References:
Author Bio:
Make friends with Alex on Google Plus
As general public is becoming acutely aware of many severe environmental issues associated with commercial production of clothing, more people are starting to look for Eco-friendly fashion options. As a result of this rising demand, handmade clothing is leading the way as a green alternative to commercial clothing. Handmade clothing can now be found in many local clothing boutiques, as well as online. Many fiber and textile artists, fashion designers, and small clothing labels are offering a wide variety of handmade clothing for women, men and children. While you may find that some handmade clothing is still more expensive than the kind of bargains you can get at Target or the Gap, it is a price worth paying, considering that you can look fabulous while making a positive contribution towards preserving our Earth.
Benefits to the Environment
The number one reason to switch to handmade clothing is that it helps reduce global warming, and does not waste and pollute precious natural resources like water. Different handmade clothing labels will use different types of environmentally friendly practices for their green clothing products.
Manufacturing Process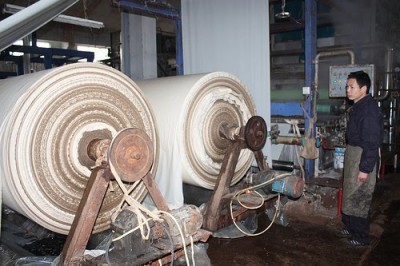 Since commercial clothing is mass produced in factories, it wastes enormous amounts of energy and produces a lot of green house gas emissions and toxic wastes, all of which are dumped into the air, ground and water. Handmade clothing companies avoid this process all together, by hand making the piece from start to finish.
Coloring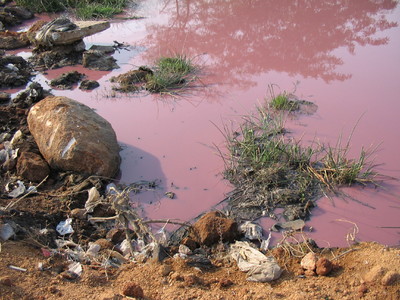 To achieve all the bright colors that are so attractive, commercial clothing production involves the use of highly toxic industrial dyes. These dyes are made of one of the most polluting, harmful chemicals, which are dumped into the rivers, lakes and other bodies of water during the manufacturing process. This renders the water undrinkable and harmful to health. On the contrary, handmade clothing is made either with natural dyes produced from plant extracts, or a different type of commercial grade dyes that are not as toxic and harmful to the environment.
Fabrics
Many handmade clothing companies will use fabrics that have been produced in Eco-friendly ways, such as cotton and silk that has been hand-loomed. The processing of natural fibers such as cotton into fabric is one of the most polluting industrial processes that wastes a lot of water, requires a lot of energy, and utilizes highly toxic chemicals. Production of synthetic fibers such as polyester is even more harmful to the environment. Many designers make their contribution to the environment by avoiding this process all together, and making upcycled handmade clothing. This means that they recycle old clothing and give it a brand new life, helping reduce both the amount of new clothing that is being produced as well as the amount of waste from its disposal.
Limited Quantities
No matter how you slice it, production of any type of clothing takes a toll on the environment. Some Eco-conscious handmade clothing companies like Sol Maleu Batik mitigate this effect by producing clothing in very small quantities. Handmade clothing is intended to be worn for a long period of time, instead of prompting consumers to constantly buy more clothing, thus fueling the demand for mass production.
Labels and Packaging
Many handmade clothing companies ensure that their clothing is green all the way. The clothing tags, labels and packaging materials are often also handmade from recycled fabrics and papers, helping reduce waste and pollution.
Personal Benefits
Exclusive style and design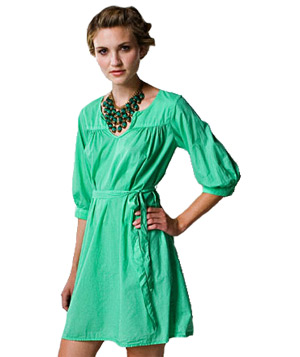 If you have, or would like to develop a distinct personal style, handmade clothing allows you a wide range of opportunities to do just that. Many handmade pieces are either one-of a kind, or produced in small, limited edition quantities. Long gone are the days when handmade clothing was the equivalent of hippie clothing. While hippie style is one of the trends in handmade fashion, there are plenty of other modern and classical styles that would satisfy a wide variety of tastes. Handmade clothing also does not have to look like it was made by your grandmother, unless that is something you like. Many handmade clothing brands offer high quality of craftsmanship that is indistinguishable from commercial manufacturing.
Durable and long lasting
Handmade clothing is made out of high quality materials, with a high level of personal attention, and quality control from the maker. It is made to last for years, rather than to be discarded after one or two seasons.
Health Benefits
A lot of handmade clothing is made out of premium textiles such organic cotton, Eco-friendly modal fabrics and silk. These fabrics will not only feel amazing to your skin, but will also be none-toxic and none-allergenic. Unlike commercial synthetic fabrics, these natural fabrics are also more breathable, and do not trap heat and moisture. This means that you will feel comfortable both in hot and cool temperatures, and sweat less.
One of the most attractive benefits of handmade clothing is that it can be custom made. Depending on the type of clothing and the company that makes it, pieces can be tailored to your measurements, you can choose your own colors and patterns, add writing, and do a variety of other things to make a piece truly your own. Moreover, handmade clothing and accessories such as scarves make excellent gifts for people who would like something special and more personal.
Why does handmade clothing cost more than many commercial brands?
Handmade clothing is more expensive primarily due to the labor intensive nature of the process. Taking automated processes out of the equation of clothing production, means that everything from design, to coloring to sawing is made by human hands. Therefore this process becomes much more difficult and time consuming. Also, many handmade, Eco-friendly clothing brands choose to use fabrics produced in environmentally safe ways, which also cost more than commercial fabrics. If they choose to outsource part of their production, they pay higher prices for labor to make sure that there are no environmental, or human rights violations in the process. Finally, some handmade clothing, such as wearable art pieces, may cost more because of its unique and exclusive design.
About the Author
Aleksandr Biyevetskiy is an avid proponent of green building technology for residential and commercial construction, and a big fan of sensible sustainability for businesses, government, and society. Alex also maintains a personal blog, in which he covers a variety of concurrent/relevant topics at www.Tampile.com/Blog.

Connect with Alex on Google Plus:
Follow Aleksandr Biyevetskiy on Google Plus
older posts »