A recent study shows that people might deny the existence of human caused global warming, not because they are not convinced by the science, but because the idea of global warming "threatens deeply held beliefs that the world is just, orderly, and stable." Furthermore the study finds that telling people dire facts about global warming only makes them deny it more.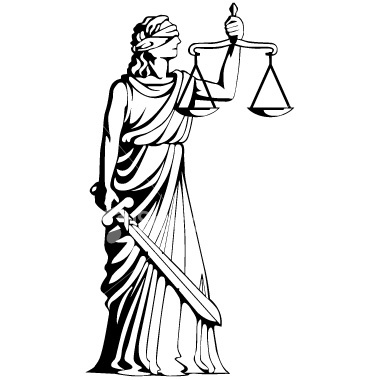 In essence they feel so strongly that the world should be just that the idea that we could be causing so many bad things to happen is just too "unfair."
The Abstract of the study
Though scientific evidence for the existence of global warming continues to mount, in the U.S. and other countries belief in global warming has stagnated or even decreased in recent years. One possible explanation for this pattern is that information about the potentially dire consequences of global warming threatens deeply held beliefs that the world is just, orderly, and stable. Individuals overcome this threat by denying or discounting the existence of global warming, ultimately resulting in decreased willingness to counteract climate change. Two experiments provide support for this explanation of the dynamics of belief in global warming, suggesting that less dire messaging could be more effective for promoting public understanding of climate change research.
Read the entire results here.
The results are pretty interesting, basically people who have a strong view that the world is just get MORE skeptical the more negative a picture you paint of the consequences of global warming. In essence they stick their head in the sand deeper the worse you tell them it will be if they don't pull their head out.
Our results imply that because dire messaging regarding global warming is at odds with the strongly established cognition that the world is fair and stable, people may dismiss the factual content of messages that emphasize global warming's dire consequences. But if the same messages are delivered coupled with a potential solution, it allows the information to be communicated without creating substantial threat to these individuals' deeply held beliefs.
This is pretty interesting when you consider how the republicans (including Tea Baggers) are reacting to global warming science. These people have a very strong sense that the world should be just, and that hard work should lead to success, and that bad people should be punished. If we want to reach these people we might have to start switching the way we describe global warming challenges to them.
The science on these topics is overwhelming, but the messaging might still need a bit of work. If we want to reach the conservative side of American politics, we are going to have to start talking solutions, not just dire consequences.
I love crows, I have long been fascinated by how they move, how they act, how they sound, how they look. They are just such interesting creatures. I grew up on a farm, and often you would look into a chickens eyes and you could tell there was not much going on in there, but you look into a crows eyes, and they look right back at you. Only a couple other animals have given me that feeling that they are looking at me the way I am looking at them (dolphins, and monkeys are on the list, as are other humans). Plus a group of crows is called a murder, they even get a bad ass group name.
Nature recently did an amazing show on them, which you can watch below.
Watch the full episode. See more Nature.
This is truly a big idea, and I think Sam Harris makes a good argument that YES, one day science might be able to help us answer moral questions. This talk is fascinating in its implication, and contains a lot of ideas. If you find yourself saying "But what about…" I would also encourage you to read his follow up on the article here.
He makes a good point, if we refuse to acknowledge that science can play a part in the well being of humans, that is if we continue to insist that science exists in a moral vacuum, we run the risk of destroying ourselves. Or at the very least we run the risk of dooming a lot of people to a lifetime of unhappy suffering. I have been thinking about this talk all day and frankly it is opening all sorts of new avenues of thought. I am not sure if I agree fully with what he is saying. Some of the things he proposes, could be easy misconstrued or be manipulated to justify all sorts of horrible things. I do think he might be on to something, I will continue to think about it and would welcome other opinions.
"Out-of-Home impact plus the power of television to a captive audience. Reach 5.8 million monthly Atlantans, commanding attention during the entire ride."
You don't really notice it, but it's there, filling your subconscious with a thousand different messages; broadcasting its commercial dominance to an entrapped population. Television is the primary method by which civilized humans are manipulated into carrying out the instructions of the industrial machine; this is no Orwellian fantasy, it is now and it is real, and don't you feel pissed off that you can't go anywhere without having your eyes and ears assaulted by this garbage?
The Unsuitablog's Monthly Undermining Task was instigated in order to remove greenwashing from the world, but because television propagates so much more than just the greenwashing messages of the industrial world, taking down the commercial public television network also removes all sorts of other insidious messages: promises of material fulfillment; political spin; embedded journalism; commercially sponsored "education". By switching off a television you do nothing less than give people back their ability to think for themselves.
So, are you up for it?
From today, throughout 2010, I would like you to switch off televisions and other electrical hoardings whenever you get the chance. As I explained in the opening article, the risk you take is up to you; you can do this in an almost risk-free environment, or you can take a few chances and do something more permanent. Risk is relative, of course, and the first time you do something like this it always feels a bit dangerous – as though someone is about to walk up behind you and say, "Excuse me, what do you think you are doing?" before escorting you away from the premises.
Not that it really matters if you are asked to leave; but in all my time switching sets off I have never once been escorted away or even caught. The point is: no one expects anyone to switch these damn things off!
Low Risk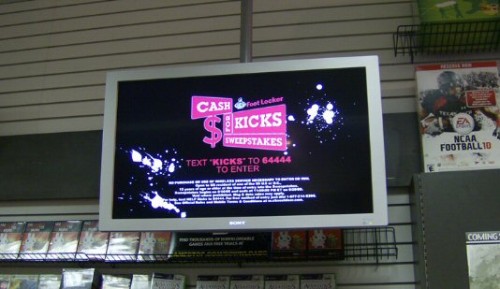 You see these everywhere now: plasma or LCD screens littering the walls and ceilings of shops, pubs, railway stations, libraries, schools. So insidious yet so fragile. With a wave of the hand you can switch these off. I'm going to recommend a product to do this; if you don't want to buy it then you will need to take a little more risk (see later).
TV-B-GONE is the product you need; it is available in kit or ready-made form. The link for the ready-made versions is below:
https://www.tvbgone.com/cfe_tvbg_buy.tvbg.php
Check it works, attach it to a keyring or just hold it in your hand, and when you see a television that is in a public or commercial place – keeping the LED pointed at the screen – just press the button. It'll take a while to get used to the order in which televisions are switched off, but in general the most popular models (like Sony, Toshiba and Samsung) go first.
I had great fun sitting on a bench outside a Sony Store, eating a sandwich, while switching off all the televisions within range; I have walked past shops with huge screens inside and knocked them out much to the incredulity of the staff; and I even walked around a music store, "shooting" the TVs off which were situated above the salepeoples' heads. Great fun and, as I say, I have never been suspected: who would dream of switching televisions off?
Medium Risk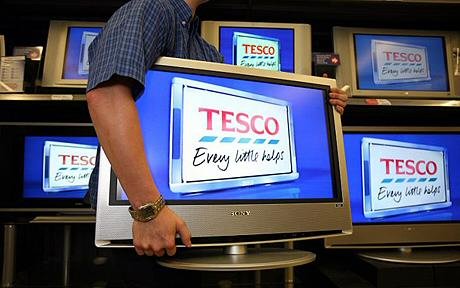 The next level of risk is essentially doing the same as for the Low Risk, but without the remote. Obviously there are fewer opportunities to do this, you being limited to what you can physically reach, but there are a few reasons why this might be a better option: first, you don't have a remote control; second, the display is a computer monitor or other custom display that doesn't respond to remote controls (these are often in small stores or office-type areas); third, you might want to just make a point of switching the screen off, as described by a correspondant:
My dentist recently instituted an *enormous* widescreen telly in their previously very lovely Georgian house conversion waiting room. It had some trashy Hollywood comedy playing on it when my partner and I were there last year. In fact, it had finished so it got stuck in the irritating sound loop that DVDs go into when they are in their menu screen.

Anyway, later on, we were both back in the waiting room while our xrays and so forth were being attended to, and there was one other middle-aged woman there too reading a magazine and sitting where she couldn't see the screen. So I switched the TV off. A while later someone who worked there stormed in and switched it back on. I explained that we'd switched it off because noone wanted to watch it and was told off.
The reason for the telling off, I suspect, was not because anything had been damaged, but because the employee of the dentist had the idea in her head that THE TV MUST STAY ON! Why? Because it must. That's it. Talk about brain death!
You might simply just say to the people in the room: "Is it ok if I turn the TV off?" Chances are no one will object, even if they were blankly staring at the screen. While we're on the subject of reaction, the thing I have noticed most is that when an "ambient" (a.k.a. subconsciously brainwashing) television goes off, people don't react at all; if anything they simply switch back into communication mode, and get on with their lives.
See, you are freeing people up. Well done!
High Risk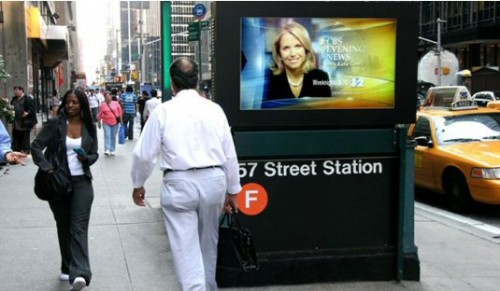 Now we're getting into voluntary territory: if you want to take the high risk options then you need to follow the basic rules of Sabotage, as explained in this article:
- Carefully weigh up all the pros and cons, and then ask yourself, "Do the benefits far outweigh the costs?" Only act if the answer is "Yes".
- Plan ahead, and plan well, accounting for every possible eventuality.
- Even if you value the worth of your actions, don't get caught.
For legal reasons, I have to write that I don't condone any breaking of the law nor anything that could potentially harm a living being.
Now, in the case of the displays that you can't switch off remotely or by pressing a button, more drastic action has to be taken. You really have two options that are practical.
In the case of units that are immobile, like in the image above, it's not generally practical to simply obscure the picture, so you will need to find the power source. I'm not going to go into any details, and it is highly inadvisable to mess around with breakers and wires if you don't know precisely what you are doing; nevertheless, if there is a plug socket or obvious rocker switch connected to the unit, then you could just disconnect it. Whether you go further is up to you; but if you can disable a very large display, such as those in major railway stations, then you are a bit of a hero in my eyes.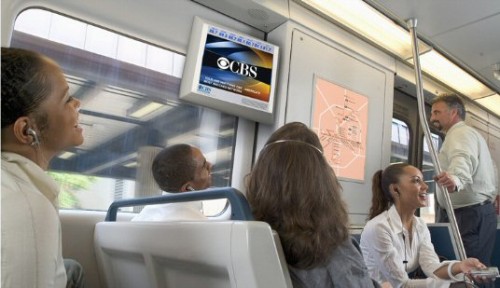 For display units on public transport, like the really creepy one in the image above, you will need to be more up-front. Don't mess around with the power unless there is a switch on the back – you won't find the source anyway because it has to be hidden well away – I would suggest covering the screen up, perhaps using a professional "Out Of Order" sign or something like this one: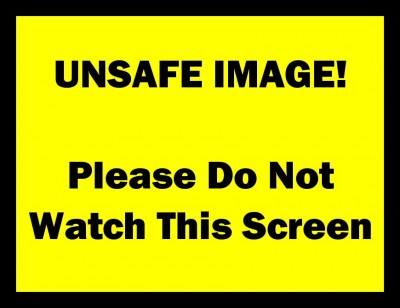 (click for large version)
If you have a high visibility jacket or smart suit then you can probably get away without anyone saying anything. You may raise a smile from some of the people who didn't even realised their eyes were glued to the set. You might even give someone the motivation to do something similar themselves.
And speaking of which; make sure you pass this article to your own networks, Facebook friends, Twitter feeds and put it on your blogs – here's the link:
http://thesietch.org/mysietch/keith/2010/01/15/monthly-undermining-task-january-2010-the-great-tv-turn-off/
I have a funny feeling we will be seeing fewer usable televisions in 2010…
[Originally published on The Unsuitablog]
So in what is now the third (previous 06 and 07) year we have come to the 2008 year in review. Every year around this time I like to review the year, and make prediction in my crystal ball about the future.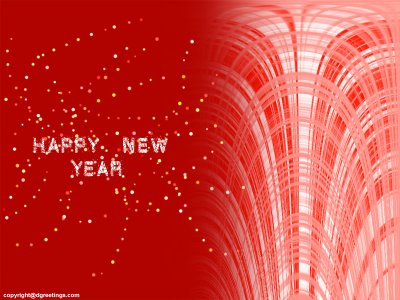 So lets look back to last year and what I predicted. (this is the part where the picture goes wavy and the "going back in time" music plays).
My predictions were:
Look for 2008 to be the year that world governments start to pass serious carbon laws. Look for cap and trade, carbon taxation, and global treaties dealing with emissions reduction.
A Democrat will win the presidency.
Feedback loops and continued warming will make 2008 the worst year for arctic and antarctic melting on record.
Continued droughts and water shortages will bring dramatic lifestyle changes to people in the south west and south east.
At least one major car company will produce an electric or plug-in hybrid model.
Look for oil to top 120 dollars a barrel at least once in 2008.
2008 will be the year of the green consumer, look for a flood of eco-friendly products and services to take over the market. The second part of this prediction is that we will see massive greenwashing campaigns by companies hoping to cash in on this trend without really doing much in the way of making their products greener.
I am going to once again predict that renewable energy will explode in 2008, look for 30-50% growth in the solar and wind industry world wide.
Cape Wind will be approved and perhaps even start construction in 2008.
So how did I do?
1. I am sad to say but I got this one pretty wrong. The world government's saw the economy fall apart and basically threw climate change under the bus. There is however some hope that these sort of carbon reduction treaties will get passed once the biggest road block to them (the stupid American president and his short sighted administration) are out of office.
2. Got this one 100% right! Hurray for my mad predictive skillz!
3. Sadly I got this one right as well. The arctic and antarctic got hammered this year. With dire predictions for the year to come. (see here here here here and here)
4. Sadly this turned out to be true as well this year, as the strange climate changed the south east and southwest of America suffered some serious drought this year. Luckily near the end of this year they got a little rain, but not nearly enough to make up for the severe lack. This is what global warming looks like. (see here and here)
5. Well for all the talk of the Chevy Volt, and the "new" Prius, I got this one pretty wrong. There was a couple of electric cars made this year, but they didn't get rolled out the way I had hopped. I am going to go with 30% right on this one…which is another way of saying I got it wrong.
6. Ohh man when I predicted that oil would top $120 in 2007 I though that I was talking crazy…Little did I know it would eventually almost hit $150! The resulting global freak out that ensued was, how to put it mildly, not good. This lead to a massive reduction in miles driven, a huge resurgence in biking, and overall a lot more talk about renewable energy, that is until the economy fell apart, the world oil market crashed and the price of oil dropped like a stone. All of this in the long run indicated we are in a post peak oil scenario that will be characterized by massive volatility and a nightmare for long term planners. (see here here here here and here)
7. Green products, and green washing were the rage in 2008. I would say humbly that I got this one so right it hurts. You can hardly throw a rock now without hitting some locally grown, bamboo, free trade, shade grown, solar powered, carbon neutral, BPA free, biodegradable this or that. No one has chronicled the rise of green washing better than Keith over at The Unsitablog.
8. The renewable energy industry didn't let me down this year. They once again had amazing growth in the ranges I specified. Hurray for renewable energy. The sad fact is however the Oil companies also had bumper years making more profit in a single year than any companies in all of HUMAN HISTORY. (see here here, here, and here)
9. Oh Cape Wind, how silly is your story. I was so close to getting this right. The Minerals Management people, the ones in charge of giving the thumbs up to Cape Wind, nearly did so this year. But then a bunch of dumb ass NIMBY politicians (I am pointing the finger at you Ted Kennedy!) decided the view from their beach front mansion was more important than fighting global warming.
So there you have it, 6 out of 9, not really that bad. I should start charging for this service.
So what are my predictions for next year?
1. Cape Wind will get approved. Seriously 2009 is the year. They are so damn close I can taste it.
2. The horrible economy will affect the growth of the renewable energy market. Look for a slowdown in wind and solar.
3. The price of oil will rocket right back up in the summer of 09, look for it to once again top $150 dollars a barrel.
4. The pace of global warming will began to accelerate as feedback loops intensify. The arctic will be ice free this summer, or damn close. The northwest passage should once again open next summer.
5. Obama will (hopefully) make renewable energy and efficiency infrastructure projects a major component of his stimulus package.
6. Troops will start to come home from Iraq in large numbers before the end of 2009.
7. The financial turmoil will continue leading to millions of people loosing their jobs, massive downturns in global production, deaths, famines, and increased problems world wide. I predict 2009 to be a very not happy year for a large number of people.
8. Look for major legal action to be taken against prominent Bush administration people. If we are really lucky, Bush or Cheney might even be included in the mess.
9. Look for major breakthroughs in efficiency technology when it comes to lighting and solar panels. Specifically solar panels that produce energy cheaper than coal, oil, or wind. Look for LED technology to slowly start replacing CFL technology.
10. I build my first bicycle.
So there you have it, my hat is in the future prediction arena. I hope all you have a wonderful 08 and that 09 is even better for you. Sadly a lot of my predictions for the future are bad ones. Take good care of your family and friends, and just between you and me, start planning to revamp your life to get ready for some hard times. I am not suggesting you go live in a bunker, but you know, get your financial house in order, start using less energy, ride your bike, get ready for some lean times.
We are all going to have to live on a smaller scale in 09 (and the foreseeable future). This is not a bad thing! Humanity has been living outside it's means for a long time, and faster we switch over to a 0% growth system the happier and healthier we will all be.
Happy new year everyone!
older posts »