I believe that most people would agree with a notion that sensibly-applied environmental responsibility, and building in a sustainable and green way, can help preserve the environment, and make it better not just for us, but also for the future generations.
In the light of this concept, I would like to present and advocate a case for residential and light commercial metal roofing, which has become one of the fastest growing roofing products in America. So what, right? Well, since green theme is one of the topics covered in this blog, let me show you how modern metal roofing is relevant and useful from the ecological, environmental, and sustainable building practices points of view.
Green Building Manifesto
Before I cover the role and significance of green metal roofing in the US, I would like to share my version of green building concept:
When you combine science and technology with environmental awareness and ecological considerations, you can start building in sustainable way that is good for the people, environment and future generations. When sustainable building ideas and concepts reach the level of commercial integration, they can become truly powerful because these ideas are no longer just on paper, but rather at work affecting, and hopefully improving the world and the environment.
In the United States, we are witnessing this positive environmental building change in the roofing industry today. In the U.S., where most roofs are covered with asphalt shingles, metal roofing has emerged as a sustainable roofing product that is gaining popularity and market share every year. According to the National Association of Home builders Research Center, 20 billion pounds of asphalt shingles are dumped into U.S. landfills every year. Metal roofing is an ecologically safe building material containing anywhere from 25 to 95% of post consumer content (depending on the product manufacturer), and it is 100% recyclable at the end of its useful life.
Worldwide Perspective
Did you know that over 50% of all rooftops in Paris are Zinc Metal Roofs?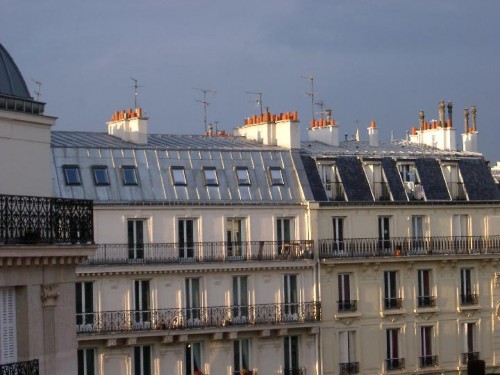 You may find this surprising, I certainly did, but over 70 percents of residential buildings in Europe are covered with metal roofing. It is also interesting to note, that in Europe, zinc is the most commonly and widely used metal roofing material. The uncoated zinc roofing performs extremely well in the harshest climates, and can last nearly 100 years. In the U.S., Zinc and aluminum coated and Kynar painted steel is the most widely used metal roofing material. Zinc and aluminum coating coupled with high quality Kynar paint finish provides excellent protection against oxidation and corrosion. Kynar paint coating gives steel roofing solar reflective properties, which qualifies it as a cool roof.

Residential Standing Seam Metal Roof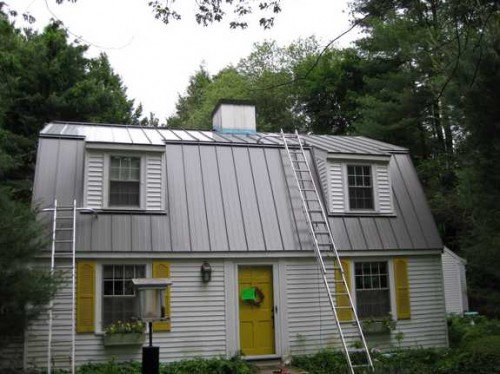 Energy star became an active participant assigning energy star ratings to cool-roof rated metal roofing products. Cool metal roofs reflect solar radiant heat, which reduces air conditioning load and can often result in energy savings of 30% and greater in warm seasons. The United States government stimulus package provides tax credits to homeowners who invest in a qualifying energy star rated metal roofing system.
Asphalt Shingle vs. Metal
Not to bash asphalt shingle roofing industry, but the quality of asphalt shingle roofs, an oil based product, has been steadily declining over the last few decades. Today, an average expected life span of the asphalt shingle roof is only 17 years. In hotter climates such as Florida and Texas the lifespan of an asphalt shingle roof may be as short as 10 years. Metal roof installed correctly can last for many decades providing energy savings and comfort for the building occupants.

Pros and cons of metal roofing
Most of today's commercially available metal roofing systems feature great warranties and provide significant energy savings to the building owner. However, the initial cost of installing a metal roof is the biggest hurdle for the building owners. Metal roofing materials represent quality and cost more than its asphalt counter-parts. The cost of installing metal roofing is also higher because metal roofing requires professional installation and it takes longer to install than asphalt shingles.
Aside from the higher cost of initial investment, metal roofing provides many benefits over asphalt shingle roofs. Most modern metal roofs can withstand hurricane winds with speeds of 110 miles per hour and higher. Metal roofing provides excellent hail damage and fire protection. Insurance companies in some 20 states reduce homeowners insurance by as much as 35% for the homes protected with metal roofing.
Metal roofing systems such as standing-seam are solar roofing ready. Easy to adhere solar PV panels can be easily integrated with standing-seam roofs, which can help take the energy efficiency of your home to yet another level. Solar installation for a metal roof may well pay for itself in seven to ten years.
Conclusion
It seems that the status of metal roofing is still not quite clear. Some entities consider it as a green building material, while others do not. Like with any new idea or concept, it takes time to break in and be accepted into the mainstream. Especially given the threats that metal roofing imposes to the manufacturers of conventional asphalt shingle roofing materials. Either way, metal roofing is here to stay, and it has a strong commercial banking and demand that will perpetuate its growth in popularity. Regardless of status, facts will remain the facts: metal roofing is a sustainable, long lasting, ecologically and environmentally safe building material that can save our landfills from asphalt shingle deposits and improve the longevity and quality of residential, commercial, industrial, and institutional roofs.

References:
Author Bio:
Make friends with Alex on Google Plus
Analyzing the global and national trends in renewable energy over the last decade, one sees tremendous growth, expansion and new markets opening up around the globe, particularly in Asia. Countries like China and India have burgeoning economies, and massive populations that will not be able to sustain themselves solely on energy derived from fossil fuels. Understanding this, governments of both countries are pouring sizable investments into renewable energy sources such as wind and solar power.
Additionally, due to cheap labor and infrastructure costs, subsidized government loans and government incentives companies in India and China see huge financial opportunities in developing renewable energy technologies and selling them on the global market at a very low cost. Thanks to Chinese manufacturers who flooded the global market with their cheap solar panels, the price for solar panels around the word dropped by almost 50%, making solar equipment alot more affordable and accessible to consumers everywhere, including the US.
Numbers speak for themselves: already in 2009, in terms of total investment in renewable energy China has overtaken US, and in 2011, it attracted more investment than any other country in the word ($52.2 billion). Similarly, in 2011, India experienced the fastest growing rate of any renewables market, with a 62% increase in capital funding. This explosive growth is Solar power in Asia, is not limited to just China and India though.
US government support for US renewable energy industry wavers
SEIA – US Solar industry is under attack (video):
President Obama has been an avid supporter of the domestic renewable energy industry, and during his term the industry has enjoyed unprecedented growth and development. In 2011 alone, the government has allotted $15 billion in subsidies to renewables industry In recent months Obama has been pushing Congress to suspend 2.5 billion annually allocated to the fossil fuel industry and redirect the funds into clean energy investments. However, this motion did not pass in the Republican controlled House of Representatives, who have a vested interest in subsidizing the fossil fuel industry and continuously oppose investments into clean energy initiatives.
The last two years have been rocky for the US solar industry. Despite many generous government subsidies, increasing competition from Asian counterparts and falling global demand with cheap solar panels, have caused many US solar manufacturers to go bankrupt, leading to factory close-outs and worker lay-offs. These events in a struggling economy have made policy makers very weary of further subsidizing the industry with precious tax payer dollars that seem to have better purpose in other venues. It is highly likely that the subsidies that are due to expire in 2013 will not be renewed, leaving many clean energy companies to fend for themselves in the highly competitive global market, going up against heavily subsidized companies from India and China.
US Presidential election hurting the reputation of domestic renewable energy industry
China and India take the lead in renewable energy investments
The upcoming Presidential election has turned the issue of clean energy and government subsidies into a highly polarizing political issue. Amid growing discontent with the sluggish economy, ballooning national debt , high unemployment rate, Obama and his administration have been blamed for wasteful spending on renewable energy, which has not lived up its golden promises of stimulating the economy and creating more jobs. At every opportunity, Republicans point to numerous bankruptcies amidst domestic solar manufacturers, including the already infamous Solyndra (and Uni-Solar) bankruptcy, which has become the poster child for Obama's failure to appropriately allocate precious funds. Republican presidential candidate, Mitt Romney, has gone as far as accusing the president of not only wasteful spending, but also cronyism at the expense of American citizens. While Obama continues to stand strong and voices his support and pledges government commitment to clean energy investment if he will remain for the next term, the overall political climate in the US is not in favor of renewable energy.
Media bias against US renewable energy
Major media outlets in the US have not been helping in shaping a positive view of the renewable energy industry in the US. While green tech and clean energy publications and blogs remain very hopeful about the future of the industry, objectively discussing successes as well as challenges, their effect on the general public is minimal, as for the most part these outlets are preaching to the choir. On the other hand, the general public who either has no information at all, or very limited information about the renewable energy industry, is being fed a rather grim perspective that is in no way helpful to the industry's long term growth and development. Authoritative media outlets such as New York Times, CNN, NBC , Washington Post and many others are full of stories detailing all the bankruptcies in the solar industry, the Solyndra scandal is making headlines in most major publications, the US tariffs war against Chinese solar manufacturers is a popular story that again talks about the struggling US manufacturers who need government help, etc. There is very little information about the benefits of renewable energy, the marvelous technological developments, the tremendous growth that the industry has experienced. Reading this information, the average American citizen will be highly unlikely to actively push for policy changes in favor of the renewable energy, and in worst case scenario will view investment and support of the industry as a waste of his hard-earned tax dollars.
The problem with this picture is that while we in the US may be having political fights over the viability of renewable energy, and curtailing government support, the reality is that serious economic powers, such as India and China, that sooner or later US will have to contend with ,are actively investing into renewable energy. Do we really want to be in the position where we will have to play catch up to these nations at best, and at worst become dependent on them for our renewable energy needs?
Author Bio: https://plus.google.com/114809750710052551757/
Global installed wind power capacity continued to grow in 2011, albeit at a slightly lower rate than in 2009 and 2010, according to new research conducted by the Worldwatch Institute for its Vital Signs Online service. The world now has approximately four times the installed wind capacity that it did in 2005, reflecting the combined effects of falling prices, improved technology, global investment, and various incentive programs. China led the way with a 43 percent share of global capacity additions in 2011, followed by the United States at 17 percent, India with almost 7 percent, and Germany at 5 percent, writes report author and Worldwatch's Climate and Energy Program Manager Mark Konold.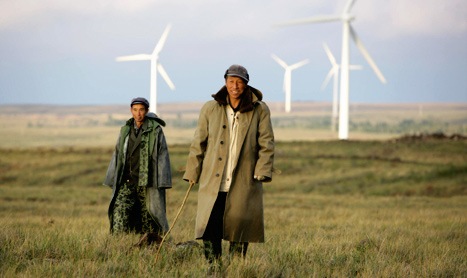 "China continues to lead the world in wind capacity additions, having increased its capacity a remarkable 40 percent since 2010," said Konold. "But a gap remains between this installed capacity and the amount of wind power that is actually available for use in the country. Because of grid connection challenges and other issues, China is struggling to use all of the electricity generated by its turbines."
Despite large increases in installed wind power capacity, several Chinese provinces, including Inner Mongolia and Gansu, have actually lost a significant portion of their generation capacity because of technical problems. Over the next five years, China plans to invest more than US$400 billion to make improvements to its electrical grid that will enable it to fully integrate its total installed wind capacity by 2015.
In 2011, the United States accounted for approximately 17 percent of global wind power capacity additions. Although the country generated 27 percent more electricity from wind in 2011 than in 2010, wind power still accounts for less than 3 percent of total U.S. power generation, according to the report. Konold credits much of the growth in U.S. wind power capacity to the federal Production Tax Credit (PTC), which helped to finance approximately 4,000 megawatts of new capacity by reducing corporate income tax by 2.2 cents for every kilowatt-hour produced. But if the PTC is not extended beyond its scheduled expiration date at the end of this year, he cautions, the industry could be negatively affected.
The report also discusses wind power developments in the European Union, where Germany regained its position as regional leader for installed capacity. Currently, wind accounts for almost 8 percent of the country's electricity consumption. Although Spain added only a third of total EU capacity since 2008, wind power accounts for almost 16 percent of the country's electricity consumption. Economic instability has had some negative impacts on European wind power, however, pushing future growth projections down and potentially hampering investment.
Worldwide, wind power prices fell to $1.2 million per megawatt in the first half of 2011, mainly because of improvements in supply chain efficiency and economies of scale. Competition from Chinese manufacturers and their excess capacity to build machines and flood the market also played a role. In addition, the capacity factor of wind turbines (the ratio of actual output to nameplate capacity) continues to rise as better technologies enter the market, further driving down turbine costs. Combined, these factors are expected to bring down the cost of wind energy 12 percent by 2016, making onshore wind cost competitive with coal, gas, and nuclear power.
"Global wind power growth looks very strong and is on a continued rise, largely because of China's incredible level of investment," said Konold. "Withhold that, and the picture looks more muddled. Developed economies are not reaching their fullest potential due to financial and policy uncertainty, and many developing economies are running into technical problems, despite slightly stronger growth in wind power capacity. Although continued growth in wind power won't be as strong as it could be, as the supply increases and prices fall, wind energy is quite likely to continue its upward trend."
The most recent instalment of our iq2 Shorts series, 'Solar Farming in Africa: Green Electricity Powered by the Sun'.  It is adapted from our Professor Michael Düren's talk at our Switched On event 'Energy Game Changers', which took place on March 28, 2012.
Solar power that runs all day, and all night.
press release below:
Torresol Energy, a joint venture between Masdar – Abu Dhabi's leading future energy company and SENER – the leading Spanish engineering and construction firm, announced today the commissioning of its flagship 19.9MW Gemasolar Concentrated Solar Power (CSP) plant in Seville, Spain.
The world's first commercial-scale CSP plant featuring central tower receiver with thermal storage capabilities has commenced supplying electricity to 25,000 homes in the Andalucía region of Spain. The plant is expected to save more than 30,000 tonnes of CO2 emission a year.
The innovative molten salt heat transfer technology deployed at the Gemasolar greenfield independent power project helps avoid fluctuations in power supply through a system that is capable of 15 hours of energy production without sunlight. This accordingly allows for generation of electricity 24 hours a day for many months of the year, even during the hours of darkness or poor daylight during winter.
The Gemasolar plant comprises 2,650 heliostats (mirrors) that stretch approximately 185 hectares. The system is capable of reaching temperatures exceeding 900-degrees Centigrade at the central receiver located at the top of the tower. The tower technology uses molten salt as a heat transfer medium that reaches temperatures above 500 degrees Centigrade and allows delivering hotter and more pressurized steam to the turbine than the parabolic trough technology, which significantly increases the performance of the overall plant.
SENER was responsible for providing the technology, the engineering detail design and part of the EPC and commissioning works of the plant. The technology developed by SENER includes state-of-the-art solutions such as the molten salt storage system and the receiver, which is able to absorb 95% of the radiation from the sun's spectrum and transmit this energy to the molten salt compound that circulates within the receiver, which is then used to heat steam and operate the steam turbines.
Frank Wouters, Director of Masdar Power, said: "The commissioning of the CSP plant marks another key milestone in the development and deployment of solar energy in Europe. It also highlights Masdar's commitment to partner with global industry leaders such as SENER and bring clean technology closer to the community".
"Masdar is currently working on other solar power projects within the UAE including Shams One and Noor One projects, each with 100MW capacity. We will continue to work closely with industry leaders in the development of projects and ensure they are commissioned and connected to local grids as part of our larger efforts to adopt clean and renewable energy."
Miguel Domingo, Solar Business Director of SENER, added: "The on-schedule and on-budget completion of the construction and commissioning of the Gemasolar plant is a milestone for SENER. Currently, SENER is the only company in the world that has developed and built a commercial plant with central tower molten salt receiver technology that has already started operation."
Enrique Sendagorta, Chairman of Torresol Energy, said: "Gemasolar is a revolution in the CSP sector, as the standardization of this new technology will mean a real reduction in the investment costs for solar plants. The commercial operation of this plant will lead the way for other central tower plants with molten salt receiver technology, an efficient system that improves the dispatchability of electric power from renewable sources."
Founded in 2008, Torresol Energy is a 40:60 Masdar-SENER joint venture. The company that commercially develops, manages construction, owns and operates CSP plants globally has been awarded a 25-year regulated tariff by the Spanish Government.
Torresol Energy's Gemasolar project received EUR171 million financing through a transaction that involved several leading European financial institutions including Banco Popular, Banesto, ICO and the European Investment Bank.
SENER has already been nominated to represent Spain in the prestigious 2011 European Business Awards in the 'Innovation' category for the Gemasolar project's molten salt storage system technology, which is considered revolutionary in the concentrated solar power sector. The final category Award winners will be announced in Barcelona in November 2011.
Torresol Energy also owns the Valle 1 and Valle 2 plants –currently under construction – that will employ parabolic trough technology and have a power generation capacity of 50MW each. Valle 1 will have the capability to generate 3,950 hours of electricity a year – equivalent to the average consumption of 40,000 households, or in other words, the entire city of Cadiz. The two plants at Cadiz in Spain will together help avoid the emission of 90,000 tonnes of CO2 a year. Both plants will start operations on 31 December 2011.
Torresol Energy's focus areas for developing, building and operating additional CSP plans include the US, Southern Europe, Middle East and North Africa. In these areas, the company aims to promote tower plants with a central receiver tower system, or parabolic trough technology, based on the experience acquired in Spain and Abu Dhabi in the UAE.
Spain is one of the world's most advanced renewable energy players. In 2009, renewable energy represented 12.5 per cent of total energy generation in Spain, and this is expected to go up to 20 per cent by 2020.
Masdar Power's other projects include the 1GW London Array, the largest offshore wind farm in the world that will have 341 wind turbines, 30MW onshore wind farm project on Sir Bani Yas Island, 250km southwest of Abu Dhabi city, the Mahe onshore wind farm in Seychelles, and Masdar PV, a wholly-owned subsidiary of Masdar that produces amorphous silicon thin film photovoltaic modules eight times larger and more powerful than the industry standard at its plant in Germany.
« newer posts
|
older posts »