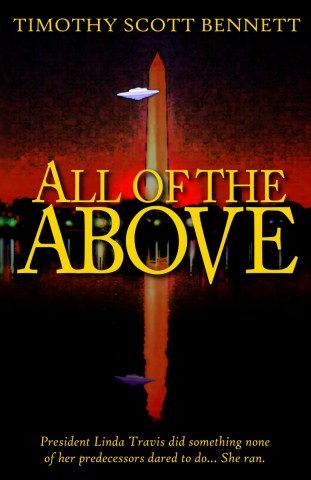 A review by Keith Farnish
Among the sorrow and the wonder, there is a moment in All of The Above that takes a bewildering concept and clarifies it to the level of absurd simplicity. "Our efforts to keep things going as they are just keep in place the very things that are killing us." Did you know that? The culture of Industrial Civilization is a culture of denial. Good writing transcends any amount of cultural bullshit we are fed. The best writers of science fiction, for that is what All of The Above clearly is, simultaneously tell stories about the imagination and about the cold, hard reality we find ourselves in but rarely acknowledge. Kurt Vonnegut knew this; Douglas Adams knew this; Isaac Asimov knew this.
Timothy Scott Bennett knows this. Two things are evident from Bennett's first attempt at creating a published work of fiction beyond the cracking yarn he weaves, one that I clung to, despite the obvious slowing down of everything else I had to be getting on with. First, we have to start somewhere: the writing is not without its flaws and the author takes a couple of chapters to really find his stride. The effort is ultimately rewarded with a galloping narrative and moments of unquestionable beauty, love even. But that initial learning process is most definitely present – maybe that was intentional; maybe we are all learning with the author. Second, Timothy Scott Bennett is TS Bennett, writer and director of the film documentary What A Way To Go: Life at the End of Empire. There are things he wants to say and say them he is going to do, whatever it takes. As fellow travellers we start to empathise with the book's main protagonists, and not surprisingly may struggle to absorb the lessons given on parts of the journey, just as President Linda Travis struggles to take on board the reality she and the rest of the civilized world have become disconnected from.
So it is clear All of The Above is by no means a comfortable ride; but it is a thrilling and a moving one. The book contains more than a few glimpses of a very fine writing talent which no doubt will truly flourish in subsequent volumes. Taken as a single work, though, All of The Above is an important piece of a larger and vital body being assembled by some of the most perceptive minds of the modern world. And what's not to like about an alien contemplating a French Fry?
In Sophie Uliano's latest book "Do It Gorgeously: How to Make Less Toxic, Less Expensive, and More Beautiful Products" she presents a bevy of projects on how your average glamorous woman can really spruce up her life in a green way. Or at least she claims to.
I have to admit right off this is not the kind of book I would normally pick up. It's clearly not aimed at me (as almost no one would classify me as a woman), and I found it a bit light on the green and a bit heavy on the glamorous stuff. But I gave it a chance.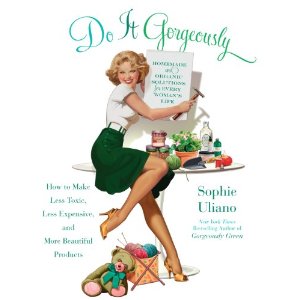 If you are looking for a good collection of arts, crafts, cooking, workouts, diy home improvement, even pet care (and a bunch of other things), this book might be just what you are looking for. The collection of projects ranges from home made face cream, to home flee treatment for your dog, and everywhere inbetween.
Its not the kind of book you read from cover to cover, its the kind of book you browse all the while stumbling on interesting tidbits. Home made clothes, home made toys, and a nice chapter on composting, as well as the cooking chapters stood out as particularly good. Each project is accompanied by some nice line drawings, and a clear list of what you will need and how to do it.
The book does suffer from a bit because the variety of projects is so broad. I found myself wondering "is this a cooking book, or a workout book, or a diy home repair book?" While it doesn't do any one thing badly, its suffers a bit from "Jill of all trades, master of none" type reasoning.
I also would have wanted to see more of an environmental message. Why exactly each thing in the book is good for the environment is often unclear. The book tells you how to make a non-toxic car cleaner, but doesn't tell you to stop driving your car. Having an organic sandalwood smell in your giant SUV isn't going to help anyone. Also it mentions a lot of things you need for each project, but it doesn't always mention where to get them, or what the impact of using each ingredient is. Many of the projects call for an exotic mix of essential oils from all over the planet, a variety of stuff you may have to go out and buy, etc.
This is not a horrible book, it has a lot of interesting projects, but it can be hard to sort through them all to find the gems. The main focus of the book is basically how you can continue to live a glam life style (think Martha Steward) without feeling guilty about killing the planet. This is a hard line to walk, as many things that are fabulous are simply not needed. I mean does it really help the earth to make a dog coat out or re-used materials, don't dogs come with coats?
I would have loved to see a lot more science in this book. That may be a personal preference as I am kind of a science buff, and like I said this book was clearly not aimed at me, or my life style. I found many of the projects in the book to be absolutely useless. If you really want to live a greener life style, perhaps living a whole lot simpler would be a first step.
Overall its not a bad read, and if you skip over the organic car scent, and the re-used dog coats, you will find some really nice projects about gardening, recycling, diy home repair, and others. I would say this is a great gift for someone who spends way too much on harsh chemical products and new stuff from the store. It could serve as a nice transition into a greener way of living. But for anyone who has taken a serious look at how they live and its impacts on the earth you might find it a waste of time.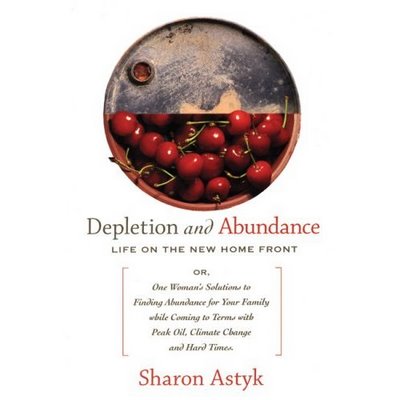 First off, I must apologise: this is probably one of the latest reviews of a 'new' book that you will ever read — although in the world of publishing, all reviews are probably welcome. In my defence, I was going to read Sharon Astyk's latest, Independence Days first, but then realised that Depletion and Abundance : Life on the New Home Front had to come first, being Sharon's first solo published venture and, as I would later come to realise, a book which neatly outlines her entire philosophy on sustainable living. As much a personal tale of change and achievement as a manual for sustainable living for the average civilized person, the author's humble, often self-effacing nature washes over the pages of the book. Many authors would shun such an approach, possibly to avoid accusations of mawkishness; but not Sharon Astyk, who manages to take us into her world, introduce us to her family, invite us to feed her goats and show us her cupboards, all in the name of sheer practicality. There is not a hint of smugness in sight.
On the other hand, such homely tales of family life misrepresent the intensity of Depletion and Abundance: it is not a book to take lightly, nor is it possible to take it lightly, such is the density of Sharon's writing style and the flood of ideas that pours from every chapter. No surprise then, that it took me far longer to read than almost every other book of a similar ilk I have read. In the early chapters, which talk at great depth of the situation we are in and how the domestic structures we ignore at our peril are being broken down by a system that only values profit and power, there really is no let-up: so while it is an educational, fulfilling and inspiring read, it is also pretty hard work, which might discourage some from reading on.
I implore you to keep reading.
Like all the best scripts — as I say, this is more story than polemic — Depletion and Abundance is eminently quotable, and lends itself perfectly to précis; such as this passage, essentially summing up the reason for the book's existence:
The simple truth is that I want people who read this book to think seriously about whether they have a viable backup plan for a crisis in the near future. Why? Not because I think the whole world is likely to collapse at once, but because I think any crisis will come in stages and segments.

For me it might be tomorrow; my husband could lose his job because of rising energy costs, for example. For you, it might wait a while — or it might not. We don't know; we're playing the odds. And if, like me, you have loved ones you don't want to risk by playing the odds, the choice becomes clear. Begin now. Begin thinking and preparing for a difficult future today.
From the beginning through to the end, Depletion and Abundance makes the assumption that the reader is ready to make a change of no little significance to their lives. On its own, the passage above may be enough to convince a nascent 'simplifier' to move away from the trappings of Industrial Civilization and towards a more survivable way of life; but it must always be borne in mind that the vast majority of people are too brainwashed by the consumer culture to think of any other way. I suspect, even, that Sharon herself doesn't quite see Industrial Civilization as something to get angry with and wish the end of, more as something that can potentially be manipulated for good:
A good education, up to and including college doesn't have to cost 30K a year. Basic public medical care including vaccinations, preventative medicine, midwifery, simple palliative care for the dying, many basic medications, birth control and some hospital care doesn't have to cost us what it does. Neither do libraries, public services and support programs for the poor.
Which is all very desirable but not, I think, feasible without most of the other — more destructive — aspects of civilized society; particularly currency: we are hardly likely to be able to pay for hospital treatment with a bushel of carrots or an offer to repair the roof. Something has to give in a collapsing society, and it will ultimately be the public infrastructures that most people depend upon. It's a very fine balance, and even writers like Richard Heinberg, whom Sharon quotes from in the book, haven't really got to grips with this difficult conundrum (I am still reeling from his suggestion that the "Beauty of the built environment" is something to savour!)
One other minor criticism: for most people in the civilized world, reading Sharon's heartfelt tales of home life may be counter-productive — a first step too far perhaps, especially when she 'guilt trips' over her kids eating the odd ice lolly. I just can't compete with this level of self-flagellation, and perhaps she needs to give herself a break from time to time. No one is perfect, and it is our imperfections that make us individual.
Back to the really good stuff, and I can't help but notice the number of times I had written "good" or "excellent" in the margins of my review copy. Her treatments of home economy and raising children in a consumer society are second-to-none. Here is a passage from the chapter 'Making Ends Meet', which I had commented as being "Great advice to give people in the [debt] trap":
Are you starting to feel the pinch already? Well cut back some more. Sell the computer, and give up the Internet — go to the library instead. Find a carpool and give up your car, or get on a bike. Dump the tae kwon do lessons for the kids, and teach them to cook from scratch and play pick up soccer with the neighbor kids instead. Go vegetarian, and eat more whole foods. Give up luxuries like coffee and beer. Make your fun at home — play games instead of going out.
For a typical suburban, American parent, this would sound like torture — how could anyone suggest I change my lifestyle! And, of course, it does run counter to the way of life we have been repeatedly told we deserve, like a L'Oreal advert running on constant loop. And, of course, it's only by thinking the way Sharon suggests, that people will ever be able to ease themselves away from the society that destroys everything it touches.
Where Sharon really excels in, though, is lists: lists of things we should do every day; lists of handy tips for survival (many of which I must admit to not seeing in the sidebars, due to the gravitas of much of the surrounding text); lists of things she does in a typical day — that was my favourite bit, because it really brought home the fact that an ordinary family, albeit one with the guts and determination to survive for the long-term, can change in extraordinary ways, and come out of it with a richer, far more fulfilling life than they could ever have experienced in the dumbed-down world most Westerners take for granted.
Depletion and Abundance is not a book to solve the energy crisis, the climate crisis or the economic crisis (long may it continue): it is a book of ideas and inspiration for those of us who already care enough to change. If you are one of those people, then I throughly recommend it.
---
Depletion and Abundance : Life on the New Home Front by Sharon Astyk, is published by New Society.
Keith Farnish is author of "Time's Up! An Uncivilized Solution To A Global Crisis". He also writes The Earth Blog and The Unsuitablog.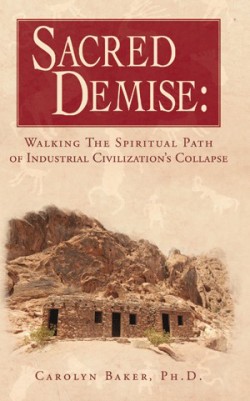 I'm staring at a bit of a dog-eared wreck, to be honest; but it's the words that matter, providing I can still read them. The thing is, my copy of Carolyn Baker's Sacred Demise has followed me around on walks, road journeys, train trips, in the rain, in the sun, under trees, over hills and in dirty streets littered with Coke cans and paper. I had to finish it, despite it not being an obvious thing of beauty; despite it being a book that I learnt to fear as much as embrace with love and empathy – some things are just necessary, like hugging your children and eating your greens.
Sacred Demise is not an easy book to read; for sure, Carolyn's words trip across the page, often with a delightful spring in their step, but then without warning they cross your path and send you flying into the nearest ditch, leaving you wondering how you ended up there. The idea of accepting the end of civilization as inevitable can be approached pragmatically, in the style of Dmitry Orlov, which is ideal for those who are mentally prepared; but for the vast majority of us who still identify – deep down – with the culture we were born into, you don't only need rope and handholds to descend the Dark Mountain: you need the will to get you through the journey.
This is not a book to read quickly. Do it right and for the most part you will be reflecting on and writing about what you have just read. Each chapter ends with a set of questions that take into account the previous text, and which ask you to consider your feelings and physical situation – in effect, how ready are you? From a technical point of view, Sacred Demise could have been laid out in a manner that emphasises the importance of this self-reflection process better: perhaps a separate workbook, larger pages for journaling – but to give Carolyn her due, she does provide note space, and the book is, to all intents and purposes, self published (yes, I was rather surprised too).
One thing that Carolyn Baker does do very well is express complex and emotive ideas in an easy to understand way, far better – if I may be so bold – than some of the writers that she quotes from. She does have an occasional tendency to present ideas of faith as fact, for instance in quoting Eckhart Tolle, she states: "While it is true that we are more than our bodies," which is a fine topic for discussion, but not something that would be welcome on the table of many modern philosophers. There is also an element of parochialism in some of the text, as though the civilized world consists of America and nothing else – more of an irritant than a major flaw, being English myself, but nevertheless something that could alienate non-American readers.
But these are minor flaws in a superb book. Sacred Demise is little short of seminal; the start, perhaps, of a way of writing and speaking that is paramount at the end of the Age of Empire. There are far too many lucid and memorable moments to quote them all, but if I had to choose a passage that sums up what Sacred Demise means to me, it would be this, from the cathartic chapter, "Hospice as Holy Ground":
Had civilization not spent the last five thousand years attempting to murder the indigenous self inherent in all humans, we would not have to be told, as native peoples and the more-than-human world do not, that most of the time, life on this planet is challenging, painful, scary, sad, and sometimes enraging. What our indigenous ancestors had and still have to sustain them through the dark times was ritual and community. Our work is to embrace and refine both instead of intractably clinging to a "positive attitude" in the face of out-of-control, incalculable abuse and devastation.
Had I read this at the beginning of the book, then I may have given up there and then, but the aim of Sacred Demise is not a quick grab-you-by-the-arms and haul you up into the safety of the tree canopy; instead, it is a journey, and a damn hard one at that if you are not prepared to open up and accept the fate of civilization. This means that this book is perhaps not the first thing you should read when approaching the subject of ecological collapse and your place in the future; on the other hand, if you don't read Sacred Demise then you had better be ready for the shock of your life when the collapse comes.
---
Keith Farnish, author of "Time's Up! An Incivilized Solution to a Global Crisis"
A couple weeks ago Garden Supermarket sent me a Algreen Products 45 Gallon Terra Composter to try out. The composter arrived in the mail and I was happy to see that it had the bare minimum packaging on it, I like it when companies do this. Why waste all that paper and plastic when it is just going to be thrown away?
Composting is a pretty simple operation, you throw organic stuff into a pile, introduce a bit of bacteria, some worms, maybe a couple bugs, a dash of water and Whala! compost. However in our urban society most people do not find it convenient or desirable to have a pile of rotting stuff in the yard (although when done correctly a compost pile will not smell, and basically looks like a pile of dirt). So the Terra Composter with it's pleasing lines, and Terracotta-esq appearance (it is plastic), make it an attractive addition to the yard.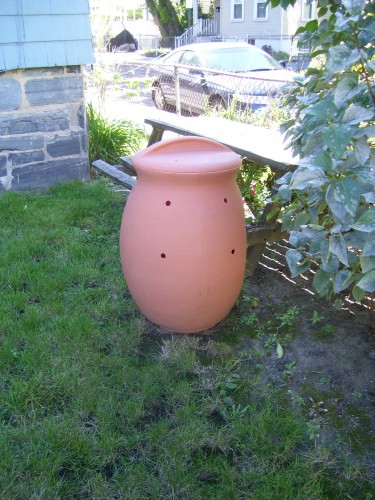 I have composted before, serious business composting with big piles of yard and food waste, the kind of composting where you need shovels, and wheel barrows, and pitch forks…the Terra Composter is not that kind of compost bin. The Terra is suited for a single family city home, it is simply not big enough to handle bags and bags of yard waste and the results of a restaurant kitchen, and that's OK. I live in a tiny urban home, with a tiny urban home lawn, and have a roomate, this compost bin is perfect for us.
My roommate and I are both vegetarians, so we produce a fair amount of plant food waste. With the Terra, and our normal recycling we are now down to one garbage bag of actual "throw away" garbage every three weeks. It feels good to create such a small amount of waste, and it has been nice getting back into composting again. Overall I have been really happy with the look feel and ease of use of this product. I do have a couple of small things I don't like about it (it's hard to get the compost out when it is 'done', it can get a bit top heavy when you have it full) but for the most part I really like it and would recommend it to someone who has a smallish amount of yard and food waste to compost.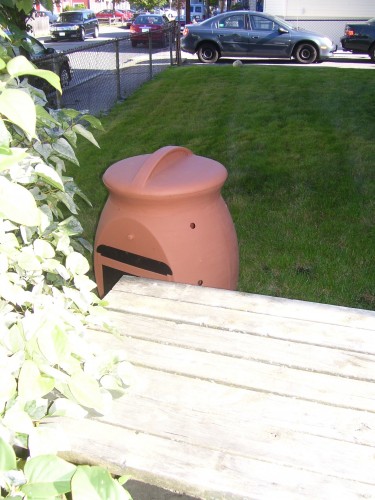 So if you are looking to get into composting here are a couple quick tips.
You don't need to buy anything! You can make a compost bin out of anything, you can even just throw stuff in a pile in the back if you have the space and don't mind the mess, old wood pallets work well for this.
You need to keep a healthy mix of "green" and "brown" in your compost pile. Green things are stuff like coffee grounds, egg shells, fruit and veggie peels, grass clippings, fresh leaves, fresh weeds, etc. Brown things are stuff like, corncob stalks, paper, pine needles, sawdust or wood shavings, straw, dry leaves, etc. You need to keep a good mix of both to keep your bacteria happy too much greens and it will get stinky, too much brown and it will compost very slowly.
You will need to water your compost once in a while, if the compost gets dry toss a little water in with it, if you have a lot of green stuff you wont need to do this as much.
Keep your compost warm, put it in the sun, it will help it break down faster.
Don't be afraid of bugs and worms! They help break down stuff faster.
Your bacteria need oxygen, be sure to turn or rotate your compost once in a while, the Terra compost comes with little holes on the side that they encourage you to poke a stick into and wiggle, this will keep the bacteria happy.
older posts »