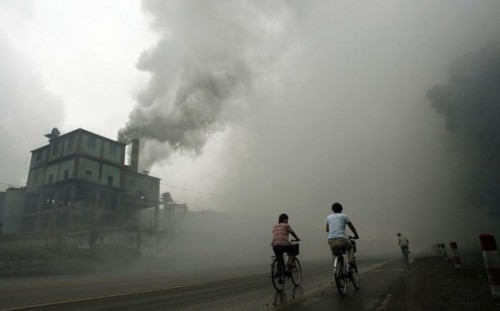 Judging by the numbers, the scope of China's environmental degradation is beyond shocking.  Consider:

The World Bank estimated, in a 2007 report, that pollution caused 5.8% of China's GDP in premature deaths, healthcare costs, and material damages. Air pollution alone is estimated to kill 700,000 people a year.
A 2012 MIT study estimated that air pollution in 2005 cost the Chinese economy $112 billion in lost labor and healthcare costs, roughly five times higher than it was in 1975.
In 2010, airborne microscopic pollutants caused an estimated 8,600 premature deaths in four major Chinese cities: Beijing, Shanghai, Guangzhou, and Xian.
According to a Chinese vice minister of environmental protection, the water quality in five of the nine bays along China's coast was "extremely poor." Results from monitoring stations along 10 major river basins show that 40% of the water is polluted. And 55% of the underground water in 200 cities is polluted. On top of that, about 300 million rural residents do not have access to safe drinking water.
Soil pollution is endangering China's food chain. Roughly 10% of the country's arable land has been contaminated by heavy metal, based on scientific studies conducted in the late 1990s. In 2006, the Chinese government began a nationwide survey of soil pollution. However, it has not released the results, most probably because the findings are too alarming for the government to release.

Given decades of environmental neglect and China's heavy reliance on coal — which produces 70% of the country's energy — it would be difficult to produce a dramatic improvement quickly. Nevertheless, the Chinese government can take a comprehensive approach to environmental protection by adopting tougher environmental standards, changing their economic policy, increasing investment in the environment, and mobilizing the press and civil society to take part in these efforts.Via
A couple things immediately stand out.
This pollution is caused because they are making the worlds cheap crap. This is as much our pollution problem as theirs.
They are burning coal, one of the filthiest, mercury filled fuels around. They are literally killing themselves with their energy source choices.
They are creating enough green house gasses to alter the planet in such a way that billions more lives are in danger.
This thirst for coal, and other natural resources is bound to cause political instability in places like Africa and other regions where China is pushing its weight around (for an example look what happened when America put its fingers into middle east politics for oil over the last 50 years).
This pollution doesn't stay in China, elevated mercury levels, and other toxins have been detected in California, putting human lives, and farm/fishing industry in danger.
Unless we stop ordering cheap crap from china, and help China build a sustainable energy system, billions of human lives including our own could be at risk.
We must ask ourselves, why is the stuff we buy from China so cheap? Is it because the people and environment of China is absorbing extra costs? The cost of the products from China doesn't include things like "pollution controls" or "clean waste disposal" or "air quality controls" instead those costs are passed on to the people of china, the environment of china, and ultimately to all of us.
So sure, we might pay less for our cheap plastic crap from china, but that doesn't mean those items are actually cheaper, it just means someone else is picking up part of the tab for us. Increasingly it looks like they are paying that bill with their lives.
Its not just you, its getting warmer, and we are to blame. We must act now.
AMAZING!!
Learn more about NASA: http://www.nasa.gov
Learn more about the International Space Station: http://www.nasa.gov/station
Sign up to get space station sighting information sent to you: http://spotthestation.nasa.gov/
For students interested in NASA Johnson Space Center:
http://www.facebook.com/nasa.jsc.students
http://www.twitter.com/nasajscstudents
NASA Johnson Style is a volunteer outreach video project created by the students of NASA's Johnson Space Center. It was created as an educational parody of Psy's Gangnam Style. The lyrics and scenes in the video have been re-imagined in order to inform the public about the amazing work going on at NASA and the Johnson Space Center.
Special thanks to astronauts Tracy Caldwell Dyson, Mike Massimino and Clay Anderson
Special thanks to Mr. Mike Coats, Dr. Ellen Ochoa, and all supporting senior staff members
"NASA Johnson Style" Lyrics:
NASA Johnson Style
Johnson Style
Welcome to NASA's Johnson Space Center
We are coming in hot so don't burn up as we enter
We do science everyday that affects your daily life
Throw them up for manned space flight
Science everywhere
As we engineer the marvels
That fly though the air
And take us way beyond earth's levels
Science everywhere
Because we engineer the marvels
That fly though the air
Flys us through the air
Control the mission out of Johnson
This is ground, hey!
And this is space, hey!
Tell me Houston what's the problem
It's okay!
It's okay!
Because there's flight controllers on the job today
NASA Johnson STYLE!
Johnson STYLE!
NA, NA, NA, NA NASA Johnson STYLE!
Johnson STYLE!
NA, NA, NA, NA NASA Johnson STYLE!
EYYYYYY science daily!
NA, NA, NA, NA, NASA STYLE!
EYYYYYY it's amazing!
NA, NA, NA, NA ey ey ey ey ey ey!!
Orbiting earth, international space station
Where we work and live in space with a crew from several nations
Got Japanese, and Russians, that European charm
Throw them up, like the Canada Arm
Kicking out research
29k cubic feet, revolves around the earth
Science microgravity, revolves around the earth
Columbus, JEM, and Destiny
Kicking out research
Kicking out research
Train the astronauts at Johnson
To go to space, hey!
To go to space, hey!
Cause the missions of tomorrow
Start today, hey!
Start today, hey!
As we engineer the future day by day
NASA Johnson STYLE!
Johnson STYLE!
NA, NA, NA, NA NASA Johnson STYLE!
Johnson STYLE!
NA, NA, NA, NA NASA Johnson STYLE!
EYYYYYY science daily!
NA, NA, NA, NA, NASA STYLE!
EYYYYYY it's amazing!
NA, NA, NA, NA ey ey ey ey ey ey!!
Orion or SLS, MPCV
We cannot feel the floor, cause the lack gravity
The destinations are an asteroid, mars, or moon
We are blasting off start the countdown soon
[Sound clip: launch countdown]
EYYYYYY science daily!
NA, NA, NA, NA, NASA STYLE!
EYYYYYY it's amazing!
NA, NA, NA, NA ey ey ey ey ey ey!!
NASA Johnson Style
older posts »