Even though it is clear by the name of this website that I am an uncureable Dune (the best book ever written) nerd, it is not often that I get to post something topical about it.
Watch the whole thing, but the payoff is at 10:45…for all fellow Dune nerds, you're welcome.
I hate flying…really I do. It sucks, I have long legs and they always get cramped into the tiny seat. They charge you for EVERYTHING now, the air smells funny, and inevitably I always get stuck next to some screaming little kid. But the part I hate most about flying is the actual flying part. The air pollution, the green house gasses produced, and the various other horrible effects on our planet.
Because I had to do this for my job, and because I tried and failed to get out of it, I am going to try and make it up to the planet by figuring out how much co2 I have pumped into the air, and find a way to prevent that much from going up in the future. At least then I will have negated my harmful impact by reducing my emission in the future.
So first figuring out how much co2 I produced.
I flew in a Airbus A320 200 from Boston to Phoenix, and then in another Airbus 320 200 from Phoenix to San Jose.
It looks from my admittadly poor information that the plane has a capacity of 5252 gallons of fuel. And from the Airbus website it looks like the max range for the plane is basically a trip from New York to LA (a pretty good approximation of my journey, even though I took 2 planes) so lets assume that they used all of it. They most likely burned less fuel, but because the co2 is pumped directly into the high atmosphere we can assume it is doing more damage, and thus if there was a couple gallons left un-burned this would make up for it.
So now we need to figure out how much of that co2 was "mine" There were 150 passengers on both flights (full plane). I had only one small carry on, and I am a pretty slim guy, so I didn't use up as much of that fuel as some people…seriously people how long are you going to be where you are going? Do you really need to bring two hundred pounds of stuff with you…but I digress.
So 5252 gallons/150 passengers = 35 gallons per person. I am going to make the trip back so lets double that to 70 gallons of jet fuel.
Now we need to know how many pounds of co2 was in that 70 gallons of fuel. Jet fuel is basically kerosene, so lets find out how much co2 is in a gallon of kerosene. I found different numbers online but most where around 23 pounds of co2 per gallon.
so 70 gallons of fuel burned times 23 = 1610 pounds of co2…ouch.
So how will I avoid this much co2… one method would be to avoid burning fuel in the future. Because I don't have my own jet I can leave in the garage I will instead endeavor to not drive my car (I know, I know, the shame…I have one, but it sits in the drive way most of the time).
So how many miles must I NOT drive my car to make up for this.
co2 in a gallon of gasoline = 19.4 pounds.
so 1610/19.4 = 83.9 gallons of gas I need to avoid being burned.
My car has a fuel tank of 17 gallons, so I need to avoid burning 5 tanks of gas…my car gets about 400 miles per tank, so I need to avoid driving 2000 miles.
Hmm thats a lot. I already ride my bike to everything, so in good faith I can't claim the thousands of miles I ride my bike every year as "offset" miles because I wasn't going to drive anyway. So not driving is not going to cut it.
In all honesty I ran the numbers for turning down the heat, for insulating my home, and for a lot of other things and it is going to take me YEARS to offset this amount of co2. I think most carbon offset programs are scams, and many of them are shady at best. I have slimmed down my carbon footprint to a pretty small level, and when I do something silly like fly across the entire country it really inflates it. I guess I should go out and plant a couple hundred trees, and or perhaps work to reduce someone else's carbon footprint to make up for my own foolishness.
If you have any suggestions please do let me know.
I read a lot of online science journals, and a lot of news, and a lot of books, and I talk to a lot of science type people on a regular basis, and I have been involved with on the ground environmental restoration, and I know people in finance and I have my own thoughts about a lot of stuff, and frankly it's getting grim out their.
Once in a while it is important to remember WHY we are all trying so hard to make this world a better place (aside from the survival of the human race). The world is full of great stuff, worth saving, and worth spreading around. I attempt to post good stuff (new science discoveries, companies doing the right thing, environmental political victories, etc) to go along with the steady stream of horrible news.
So in no particular order here are a bunch of things that make me happy.
Girls with Ukuleles
(oh goodness that smile at the start, and that smile at the end, I think I am in love)
Bicycles!
(yes that is me on the right, and yes we are racing bikes indoors, it gets real nasty in the winter around here…and yes I whooped Gregs ass!)
Seriously bikes are a huge part of my life I would say that 60-80% of my life is spent on a bike, talking about bikes, working with bikes, thinking about bikes…you get the idea.
I would also like to submit the following for your consideration…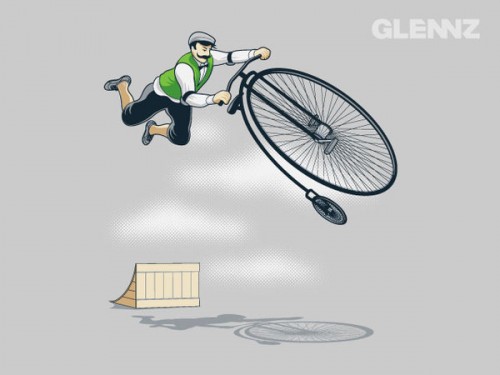 now tell me you don't love bike, dare ya.
The Internet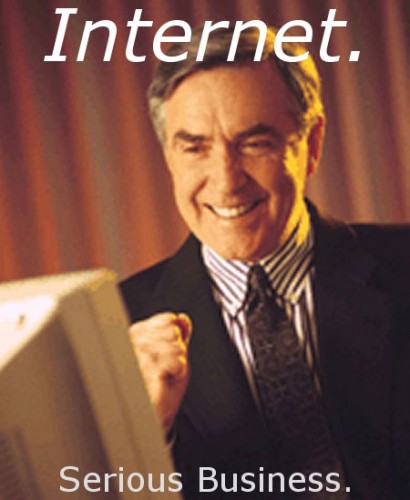 I honestly, with no irony, believe the internet to be one of the greatest things that human beings have ever invented…seriously. I am a firm proponent of the theory that what makes humans advanced is our culture, and our ability to share information with each other. Nothing does this better than the internet. How many times have you thought to yourself "I wonder….X" and then went and typed it into the google and whalla knowledge. Who answered those questions before the internet? How did people figure out how to drive from place to place? Did people used to draw funny captions on pictures of cats and then mail them to each other?!
All joking aside the internet has done more to advance the further study of science, medicine, and a whole host of other good things than any tool invented in the last 1000 years. And it's not done yet, as data transfer gets faster, and more things are connected to the internet, and storage capacity of data gets higher their may come a day when you have a tiny chip clipped to your ear that gives you instant access to a vast vast sea of knowledge. Knowledge as we all know, is power.
Science!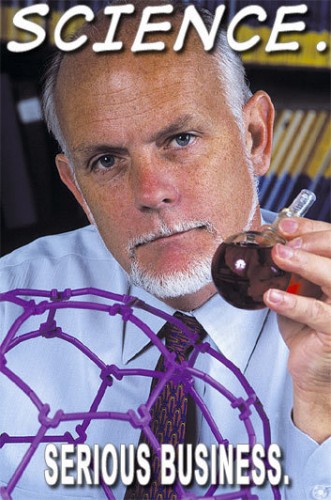 The thing I love about science, and the part about it that makes me so happy, is that it is always changing. Science is great because it is not based on faith. If you have proof that some long held scientific theory is wrong, and you can show evidence of it, and you can verify it with tests, well we have to throw out that old theory. Even if it has been around for 100 years, it's out.
Try telling that to a religious leader…you wont get far. Science is great because it is our best (so far) way to explain how the world works. It has also brought us wonders like the internet, bikes, and girls with Ukulele's so you can see it is pretty awesome.
So these are just a few of the many things that make me happy, I might do another post like this some other time, if you do a post on your blog about what makes you happy link back here and we can make it some sort of internet chain letter thing.
What makes you happy? Let me know in the comments.
People often think I might have a few screws loose when I tell them that I ride my bike everywhere, everyday. They ask about how I get food, how I get my laundry done, but mostly they ask what I do when it is cold. My answer, I bundle up and keep riding! Here are some fun pictures from the last couple of days here in Boston. The salt trucks are working overtime, and as such I come home a bit dirty…but boy is it fun!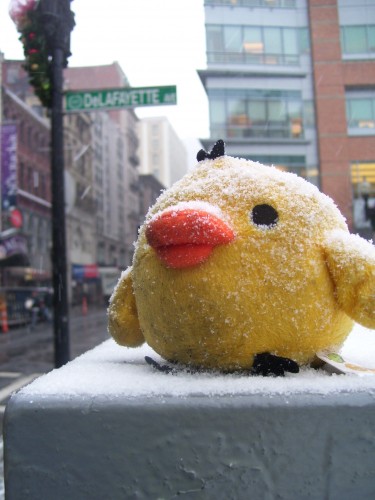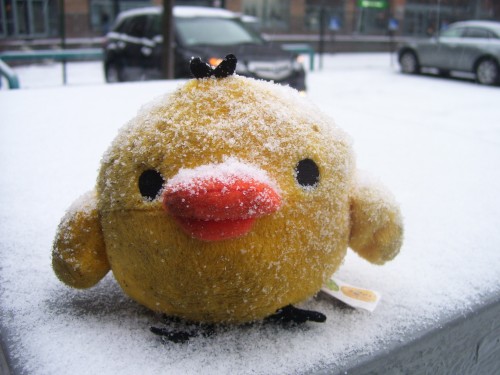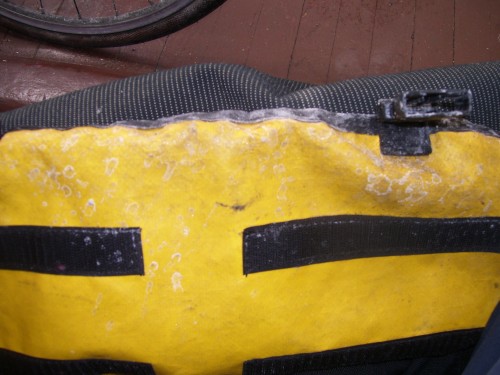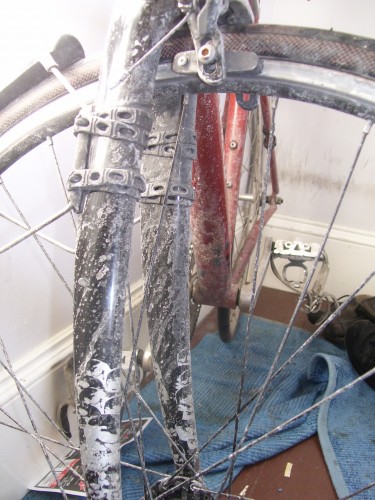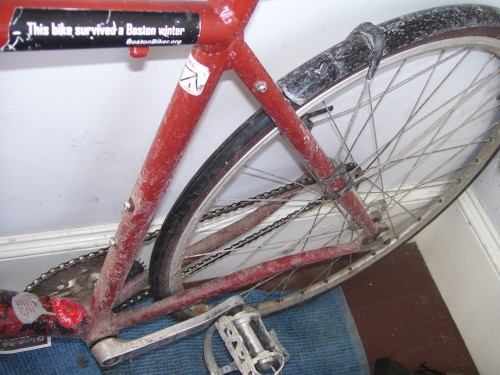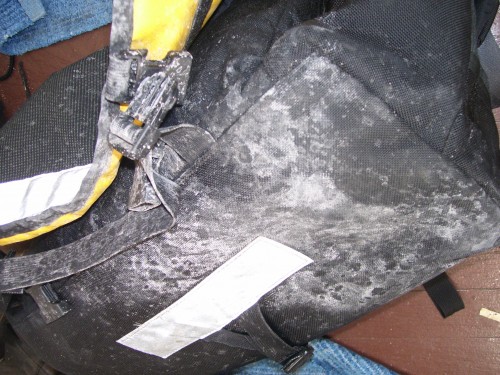 So in what is now the third (previous 06 and 07) year we have come to the 2008 year in review. Every year around this time I like to review the year, and make prediction in my crystal ball about the future.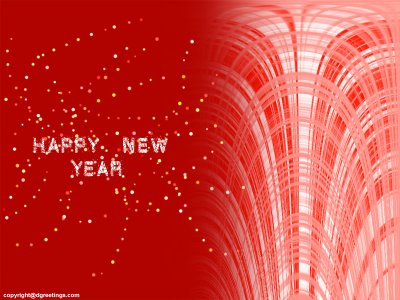 So lets look back to last year and what I predicted. (this is the part where the picture goes wavy and the "going back in time" music plays).
My predictions were:
Look for 2008 to be the year that world governments start to pass serious carbon laws. Look for cap and trade, carbon taxation, and global treaties dealing with emissions reduction.
A Democrat will win the presidency.
Feedback loops and continued warming will make 2008 the worst year for arctic and antarctic melting on record.
Continued droughts and water shortages will bring dramatic lifestyle changes to people in the south west and south east.
At least one major car company will produce an electric or plug-in hybrid model.
Look for oil to top 120 dollars a barrel at least once in 2008.
2008 will be the year of the green consumer, look for a flood of eco-friendly products and services to take over the market. The second part of this prediction is that we will see massive greenwashing campaigns by companies hoping to cash in on this trend without really doing much in the way of making their products greener.
I am going to once again predict that renewable energy will explode in 2008, look for 30-50% growth in the solar and wind industry world wide.
Cape Wind will be approved and perhaps even start construction in 2008.
So how did I do?
1. I am sad to say but I got this one pretty wrong. The world government's saw the economy fall apart and basically threw climate change under the bus. There is however some hope that these sort of carbon reduction treaties will get passed once the biggest road block to them (the stupid American president and his short sighted administration) are out of office.
2. Got this one 100% right! Hurray for my mad predictive skillz!
3. Sadly I got this one right as well. The arctic and antarctic got hammered this year. With dire predictions for the year to come. (see here here here here and here)
4. Sadly this turned out to be true as well this year, as the strange climate changed the south east and southwest of America suffered some serious drought this year. Luckily near the end of this year they got a little rain, but not nearly enough to make up for the severe lack. This is what global warming looks like. (see here and here)
5. Well for all the talk of the Chevy Volt, and the "new" Prius, I got this one pretty wrong. There was a couple of electric cars made this year, but they didn't get rolled out the way I had hopped. I am going to go with 30% right on this one…which is another way of saying I got it wrong.
6. Ohh man when I predicted that oil would top $120 in 2007 I though that I was talking crazy…Little did I know it would eventually almost hit $150! The resulting global freak out that ensued was, how to put it mildly, not good. This lead to a massive reduction in miles driven, a huge resurgence in biking, and overall a lot more talk about renewable energy, that is until the economy fell apart, the world oil market crashed and the price of oil dropped like a stone. All of this in the long run indicated we are in a post peak oil scenario that will be characterized by massive volatility and a nightmare for long term planners. (see here here here here and here)
7. Green products, and green washing were the rage in 2008. I would say humbly that I got this one so right it hurts. You can hardly throw a rock now without hitting some locally grown, bamboo, free trade, shade grown, solar powered, carbon neutral, BPA free, biodegradable this or that. No one has chronicled the rise of green washing better than Keith over at The Unsitablog.
8. The renewable energy industry didn't let me down this year. They once again had amazing growth in the ranges I specified. Hurray for renewable energy. The sad fact is however the Oil companies also had bumper years making more profit in a single year than any companies in all of HUMAN HISTORY. (see here here, here, and here)
9. Oh Cape Wind, how silly is your story. I was so close to getting this right. The Minerals Management people, the ones in charge of giving the thumbs up to Cape Wind, nearly did so this year. But then a bunch of dumb ass NIMBY politicians (I am pointing the finger at you Ted Kennedy!) decided the view from their beach front mansion was more important than fighting global warming.
So there you have it, 6 out of 9, not really that bad. I should start charging for this service.
So what are my predictions for next year?
1. Cape Wind will get approved. Seriously 2009 is the year. They are so damn close I can taste it.
2. The horrible economy will affect the growth of the renewable energy market. Look for a slowdown in wind and solar.
3. The price of oil will rocket right back up in the summer of 09, look for it to once again top $150 dollars a barrel.
4. The pace of global warming will began to accelerate as feedback loops intensify. The arctic will be ice free this summer, or damn close. The northwest passage should once again open next summer.
5. Obama will (hopefully) make renewable energy and efficiency infrastructure projects a major component of his stimulus package.
6. Troops will start to come home from Iraq in large numbers before the end of 2009.
7. The financial turmoil will continue leading to millions of people loosing their jobs, massive downturns in global production, deaths, famines, and increased problems world wide. I predict 2009 to be a very not happy year for a large number of people.
8. Look for major legal action to be taken against prominent Bush administration people. If we are really lucky, Bush or Cheney might even be included in the mess.
9. Look for major breakthroughs in efficiency technology when it comes to lighting and solar panels. Specifically solar panels that produce energy cheaper than coal, oil, or wind. Look for LED technology to slowly start replacing CFL technology.
10. I build my first bicycle.
So there you have it, my hat is in the future prediction arena. I hope all you have a wonderful 08 and that 09 is even better for you. Sadly a lot of my predictions for the future are bad ones. Take good care of your family and friends, and just between you and me, start planning to revamp your life to get ready for some hard times. I am not suggesting you go live in a bunker, but you know, get your financial house in order, start using less energy, ride your bike, get ready for some lean times.
We are all going to have to live on a smaller scale in 09 (and the foreseeable future). This is not a bad thing! Humanity has been living outside it's means for a long time, and faster we switch over to a 0% growth system the happier and healthier we will all be.
Happy new year everyone!
« newer posts
|
older posts »